Lambert Fieldhouse
Introduction
By the late 1920's, with Big Ten teams expanding into field house arenas, Memorial Gymnasium, home of the Boilermakers, became outdated by comparison . While a limited budget pushed construction back until 1937, Lambert Fieldhouse would open and host Purdue basketball for the next thirty years, becoming host to many iconic games and wonderful memories for the fans.
Images
Postcard showing the interior of Lambert Fieldhouse during a Purdue basketball game.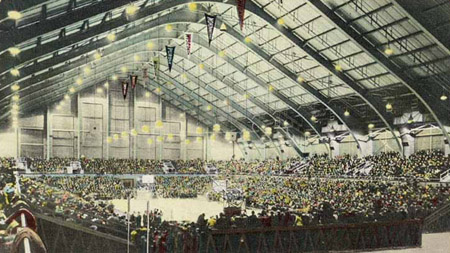 Lambert Fieldhouse, alongside Mackey Arena.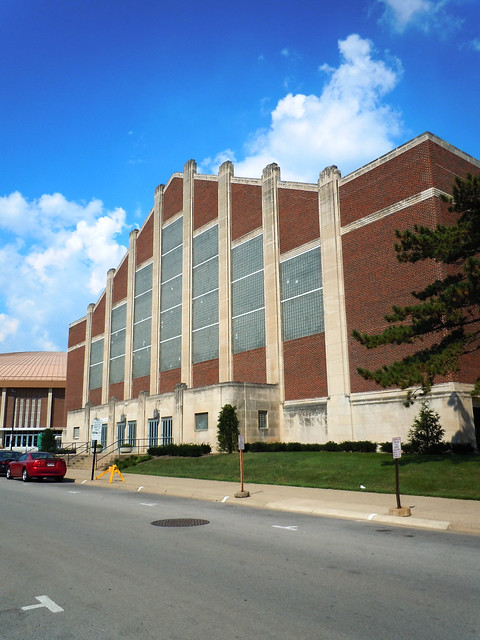 Backstory and Context
As an early indicator of the two schools trying to keep pace with each other, they constructed new basketball arenas within a similar time frame. After the Hoosiers moved into the Fieldhouse (currently the Wildermuth Intramural Center) on campus, Purdue decided to make a move of their own. Named after legendary Purdue coach Ward "Piggy" Lambert, who led the Boilermakers from 1918 until 1946, the arena would be home to many memorable IU/Purdue games, but also to tragedy[1].
The year after Coach Lambert retired, a section of the bleachers collapsed during a February 24, 1947 match-up with Wisconsin, injuring between two hundred-and-fifty and three hundred spectators, with three losing their lives[2].
Despite its small-scale now, Lambert Fieldhouse was far from an inadequate facility, only seating four-thousand fewer fans than the current arena of Purdue. While the Boilermakers had yet to return to their status as a national powerhouse, they did manage to capture two Big Ten regular season conference championships while playing here, in 1938 and 1940, respectively. The Boilermakers would move into Mackey Arena in 1967, and Lambert Fieldhouse was subsequently converted into a track facility, which it remains today, standing proudly next to the building that it was replaced by, but was also in many ways responsible for.
Sources
[1] Miller, Travis. "Purdue Icons #16: Ward "Piggy" Lambert," Hammer & Rails, 7 June 2011. https://www.hammerandrails.com/2011/6/7/2211782/purdue-icons-16-ward-piggy-lambert
[2] Peters, Trevor. "Witnesses Remember Purdue Bleacher Collapse More than 70 Years Later," WLFI, 28 February 2020. https://www.wlfi.com/content/news/Witness-remember-Purdue-bleacher-collapse-more-than-70-years-later-568278801.html
Harper, Hannah. "Did You Know?: Felix Haas Hall," Purdue University, 13 March 2014. https://www.purdue.edu/newsroom/purduetoday/didyouknow/2014/Q1/did-you-know-felix-haas-hall.html
Bolinger, George. "Mackey Arena dedication Dec. 2, 1967: UCLA 73, Purdue 71," Lafayette Journal & Courier, 4 December 1967. https://www.jconline.com/story/sports/college/purdue/basketball/2017/12/01/mackey-arena-dedication-dec-2-1967-ucla-73-purdue-71/911241001/
Image Sources
http://www.bigbluehistory.net/bb/Graphics/Arenas/purduefieldhouseint.jpg

https://farm5.staticflickr.com/4131/5023290863_433f311b29_z.jpg

Additional Information