Hamilton County Courthouse
Introduction
The Hamilton County Courthouse was built in 1877 in Noblesville, Indiana. The courthouse was designed by architect Edwin May and is an example of the architectural style known as the Second Empire style that was popular in the Midwest during the late nineteenth century. The courthouse was home to the trial of Indiana Klan leader David Curtis Stephenson, where he was tried for the murder and rape of Madge Oberholtzer in 1925. Stephenson was found guilty by a jury of his peers on November 14th, 1925 and subsequently transferred to the Indiana State Prison in Michigan City, Indiana
Images
Hamilton County Court House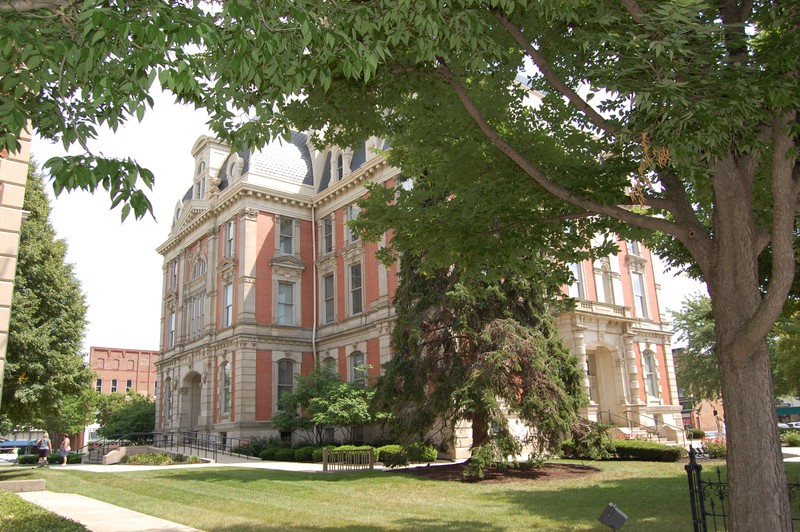 Backstory and Context
The Hamilton County Courthouse is situated in the Noblesville, Indiana courthouse square. This courthouse was home to the infamous trial that finally brought down the leader of the Indiana Klan, David Curtis Stephenson. Stephenson was accused of murdering and raping Madge Oberholtzer, who died in April of 1925. Ms. Oberholtzer was brutalized and sexually assaulted by Stephenson after being drugged and taken by Stephenson and other men on an a trip to Chicago. Ms. Oberholtzer died on April 14th, 1925. At first, doctors were unable to distinctively conclude whether Madge died from injuries sustained during her attack from Stephenson, or if her death was caused by the poisonous tablets she had taken following the attack. The doctors finally concluded that her death was a combination of the injuries sustained from the attack, and the long amount of time she spent without medical attention due to Stephenson waiting to bring her home. This conclusion meant that D.C could stand trial for the murder and rape of Madge Oberholtzer.
Mrs. Oberholtzer, Madge's mother pushed for a trial, and eventually D.C. was tried for the murder and rape of her daughter at the Hamilton County Courthouse. No judge wanted to precede over this trial, due to its violent nature and the fact that Stephenson carried significant power within the state of Indiana. The trial even had to be moved away from Marion County, out of fear that D.C. would not stand a fair trial in any area where held such influence. An article written for the Indiana Magazine of History by Allen Safianow touches on this historical trial and the complexities of how it was to be held in Noblesville. Safianow writes that even though the location of the trial was changed, "some commentators expressed doubt as to whether a fair procedure could take place in a Klan-ridden community such as Noblesville." These concerns, and others, led to the replacement of the original judge, The Honorable Fred Hines. Hines was met with cheers when he denied bail for Stephenson, and this did not sit well with the defense or Judge Hines. The defense put forth a formal request to replace Judge Hines, citing reasons of bias, and a new judge was to precede over the case, this time Will Sparks of the Rush County Circuit Court. Unfortunately for Stephenson and his defense team, this did not affect the outcome of the case, and Stephenson was found guilty of second-degree murder and first-degree rape on November 14th, 1925. Stephenson was promptly transferred out of the Hamilton County Jail and to the Indiana State Prison in Michigan City, Indiana, where he would serve a term of 25 years.
Sources
Safianow, A. (2004). "You Can't Burn History": Getting Right with the Klan in Noblesville, Indiana. Indiana Magazine of History. Retrieved from https://scholarworks.iu.edu/journals/index.php/imh/article/view/12050
1. November 15, 1925 (page 1 of 116). Indianapolis Star (1923-2004). Nov 15 1925:1. Available from: https://proxyiub.uits.iu.edu/login?qurl=https%3A%2F%2Fsearch.proquest.com%2Fdocview%2F1889592031%3Faccountid%
Abott, Karen. "Murder Wasn't Very Pretty": The Rise and Fall of D.C. Stephenson, Smithsonian Magazine. September 30th 2012. Accessed April 7th 2020. https://www.smithsonianmag.com/history/murder-wasnt-very-pretty-the-rise-and-fall-of-dc-stephenson-18935042/.