Pine Village Pros
Introduction
In a small rural community outside of Lafayette, Indiana, a school principle introduced the game of football to his town. This introduction is the beginning of the story of football in the Hoosier state. How did this farming community manage to become home of one of the most respected professional football teams in the midwest? And how did their prominence establish Indiana as a place that football could not only exist, but flourish.
Images
Pine Village Pros team photo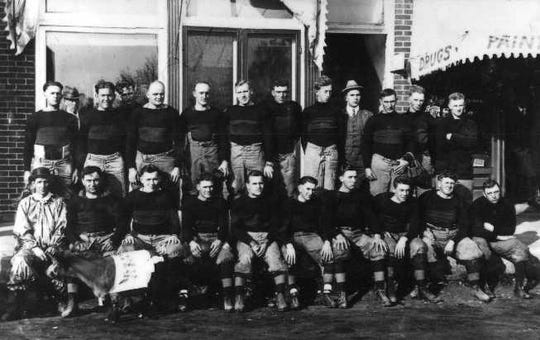 Backstory and Context
In 1898, Clinton Beckett, the principal of Pine Village high school introduced the game of football to its residents. He established a high school and a "pro" team that felt varying degrees of success throughout its first 15 years. Pro was a term that was loosely defined in this age of football. The "pro" team, which included many of the same players as the high school team, wasn't compensated for playing until 1915. According to a newspaper article, players only made $40 a game playing for the pros. weren't The team began to gain traction as the 1910's started and in 1913 beat the Purdue All-Stars on Thanksgiving day thanks to one familiar face in gridiron lore: Jim Thorpe. A year removed from winning two gold metals in the 1912 Stockholm Olympic Games, Thorpe became one of the founding fathers of the NFL and his pro football journey started here, in Pine Village Indiana. In 1914, The Pine Village Pros captured the Independent State Championship. Looking for greater organization among teams in the state, the Pros established the Indiana Football League For the next decade, the Pros would be one of the best teams in all of professional football, and while they didn't last long enough to be a part of the NFL, they did establish Indiana as a place where the gridiron could not just exist, but thrive.
Sources
Cottingham, Doris. "Hoosier History: Pine Village Football." IndianaHumanities.org. Indiana Humanities Council. Accessed April 2, 2020. https://www.indianahumanities.org/pdf/PineVillageFootball.pdf.
Baird, Nathan. "Pine Village Turning Back the Clock to Its pro Football Heritage on Saturday." Journal & Courier, Journal & Courier, 8 Aug. 2019, www.jconline.com/story/sports/2019/08/08/pine-village-turning-back-clock-its-pro-football-heritage/1954656001/.