Connersville High School
Introduction
Connersville High School is frequently referred to as the home of the oldest known high school band in the United States. The creation of this band in 1906 marks the foundation of high school marching band as we know it today. Of course, marching band has evolved from what it looked like in the early 20th century, but the Connersville High School Band marks the origins of the amateur, school-based marching band in Indiana, as well as the country.
Images
Connersville High School Sign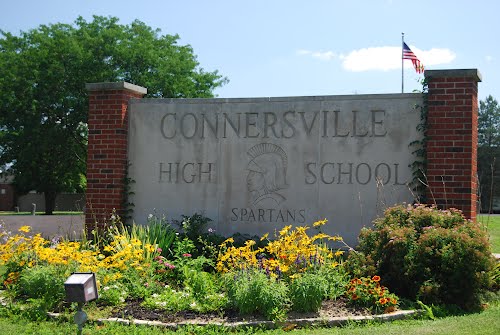 Old Photograph of Connersville High School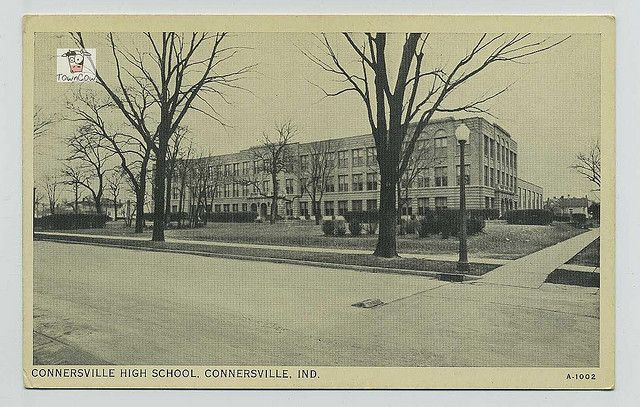 Backstory and Context
The earliest known high school band in the United States was formed in Connersville, Indiana. After professional touring bands began to lose popularity and college bands gained spotlight, high school bands also became a topic of focus for music educators. The first public high school marching band in the country was formed by music instructor W. Otto Miessner in 1906, and Connersville High School. The story is as follows: Miessner recruited three high school boys who had been suspended for their bad behavior to play instruments in his new band with the promise that he would get them reinstated at school. Soon after this, word spread around the school and Miessner began giving music lessons during lunchtime and after school hours. He encouraged his new musicians to practice by promising them that they would perform in a public concert, complete with uniforms that displayed the school's colors. The creation of this band received a great deal of publicity and exposure, and Miessner and his band performed at the 1908 Northern and Southern Indiana Teacher's Association convention, which brought further national attention to the band. There is some debate over whether Connersville was the first high school marching band in the country, or whether it was the first concert band in the country, with some listing Rockford, IL as the home of the oldest high school marching band, created in 1907. However, the creation date of the Connersville High School band leads many to believe that it is indeed the true oldest continuous public-school marching band in the United States.
Sources
Quigley, Barbara. "Marching and Concert Bands Photographs, CA. 1860s-1945." Indiana Historical Society (17 January 2018). 
(Photographs and descriptions from the author of the next source)
QUIGLEY, BARBARA. 2008. "Strike up the Band." Traces of Indiana & Midwestern History 20 (4): 14–19. https://searchebscohost.com.proxyiub.uits.iu.edu/login.aspx?direct=true&db=ahl&AN=41992238&site=ehost-live&scope=site. 
(Book dedicated to the course of Midwestern marching and concert bands)
Image Sources
https://upload.wikimedia.org/wikipedia/commons/9/9f/CHS_front_sign.jpg

https://i.pinimg.com/originals/09/d9/7b/09d97b2130aab0644f1ddd98f650f3c2.jpg