McCormick's Creek State Park
Introduction
"Leave it as it is. The ages have been at work on it and man can only mar it." These words were spoken by Teddy Roosevelt, a man dedicated to conservation work in the early 20th century. But Richard Lieber, the father of the Indiana state parks system, would've been likely to echo the sentiment. During the state's centennial in 1916, Lieber and other pioneers led the push for Indiana to establish a parks system, as many other states had already done. McCormick's Creek was one of his early victories: the first state park in Indiana.
Images
The park's Canyon Inn, as it stood in 1916 at the time of the park's founding.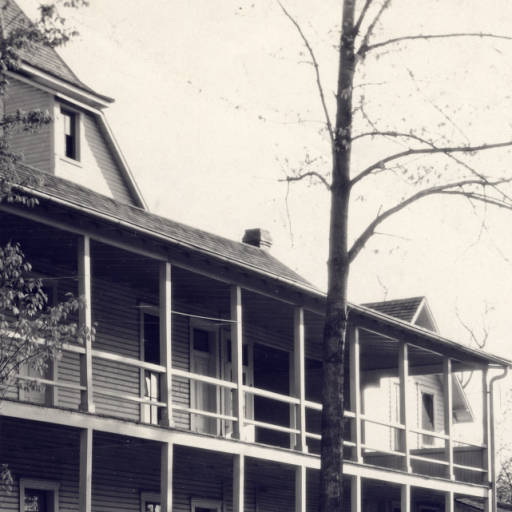 Backstory and Context
The area now belonging to McCormick's Creek State Park was once "inhabited" by indigenous Miami peoples, inhabited being the key word because the terrain proved much too rocky and pockmarked to settle on. Instead, they settled on the nearby rivers and used the area as hunting grounds. The park is named after John McCormick, who, with his sons, settled in the area in the 1830's. Several attempts were made to commercialize the land, including grazing, agriculture, limestone quarries, and river-powered mills. But, just as the Native Americans had found, the land was simply not profitable enough. In 1888, Dr. Frederick Denkewalter found a use for it, building a sanitarium on the grounds where the inn now stands. It became a popular recreation spot.
When Dr. Denkewalter died, the land went up for auction and was purchased by the state. Richard Lieber, the father of state parks in Indiana, led a push during and after the state centennial in 1916 to found a state parks system. With the founding of McCormick's Creek in 1916, he succeeded.
Lieber's ideas and motivations were a far cry from the earlier business-centric sentiments of the Forestry Board. In 1919 he said, "I look on state parks as an attempt to retain for the edification, education and the enjoyment of those of the coming generations." (News, 1919) In statements like this, Lieber demonstrated a remarkably modern and forward-thinking mindset about state parks and their usefulness to Hoosier citizens.
This is not to say that Lieber did not face his fair share of hardships, both personal and professional. As a German American, he dealt with anti-German sentiment during World War I. He publicly gave up his German citizenship, and became one of the founding members of a new chapter of the Friends of German Democracy (Times, 1918). Money was also an issue. His progressive notions did not fall in line with Indiana's conservative government. Lieber found ways to work around this, obtaining money and land from private citizens and suggesting unique ideas such as the creation of newspaper subscription clubs to support the state parks system (News, 1916). In 1933, Governor McNutt dissolved Lieber's commission, and demoted him. Lieber resigned in response, and served as an advisor to various parks agencies for the remainder of his life.
While Lieber might've been frustrated with his eventual demotion, his innovative work created a monument that would inspire conservationists and state agencies for decades to come. An editorial from Pennsylvania's Altoona Tribune in 1916 urged Pennsylvania to follow Lieber's example at Turkey Run and create its own parks system (News, 1916). Indiana's parks were consistently rated highly amongst all the states.
McCormick's Creek now encompasses hundreds of acres, and contains numerous hiking trails, an inn, and a stable to attract visitors and raise money to keep the park in business. Trails lead to Wolf Cave, limestone arches, and sinkholes created by collapsing limestone in the area. The natural beauty of the land recognized by Dr. Denkewalter is preserved into today and beyond.
Sources
Sauers, Chas G. "McCormick's Creek Canyon." , The Department of Conservation, State of Indiana, 1923. Hathi Trust, babel.hathitrust.org/cgi/pt?id=uc1.b5088143&view=1up&seq=6.
"German-American Loyalty Pledged." The Indianapolis Times, 18 Mar. 1918, p. 10. Hoosier State Chronicles, newspapers.library.in.gov/?a=d&d=INN19180318-01.1.10&srpos=8&e=-------en-20-INN-1--txt-txIN-richard+lieber------.
"Nature Study Club Visits Turkey Run." The Indianapolis News, 23 June 1919, p. 8. Hoosier State Chronicles, newspapers.library.in.gov/?a=d&d=INN19190623-01.1.8&srpos=1&e=-------en-20-INN-1--txt-txIN-richard+lieber------.
"Urges Pennsylvania to Follow Example." The Indianapolis News, 19 Dec. 1916, p. 18. Hoosier State Chronicles, newspapers.library.in.gov/?a=d&d=INN19161219-01.1.18&srpos=3&e=-------en-20-INN-1--txt-txIN-richard+lieber------.
Image Sources
Indiana Historical Society