2nd Lieutenant Henry W. Davis
Introduction
(NOTE: Davis is the farthest east tree and soldier on the south side of Memorial Boulevard.) Born 2 Sep 1887 – Huntington, WV; Died 14 Oct 1918 – France; Machine Gun Co., 165th Infantry Regiment, 83rd Infantry Brigade, 42nd Division - US Army
Images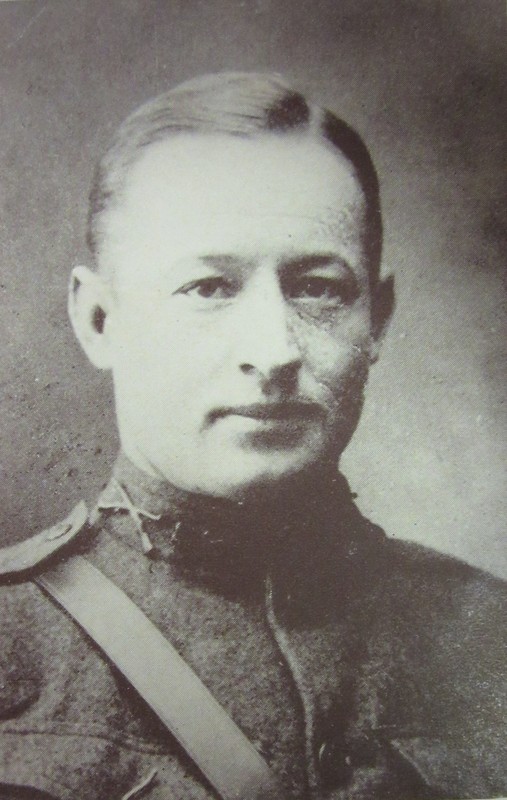 Headstone at Spring Hill Cemetery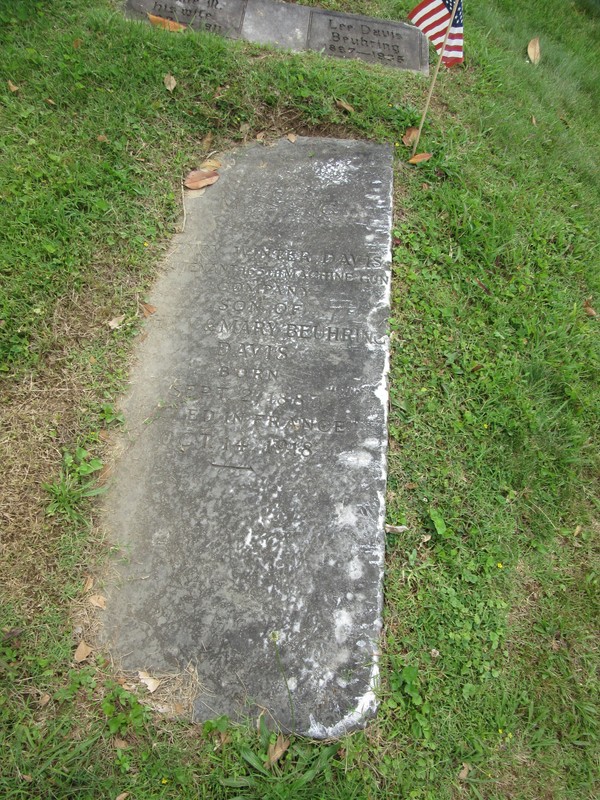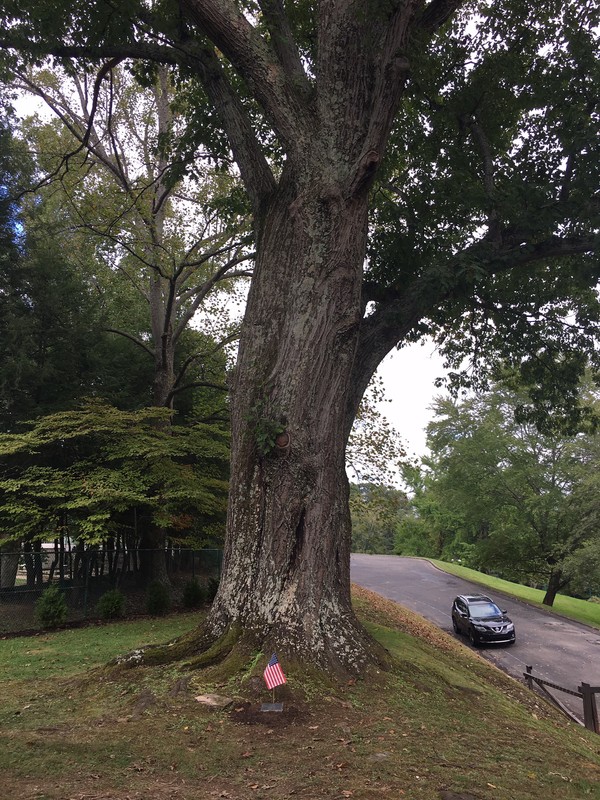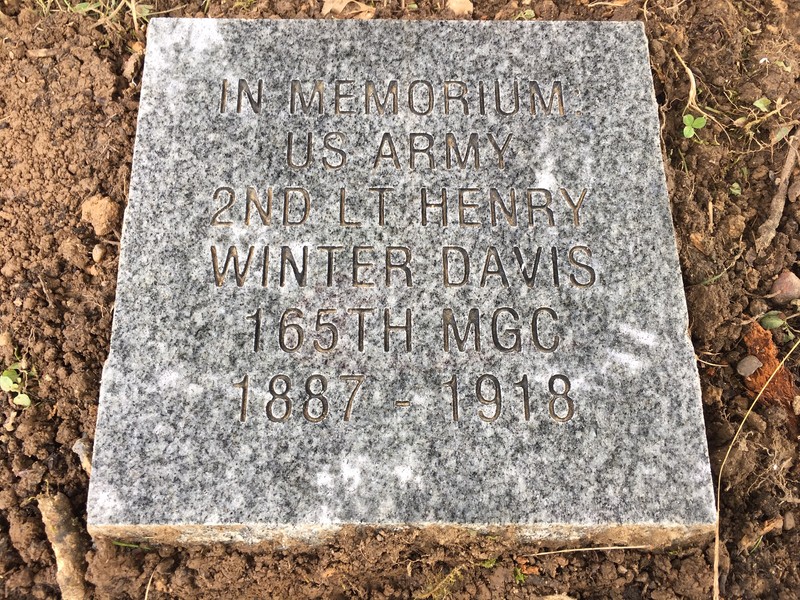 Backstory and Context
Henry Winter Davis was born on September 2nd, 1887, in Huntington to John V. and Mary Beuhring Davis. He graduated from Huntington High School in 1904 and attended both Marshall University (then College) and West Virginia University. He had 1 sister and 1 brother, was known as "Billy" or "Bill" to his friends, and attended Johnson Memorial United Methodist Church. He became an electrical engineer with Westinghouse in Pittsburgh and then, in 1913, moved back to Huntington to become a Power Engineer with the Ohio Valley Electric Railway System, otherwise known as the Huntington-Ashland trollies.
He enlisted in the West Virginia National Guard as part of the Huntington Machine Gun Company, 2nd West Virginia Infantry and served at Camp Kanawha, but was released from the military before his unit shipped out to the Mexican Border in 1916. He enlisted again for the first Officers' Training School (at Fort Benjamin Harrison) on May 12th, 1917. Upon being commissioned as a 2nd Lieutenant, he was chosen for immediate overseas service, and, along with fellow Cabell casualty Walter V. Dial, left Huntington for Hoboken, New Jersey, on August 25th, 1917, sailing from New York on September 11th on the MONGOLIA and arriving in France before the end of the month. Upon landing, he was assigned to a Machine Gun Training School for 6 weeks of instruction then reported in November 1917 to the Headquarters Company of the 165th Infantry Regiment (previously part of the New York National Guard), 83rd Infantry Brigade, 42nd Division, US Army. In February 1918 he was transferred to the Machine Gun Company of the 165th and it was in this company that he eventually died. This latter unit was assigned 16 of the M1914 Hotchkiss Machine Gun, each of which weighed over 50 pounds without ammunition.
The 165th regiment fought with distinction in the Luneville and Baccarat defensive sectors from early February to early June. In early July, it moved up to the St. Hilaire-le-Grand defensive sector. The Germans were preparing a huge attack, today known as the 5th Ludendorff Offensive, which was to smash through the Allied lines. Knowing this, the French and other Allies moved their troops back several miles from their original front line, stationing only sentries to report the attack. They stationed their main body behind and through St. Hilaire-le-Grand, with "sacrifice posts" several thousand yards in front to slowdown the enemy attack. The Machine Gun Company was attached to one of these sacrifice posts. Just after midnight on July 15th, the German artillery barrage began. It was described as a sudden crash that continued for hours, as it did not end until 4:30 AM. As soon as the explosions stopped, the men rushed out of their shelters and into the trenches, as hordes of Germans began swarming over the field. They sprayed the Allied trenches with machine guns and grenades, but the Americans fought back fiercely, often in hand-to-hand combat. The sacrifice posts, instead of simply slowing down the Germans, beat off 5 attacks before 2 PM though surrounded every time. This was even under German air attacks and with often-jammed machine guns. Artillery fire resumed as soon as the Germans pulled back and continued until the next day, when they attempted to take the positions again. This time, they made it into the trenches, but were forced out with many casualties. The Germans lost air command on the 17th, and, on the 18th, they 165th was relieved and retreated back to a forest in the rear. For his actions on July 15th, the first day of the attack, Davis was awarded the Citation Star, then the nation's fourth highest award for valor. The official citation reads:
By direction of the President, under the provisions of the act of Congress approved July 9, 1918 (Bul. No. 43, W.D., 1918), Second Lieutenant (Infantry) Henry W. Davis, United States Army, is cited by the Commanding General, American Expeditionary Forces, for gallantry in action and a silver star may be placed upon the ribbon of the Victory Medals awarded him. Second Lieutenant Davis distinguished himself by gallantry in action while serving with Machine Gun Company, 165th Infantry Regiment, 42d Division, American Expeditionary Forces, in action near Chalons-sur-Marne, France, 15 July 1918, and by his brilliant leadership.
He also earned the French Croix de Guerre, but it is not known when or why it was awarded.
Published in the newspaper after his death is one of his letters detailing his actions in the latter part of July 1918. The author of this book has added some information from further research and corrected some of Davis's errors; all of these changes are in brackets.
Lieut. Davis Helped Stop Hun In Great Drive On July 15th
COMPANY WON MANY LAURELS IN OFFENSIVE
Prior to the receipt of the news which told on Thursday night of the death of her son October 14 from wounds received in battle, Mrs. Mary B. Davis, mother of the late Lieutenant Henry Winter Davis, would never consent to the publication of any of his letters. This was in compliance with his express direction, as he was so modest as to shrink from any such publicity. No, however, that he has laid down his life in the fulfillment of his duty, she has consented to let one of his letters be published. It was almost the last she received, and, aside from personal interest, is most worthy of preservation as the story of the participation of a heroic machine gun company in the American counter-offensive which marked the beginning of the end of the war. The letter is as follows:
"August 7, 1918.
"Dear Mother: I wrote you a few lines day before yesterday to let you know that I was all O.K. and today I will try to give you a history of events of the last few weeks. Briefly, we have at last been in the biggest part of the front, pushing back the Hun, and while it was not pleasant work, it was what we have been training for all this past year, and it was some job. Don't let anyone tell you that they are small, undeveloped, ill-fed or badly clothed men. We went up and the First and Fourth Prussian Guard divisions, and they are some fighters – while the fighting is good.
"To start at the beginning, on July 26 (I wrote you a long letter the day before), we got in trucks [at Champigny-sur-Marne] and rode from noon until 6 o'clock out to a point [Epieds] where the marines had stopped the Boche and where another division had started them back. We walked then for about five miles, seeing lots of dead men and horses and all the German ammunition you could think of – not a very pleasant sight to smell, but the fighting was only a few miles away and as yet they had not had time to do more than fix up the wounded. We camped [that] night around a chateau [Chateau Moucheton] which had been headquarters for the German army, and [later that] night started for the real front. We had but one meal that day and only breakfast the day before, the kitchens could not keep pace with trucks, but everything would have been O.K. if it had not been raining all the time and we had no tents. Rain does more to lower the morale of the men than any other thing.
"We left the chateau on the night of the 26th (the officers went up during the afternoon and three of the 12 were wounded in making a reconnaissance) to relieve the French. The Huns had made a stand in front of them and they were too worn out to go farther. As usual, all the information we had was 'grenade ici [la Boche] au revoir,' which really means 'here are the grenades, there are the Germans, good-bye.' To get to the French positions was one more job. We started out in the rain about 11 o'clock at night over a muddy road more than covered with artillery advancing and ambulances coming back with the wounded. There were many Americans on both sides of the French we were to relieve, and the sight of so many wounded did not go far in cheering up the boys.
"We finally arrived through a shell-torn forest and it was still being shelled at our position, having had to carry all of our machine gun equipment for nearly two miles, it was a welcome relief to be able to rest. The Huns were in a small town [Beuvardes] about 300 yards [east] from the edge of the woods and sweeping our place with guns about once an hour. We arrived at this spot about 6 o'clock on the morning of July 27, and so far had lost no men. We had no trenches, as the ground had only been gained a day or so before.
"At 4 o'clock that evening we got orders to advance, and as luck would have it, it started raining as soon as we got lined up in the woods. We had nothing to eat that day, so you can imagine how we felt. They did let the men leave their packs behind and that helped a lot, left a man to guard them, and I also left my bag with all my shaving and toilet articles in it, as I supposed we would have them in two days. Well, we started out, the artillery cleaned out the town in front of us and then we got into the woods again [the Foret de Fere]. We went about five kilometers, two miles, [through the Foret de Fere and out its edge] before we ran into any resistance whatever, thanks to the men on our right, who had pushed forward that morning, and then we had it hot and heavy, artillery and machine gun fire galore. However, we were in reserve that day and did not see any real action, just shells and then more shells, without us firing a shot.
"You may have read of one town [Sergy] changing hands nine times within two days. Well, that is [just across the river from] where we first took to fighting the Boche, and at that it was not our town to take. We went too far to the right and got into Alabama's way (and they are some fighters). We just about had the town when Alabama came up and took over the fight. Then we went back a few hundred yards and dug into shell holes for the night [on a reverse slope of a hill]. The next morning [July 28th] we went at it again, and with fairly heavy losses we got across a small river [the Ourcq River; this was around 9:30 AM]. One platoon of my company gets most of the credit for raking the Huns out of their positions in front of our regiment, and we captured 12 Boche machine guns. All this was on the day of the 28th. On the 29th every one commenced to wonder when we were going to be relieved, and when orders came to advance that very day everyone was worn out. We had had nothing to eat except what we had saved from two days' rations that are carried on the men, but it had not rained since the night we started the advance and that helped a little.
"That was sure one morning, our infantry walked up a hill in wonderful style in a perfect hail of machine gun bullets and 'beaucoup' artillery, but was compelled to drop back to our starting point until the machine guns could be wiped out. There's where I got my first licks. For an hour I had six guns raking the top of that hill, a wheat field, and then the infantry came up and stayed there. Orders then came to go over to our left and clear out a woods. We did that – knocked three guns and their crews out of the trees (some of the regiments have run into men and their guns chained in trees), but the Prussians fight without that and don't you forget they are good fighters.
"After the infantry got started [around 8 AM] on the left we followed them into a small woods [the Bois Colas] on a slight hill and over a creek, or, rather, I believe the creek came first [this is right], and I lost six men in the creek and five getting them out. The six from one German shell and the five from machine guns we had failed to locate. By this time we were getting away ahead of the rest of the rest of our division, and by the time we got to the far edge of the small hill (it was covered with woods), we were ordered to stop. We had lost on our battalion three captains, eight lieutenants and every company but ours, the machine gun, had been reduced to about one-quarter strength. The big majority of our losses were caused from machine gun bullets, but quite a few were from other causes. To go on with the fight, we were at that time (evening of the 29th) about half a kilometer ahead of the rest of the division and we had orders to hold until they caught up with us (which they never did), to hold the woods (which was about 200 yards long and 300 yards wide, running from northeast to southwest with a farm house, [Meurcy Farm] held by the Germans about 200 yards to the east). Will draw you a little sketch, so that you may see how I was placed. My position was in the northeast edge of the woods, with my guns placed, no infantry, and the Boche all around us with about 400 yards to the next Americans. [They could see German positions on the slopes in front of the Foret de Nesles and the Machine Gun company raked their positions regularly.]
"I had no sleep, nothing to eat and all the water we had to drink had to be brought from the creek under the cover of night, and as yet none of the dead had been buried. But we kept quiet, and I think yet the Huns thought we had gone back on a line with the rest of the division, for the next morning, bright and early, who should come walking out of that farm house, right up to a trench just outside of the woods, but 30 of the biggest Huns you ever saw. My, they were soft – only a couple got back to the house. No one would believe me when I said I thought they were going out to relieve some others in the trenches.
"We were bothered that day, the 30th, with some German machine gun fire and their artillery, but that was getting lighter, as we were close to their batteries and they were beginning to pull them out of danger. That evening the major [Donovan], who was still in command, though wounded (his adjutant [the famous poet Joyce Kilmer] dead) decided to take the farm house. We, the machine gun company, who had been swapping fire all day with the Boche, opened up in earnest and we soon had things quiet enough to send out the patrols towards the house, but hardly had they started when they were fired on from the side by [enemy] men who had been in the trenches. There were 20 of them [Germans] and we kept one live one. The other lieutenant in my company gets credit for them, and he says he started eight back, but somehow only one got in alive. The who were left of the patrol came back and we spent the night with a few infantrymen, about 10, scattered around the edge of the woods to keep out stray Huns.
"The next day [July 31st] was soft for us. By that time we had located all the Boche gun emplacements, had three artillery officers up and told them where to shell, our guns had caught up by this time, and all we had to do was to sit on the guns and pick them off as they tried to run from the artillery barrage. Great sport after having gone through what we had, and it put new life into the men. I might add that in addition to directing the fire I took a gun myself for a while and it was fine sport.
"Tell Mr. Watts that it is better than shooting quail out of trees. I could have had all the souvenirs in the world if I had any place to carry them, but as it is, I am sending you an Iron Cross ribbon I took from one of the Huns. He was alive at the time and was one of the number starting back to the rear. I have a number of cards and other things that do not take up much room. To go on, that night [of July 30th] we were bothered very little with anything but artillery fire, and very little of that. Food began to arrive and the boys were in better shape. Throughout the next day [July 31st] it was pretty much the same, lots of fun for us, but hard on the Boche. That evening we sent out a small patrol and took the farm house with a few prisoners. After that we had a little brisker artillery fire than before aimed at the house, but by that time we had dug into the ground, and it took a direct hit to get any of us.
"We had been very lucky and after we got into the woods on the hills we had only a few casualties. The next day [August 1st] food came in vast quantities, and the Germans were more quiet (or at least we keep them so), and that night we were relieved. About 3 a.m. the fresh division came and at 5 they started. They encountered only one gun out of the 10 or 15 that had started against us.
"Our captain [Seibert], who stayed with the company [3rd Battalion of the 165th Infantry] which relieved us, said as he went forward it was impossible to walk without stepping on the dead Huns that were around their machine gun emplacements. We walked back that night, or rather morning, to a large forest [Foret de Fere] and waited for another division to come up. [The 4th Division came up] five days ago, and except for rain, which has poured every day until today, August 8, it has been a very welcome rest.
"Now for a few after-thoughts: our company has been thanked and congratulated by everyone from the major-general down. The battalion commander [Major Donovan] said: 'You saved us time after time.' The colonel [McCoy] said, 'You have the best company in the 165th infantry.' And the brigadier [General Lenihan] said, 'You did wonderful work.' Headquarters sent up word that the German prisoners reported the most severe machine gun fire that they had ever encountered. You may think that I am doing an awful lot of bragging, but when I tell you the colonel said he would have every officer in the regiment promoted and personally congratulated the other platoon officer on our work, you can imagine we have some praise coming to us. Among other things, one of our gun crews [Sergeant Frank Gardella] brought down two Hun planes at the same time. He hit the top one, it buckled up and fell on the tail of the other plane. Both landed about 200 yards from our lines – four dead huns and $30,000 loss. [Gardella was awarded the Distinguished Service Cross for rushing out under heavy fire to do this.]
"Also when I tell you our losses were only about half of those of the other infantry in the same battalion, and that a good part of the time we had to go first to clear the way for them, I think you will admit we deserve some credit. And whether we get our promotion or not we know what the rest of the regiment think of us.
"In regard to our losses, we had one wounded lieutenant, 12 killed, 40 wounded and 12 missing, 6 of whom have shown up.
"We heard today that we were to go back to a rest and training are to reform the division and that we would have our leaves. I have had to pass up two already and we, or at least part of our division, have been in the trenches continuously since the first of March, and we sure have the rest coming to us. We hold the record, I think, for all American divisions.
"I am well supplied with underwear, but as I wrote you in the other letter, when I finally got back to my supplies someone had robbed the pile while the guard went to get something to eat, and as luck would have it, my bag was gone.
"We are told we will get to Paris, but I don't believe anything anymore. However, if we do, I can probably replace all my losses, if not, will have to borrow, but I can't do much longer without a tooth brush. Have not had one since the 25th of July.
"Quite a sad incident just occurred, a brother of one of our New York boys just walked in and asked for his brother, said he had walked ten miles and had not seen him since last September. We had to tell him his brother was killed just eight days before. He took it like a man, wanted to know how, where, etc., and where he was buried. Mama, nothing will ever bother me again in that line. I slept one night with two dead men about six feet away. As for the odor, one soon gets used to that. We drank from a creek in which men bayoneted one another and were glad to get it. You won't like this, I know, but I think I have seen everything the war has to offer.
"We helped to repulse one of the biggest drives the Huns ever started on the morning of the 15th of July, and then hurried up here to help push them back. I think I am going to get home without a single wound stripe, could have had two; nothing serious, however. [He was wounded in the latter part of this combat.] I have had men killed all around me, right along side of me and I know you folks at home will think I am untruthful and am trying to scare you with my tales, but it's just that I want to show you that every man who goes into this fight is not doomed, and that I firmly believe I will get back to you as well and sound as the day I left.
"By the time you have received this you will have gotten my cable. If I can get the request through I want you to send me a fair-sized diary and a large fountain pen, as I have had to refill this one twice since I started this letter.
"Show this letter to Mr. Power and tell him I have been reading in the paper about his troubles and think I prefer being over here fighting the Huns than having always to explain. Am sending him a paper knife made by a wounded Frenchman from a German "220". The man who is carrying it is a sergeant from our company, who is going home on Liberty Loan work or to act as an instructor.
"German helmets are common, but too heavy to carry, and there are plenty of German knives, pistols, etc., but no place to put them.
"Will close now, as it is raining again and we are in small tents not entirely water-proof. Lots of love.
'BILL'."
 – Huntington Herald-Dispatch, December 8th, 1918
They never did get to go to Paris, as they moved back to the rear, trained for several weeks, and moved back to the front to take part in the St. Mihiel offensive. They were to attack and clear out a German salient, and they began at 5 AM on September 12th, 1918, after 4 hours of artillery. They had trouble getting their heavy gear through the barbed wire, but afterwards the infantry advanced quickly, using small group tactics covered by machine gun fire. They took St. Baussant, crossed the Rupt de Mad river, took Maizerais, Essey, and Pannes, and arrived just south of Bois de Thiaucourt ("bois" is "wood") at 1:55 PM. The next day, they advanced through the Bois de Thiaucourt and the Bois de Beney, going through Sebastopol Farm and taking St. Benoit. By the end of the day advance elements were all the way in Hassavant Farm. They were relieved on the next day, taking up a sector to patrol a few days later, then retiring again to the rear. Overall, this had been the most successful attack of the war so far, taking 11 miles of ground. The 165th rode and marched north to the Bois de Montfaucon, staying there for a week before moving up to their pre-attack position for the Meuse-Argonne offensive on October 11th. This position was north of Exermont and west of Fleville.
At dusk on October 12th, 1918, Davis led his platoon to the front and they got into fortifications. At about 2 AM, a shell struck the edge of his foxhole and injured his forearm and seriously wounded his thigh. He was removed to a first aid station, where his wounds were wrapped, and was carried on a stretcher to an ambulance in which he went to a field hospital in the rear for further treatment. No one thought his wounds were fatal, and he remained conscious the entire time. However, dangerous symptoms developed on October 13th and he died in the early morning of October 14th, 1918. His unit did not know of his death until much later; when they heard, the regimental chaplain, Father Francis Duffy, wrote that he was a man of "unlimited courage"2 (the highly-decorated chaplain became a household name during the war). He was first buried in France, but his remains were removed and sent home from Antwerp on the USAT WHEATON on June 19th, 1921. They arrived in Hoboken, New Jersey, on July 2nd and he was buried in Huntington's Spring Hill Cemetery.
His family was not notified until many weeks after his death, in early December 1918:
Lieut. Henry W. Davis is Dead of Wounds Received In Battle
OFFICIAL WORD OF DEATH SENT BY WASHINGTON
Mother, in Suspense Many Weeks Collapses When Telegram Confirms Grave Fears
END CAME TO HIM ON FOURTEENTH OF OCTOBER
Power Engineer for Ohio Valley Railway Co. – Was Graduate of First Officers School
Clouds of suspense which had been hovering for weeks broke into a storm of grief last night when a message was received by Mrs. Mary Beuhring Davis, 527 Fifteenth street, announcing the death of her son Lieutenant Henry Winter Davis. The official message reads:
Washington, December 5.
               Mrs. Mary Beuhring Davis,
                               527 Fifteenth street,
                                               Huntington, W.Va.
Deeply regret to report that Lieutenant Henry Winter Davis died on October fourteenth from wounds received in action
               Harris, the Adjutant General.
No word had been received from Lieutenant Davis for many weeks, the last letter which came from him having been dated September 15. His long silence brought to his mother and sister and brother a sense of foreboding, against which, toward the last, they had found it almost impossible to hope. Only two days before the message of his death came, the family had started an inquiry concerning his whereabouts and condition. Yesterday his mother's hopes brightened and she said she felt that all would be well. When the tragic news came, overcome by her grief and the strain of her long suspense, she collapsed.
Was in First Camp
Lieutenant Davis was one of the best known of the young Huntingtonians who went from Huntington to the first Officers Training School at Fort Benjamin Harrison in the spring of 1917. He was one of five Huntingtonians who, after receiving their commissions, were selected to go overseas immediately. He left Huntington on Sunday, August 25, 1917, for Hoboken, whence he sailed for France early in September, landing in France within that month. One of the men who went with him on that summer afternoon when he waved goodbye to family and friends was Lieutenant Walter Verlin Dial, news of whose death on the battlefield reached here about ten days ago. They remained together on the train and in the embarkation port and went overseas together. Their paths appear to have diverged after they reached the other side, but they died within a few days of each other, each bathing the soil of France in his blood – paying the full price for the redemption of the land from the hold of the forces of oppression.
Born in Huntington
Henry Winter Davis was born in Huntington on September 2, 1887. He was educated in the public schools of the city, graduating from Huntington High school in the class of 1904. For a time he was a student and Marshall College and later studied at the University of West Virginia at Morgantown, where he was received as a member of the Kappa Alpha Fraternity.
Leaving school he went to Pittsburgh where took a four years' course in electrical engineering at the Westinghouse plant. Upon completion of this course he was given a responsible position in the Westinghouse office, in which he continued until the spring of 1913, when he returned to Huntington. Shortly thereafter he became connected with the engineering department of the Ohio Valley Electric Railway Company and when the war began he was a power engineer for that company.
He began his military career as a member of the famous Huntington Machine Gun Company with which he served at Camp Kanawha. He was released from service before the company went to the Border, but when the call came for enlistment in the first officers' training school he again felt it his duty to place his services at the disposal of his country. They were accepted and he was duly commissioned and chosen for overseas service. He was one of nine men from his company in the training school who were chosen for this service.
There were also chosen for this service besides Lieutenant Davis and Lieutenant Dial, Lieutenant Hubert Ellis, who left on the train with Davis and Dial, and Lieutenants Charles E. Frampton and Earle C. Jameson, who joined the other three in New York and crossed the ocean with them.
Upon his arrival in France, Lieutenant Davis was assigned to a training school for machine gunners where he spent six weeks. Then he was assigned to active duty with the 165th infantry, otherwise and formerly known as the Sixty-Ninth New York – the fighting Irish regiment of the Rainbow Division in which he remained until the last.
He was in the thick of the fighting many months and bore the part of an American officer worthy of the name in the mighty advance against the German hordes. As yet no one knows how he died – whether his eyes closed for the last time as he gazed on a sky lurid with the flames of battle or on the figure of a ministering Red Cross attendant bending over him.
Doubtless some day the story will come to Huntington – in the meanwhile all who now him know that he died a soldier's death – fearless and without reproach.
His life and work were marked by earnestness of character and purpose that distinguished him from the many. Devoted to his home, where he spent much of his spare time studiously, he yet found time to win and keep a large number of friends. He was a member of Johnson Memorial Methodist Episcopal Church, South, and of Kappa Alpha Fraternity, but of no other organization.
To his intimates and his family he was known from boyhood up as "Billy" and many will recognize him by this appellation more readily than that by which he was christened.
He leaves his mother, a sister, Mrs. Frances Davis Prichard, at home, and a younger brother, Jack Davis, employed at Prestonsburg, Ky. The brother was notified by telephone last night and is expected to arrive home this evening."
 – Huntington Herald-Dispatch, December 6th, 1918
As an alumnus, he was honored at Huntington High School's remembrance ceremony:
FOUR GOLD STARS APPEAR ON FLAG FOR SERVICE MEN
Cox, Anderson, Dial and Davis Honored by Sunday Afternoon Program
CLASSMATES PLACE GOLD STARS IN FLAG
Tears Flow Freely as Eloquence of Attorney D.W. Brown Stirs Gathering
Touching and inspiring to such an extent as to leave a lasting impression on the minds of those who gathered for the occasion, was the memorial service was held at the high school auditorium yesterday afternoon for four members of the Alumni who paid the supreme price of devotion to God and country during the great war. The men honored were:
Chase Cox, ev '15
Lane Anderson, ex '15
Verlin Dial, '13
Henry Winter Davis, '05
Personal tribute was paid to these fallen by members of the classes to which they belonged, and a stirring memorial address was delivered by Attorney Douglas W. Brown. There was also an impressive musical program rendered by the high school chorus under the direction of Miss Sara E. Galloway.
The opening was a piano prelude, by Miss Esther Ripley, who presided at the instrument throughout the program, followed by "The Star Spangled Banner," and the 'Marseillaise," sung by the chorus.
The Scripture lesson was the Forty-sixth Psalm, read by Rev. J.W. Yoho, pastor of the Madison Avenue Church of Christ.
A tender and eloquent prayer was offered by Dr. M.L. Hood, pastor of the Fifth Avenue Baptist Church.
This was followed by the anthem "Zion Awake," by Rossini, rendered by the chorus….
…News of Davis
Particular interest attached to the tribute of Samuel Biern to Lieutenant Henry Winter Davis – known, as the speaker said, as "Bill Davis," because in two letters he read there was news as to the manner of the lieutenant's death which had not been previously made public. Mr. Biern read these letters, saying that he felt sure they would be more expressive than anything he might say. The first letter was from Lieutenant R.B. De LaCour, first lieutenant, U.S.A, commanding Machine Gun company 165th infantry, to which Lieutenant Davis was attached. Parts which Mr. Biern read were as follows:
"Lieutenant Davis, upon arrival in France, attended the American officers' school at La VanBonne, France, and upon completing his course of instruction, was assigned to the 165thinfantry, Forty-second division (Rainbow) where he reported in November, 1917, and assumed his duties with headquarters company, where he remained until February, 1918, then being transferred to the machine gun company, where he served so faithfully until he was wounded on October 12, at Landres, St. George.
"During the subsequent action in which this regiment was engaged Lieutenant Davis served with the machine gun company in the Baccarat sector, Chasseurs, Champagne, Villers-sur-Fere, Murcey Farm, River Orcq, St. Mihiel sector, and at Landres St. George, where he was wounded. His courage and leadership in all the above engagements was a constant inspiration to the men of his platoon, and his loss is keenly felt by the personnel of the company who had learned to respect and honor him through trying days and nights of combat. For his courage and bravery he was recommended for a promotion shortly after his regiment came out of the Chateau Thierry sector.
"On the night of October 12 Lieutenant Davis took his platoon into the front rank line about dusk. After his me were dug in and the relief established there, he lay down in his "fox hole," and it was while he was there that an enemy shell struck the edge of the hole, a fragment striking him on the left forearm and another penetrating his thigh. This happened about 2 o'clock in the morning and he was immediately removed to the first aid station, where his wounds were dressed. He was suffering considerably from his wounds as well as from shock. From the first aid station he was removed on a stretcher to an ambulance in the rear, where his wounds were given attention. One of the stretcher bearers who carried him in told me today that no one thought his wounds would prove fatal, as he was conscious until he was placed in the ambulance.
"We had wondered many times why we had received no word from the hospital or from Lieutenant Davis himself, and your letter confirms our fears that he has passed away in some hospital.
"I assure that his loss as a brother officer and his loss to the regiment and company is most keenly felt, for in the days that have passed a man's true character showed itself as never before and in Lieutenant Davis we found a comrade who never failed or faltered when duty called, and it will be a great comfort and source of pride to those who knew him in action and to his loved ones at home to know that he died a hero's death on the field of honor at a time when our American forces were exerting the enormous pressure which shortly afterwards helped to bring about the armistice."
The Orderly's Tribute
Mr. Biern also read the following letter from the dead officer's orderly:
Rainbow Division, 165th U.S. Infantry,
Remagen A. Rh., January 19, 1919.
Mrs. Davis,
Dear Madam:
Through Chaplain Duffy I have learned that your son, Lieutenant H.W. Davis, had died from wounds.
I was his orderly since he came to this company last February until he was wounded in October. I was the first to his side and dressed his arm, which was in a very bad condition, then four men and I carried him on a litter to the ambulance and first aid station.
Lieutenant Davis was a very brave and kind gentleman and I was awful sorry to hear of his death, and I hope you will kindly let me share your sorrow for him.
               Sincerely,
               PVT. WILLIAM J. MURPHY,
                               M.G. Co. 165th Inf.
                                               Amer. Ex. For.
Mr. Biern also read a previously published letter from Lieut. Col. W.J. Donovan of the 165th, who paid a warm tribute to the qualities of Lieutenant Davis as a soldier and a man.
He closed with a few impressive words addressed to the dead hero, still living in his memory as a friend, while he placed the gold star above the blue one, covering it.
The chorus then sang "Crossing the Bar."
This was followed by the address of Mr. Brown, which is given in full in another column.
In closing the chorus sang a hymn, "It Came Upon the Midnight Clear," and a medley of war songs.
The benediction was pronounced by Rev. J.W. Yoho, and from the wings the bugle sounded taps for Davis, Dial, Anderson and Cox.
 - Huntington Herald-Dispatch, February 17th, 1919
He was also honored in their 1919 yearbook:
After receiving his commission Lt. "Billy" Davis volunteered for immediate service overseas. He was transferred to the Rainbow Division with which he served until he was wounded on October 12th at Landres, St. George. A few days later he passed on.
His comrades wrote of him "his courage and leadership was a constant inspiration to the men of his platoon and his loss is keenly felt". So he was in school, a leader, a scholar, a gentleman. At the time of his death Lt. Davis wore the Croix de Guerre and had been recommended for a promotion for his courage and bravery. Henry, we of Huntington High "stand at attention" to you.
Further information about his death eventually came to Huntington residents:
MEDICAL OFFICER WHO DRESSED WOUNDS OF LT. DAVIS HERE
Chance Discovery at Canteen Brings Story of Last Hours to Officer's Family
CAPT. J.F. CAPPS ON NUMBER 3 WEDNESDAY
Had Known Lt. Davis Since Chatteau Thierry Battle and They Were Fast Friends
Lieutenant Billy Davis sleeps in a soldier's grave at Iroidas, France, near Fleury where he died in the early morning of October fourteenth. Word to this effect was received a day or two ago by his mother, Mrs. Mary B. Davis of fifteenth. But it was not until yesterday that the definite story of his death come to his home people.
The story was told here yesterday by Capt. J.F. Capps, of Qulso, Okla., who was in command of the ambulance company attached to the 165th infantry, and who was the surgeon who dressed the injured Lieutenant's wounds.
It was only by chance that the presence of Capt. Capps on the second section of No. 3 was discovered and that his association with Lieutenant Davis was discovered. One of the members of the canteen unit on duty yesterday asked soldier if there were any Rainbow division men on the train. He replied that there was medical officer aboard, whereupon she called Capt. Capps. The canteen worker asked the officer if he had known a Lieutenant Henry Winter Davis.
"Yes" was the reply, "I dressed his wounds."
Instantly a telephone message was sent to Mrs. Frances D. Prichard, sister of the dead lieutenant, who was located at the Herald-Dispatch office, and a motor messenger was sent for her. She was in time for a short conversation with Capt. Capps, who told her that her brother's wound was due to a gaping wound in his hip, caused by fragment from a high explosive shell, which, he said, was poisonous.
The two officers had been friends for many months, having first become acquainted at the battle of Chateau-Thierry. Thereafter they were much associated until death removed the young Huntingtonian.
He did not know who it was he was called to attend when he was summoned to see Davis about 2 o'clock on the morning of October 12. In ten minutes after the shell had exploded Lieutenant Davis had received first aid and in twenty minutes he was on the operating table in a field hospital six miles behind the line. He was fully conscious and remained so until the end, except for the fact that he was kept as completely as possible under the influence of opiates. On his first day in the hospital his condition was not considered dangerous, but on the thirteenth symptoms developed which the surgeons and nurses recognized as alarming. Capt. Capps talked with the injured man on the night of the thirteenth and gathered from his conversation that he realized the gravity of his condition.
He did not know that this was Lieutenant Davis' home but was not more surprised at the chance discovery than he was to learn that the relatives had never before heard the circumstances of his friend's death.
 – Huntington Herald-Dispatch, February 20th, 1919
As both his mother and sister were members of the Buford Chapter of the Daughters of the American Revolution, the Chapter planted a tree outside their cabin in Huntington's Ritter Park which still stands in his memory today. On October 13th, 2018, they rededicated the tree and placed a stone marker in his memory.
[From In the Service of Their Country - used with permission of the author]
Sources
Woodard, Benjamin. In the Service of Their Country: The Story of the Soldiers from Cabell County, West Virginia, Who Gave the Ultimate Sacrifice in the Great War. Sixth Printing. Benjamin Woodard - Lulu, 2019.
Image Sources
Honor Roll of Cabell County - Author's Picture (Benjamin Woodard)

Author - Benjamin Woodard

Author - Benjamin Woodard

Author - Benjamin Woodard

Additional Information