NBA Hall of Fame
Introduction
The NBA Hall of Fame was opened in 1959 and almost 400 people have been inducted. During the 17 years that the Basketball Hall of Fame, it drew over 630,000 visitors. In 2009 after playing 15 seasons in the NBA, Michael Jordan was inducted into the Hall of Fame in 2009. He was among a class of five enshrined in the Naismith Memorial Basketball Hall of Fame on Sept. 11, 2009. This class includes Jerry Sloan, John Stockton, C. Vivian Stringer and David Robinson. During his career, Jordan was unstoppable. Every time you watched Michael play you knew you were watching something very special. Jordan had the ability to raise his game to any occasion. If he needed to facilitate, then he would do just that. When needed to score, then you couldn't stop him from getting his points. Jordan had an understanding for the flow of the game. He knew when he needed to make big plays to change the momentum of the game. Jordan was also the best finisher the game has ever seen. The game was never over as long as Jordan was still on the court. In Michael's speech, Jordan brought up Leroy Smith, the high school teammate who beat him out for the final spot on his high school varsity team when he was a Sophomore. Sports columist Adrian Wojnarowski spoke highly of Jordan and what made Jordan great was his his ability to motivate himself.
Images
Michael Jordan was enshrined in the 2009 NBA Hall of Fame.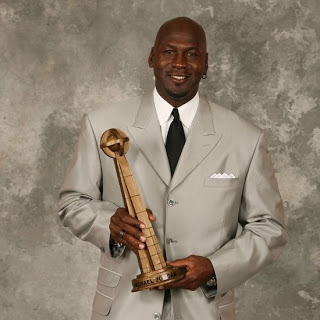 Michael joined the Hall of Fame as a 1st ballot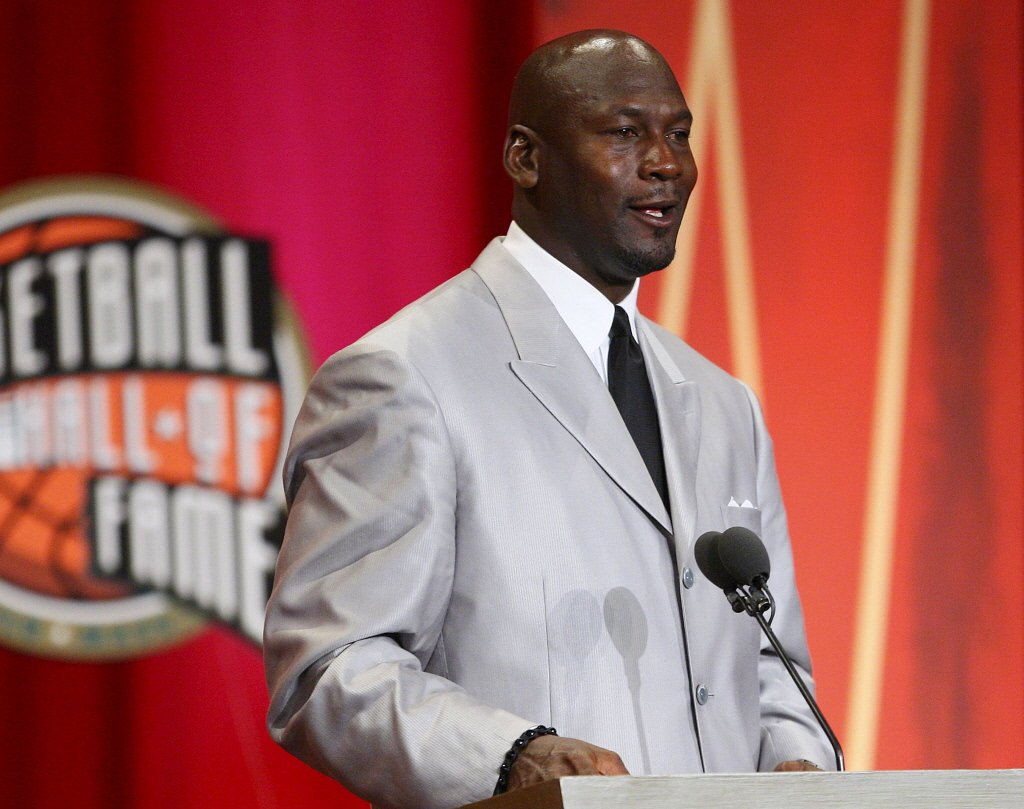 During his speech, Jordan was tearing up shedding tears of joy.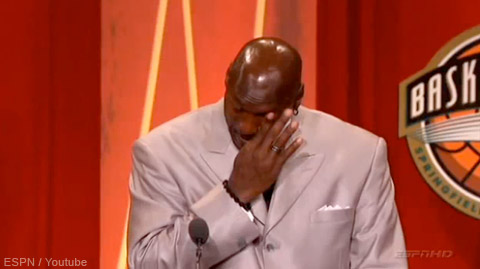 Jordan is one of 7 seven players with an NCAA title, NBA title and Olympic gold medal.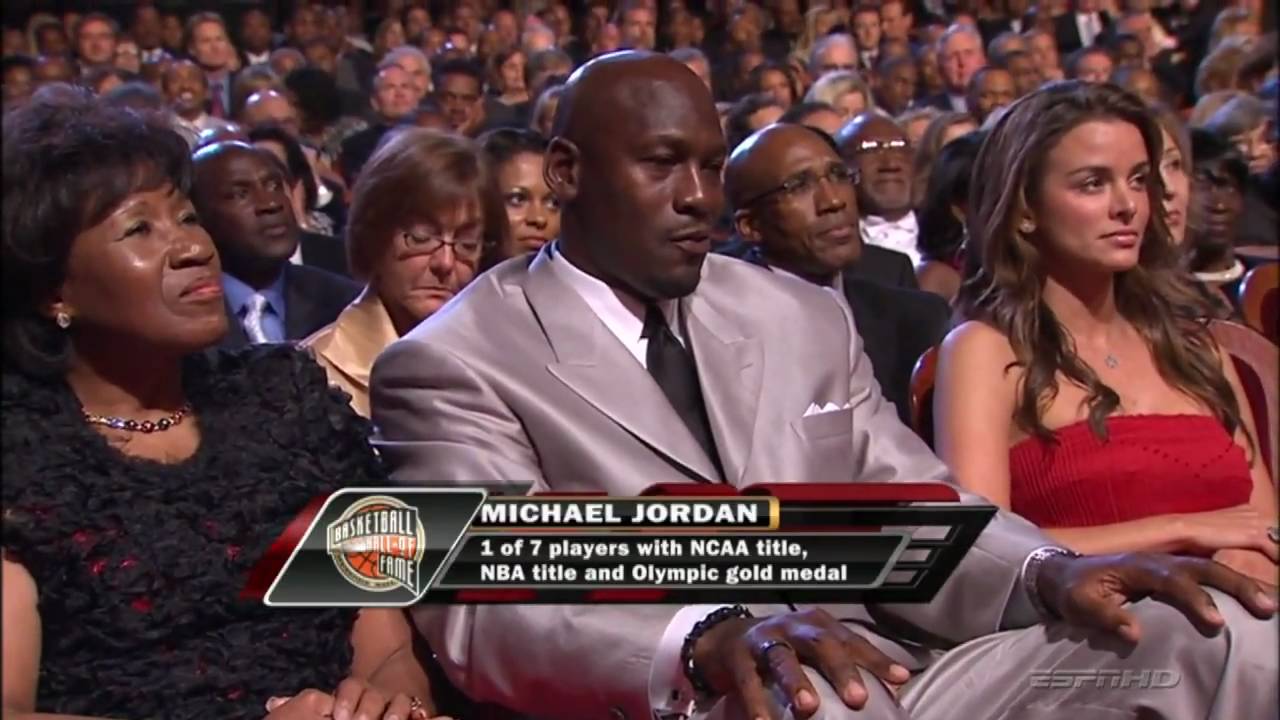 Backstory and Context
Jordan was the most gifted player on the court whenever he was playing. While some players slack off, and take games off. Michael was able to stay hungry, and competitive. Michael found ways to motivate himself, and trick himself into thinking he needed to improve his game to prove someone wrong. If that included waiting until his induction speech to fly out an old high school teammate, to prove to the teammate and old high school coach that he was right and they were wrong, then so be it. Michael Jordan will not be stopped by anyone but Michael Jordan.
In his career, Jordan went from Rookie of the Year to leading the Bulls to six world championships. MJ's rise to superstardom, was filled with hard work, passion and key pieces that helped the Bulls win. Jordan became a 14x All Star, 2 time Olympic Gold medalist, 11 time All NBA first team, 9 All Defensive first team, 5 MVP awards and 6 time NBA Finals MVP. He scored over 32,000 points, 6,672 rebounds, 5,633 assists, 2,514 steals and 893 blocks. He went 6-0 in the Finals averaged 33 points in the playoffs. He is also the only player other than Wilt Chamberlain to score 3,000 in a single season which he did in the 1986-87 season.
Michael played with a great group of players who helped make six world championships possible, including Scottie Pippen, John Paxson, B.J. Armstrong, Dennis Rodman, Toni Kukoc and Bill Wennington. With the help of his teammates, the Bulls had two three peats and became the most successful NBA franchise throughout the 1990s. Former teammate John Paxson, spoke on Jordan never being afraid to fail and he worked constantly on his game to lead his team. Going through losing seasons against the Celtics, then to the Bad Boy Detroit Pistons to winning championships. With everything he has done, Michael is one of the most known and accomplished basketball players ever.
Sources
BULLS LEGEND MICHAEL JORDAN ENTERS THE NAISMITH MEMORIAL BASKETBALL HALL OF FAME, M. Accessed April 6th 2020. https://www.nba.com/bulls/news/jordanhof_2009.html.
Greenberg, Jon. The Man behind the Legend, espn.com. September 12th 2009. Accessed April 11th 2020. https://www.espn.com/columns/story?columnist=greenberg_jon&id=4468210.
Welling, Mark. Michael Jordan's Hall of Fame Speech Gave Insight into What Made Jordan, bleacherreport.com. September 22nd 2009. Accessed April 11th 2020. https://bleacherreport.com/articles/259287-michael-jordans-hall-of-fame-speech-gave-insight-into-what-made-jordan.
Additional Information