Pasco Aviation Museum
Introduction
Founded in 2012, the Pasco Aviation Museum promotes the history of aviation. It is housed in the Old NAS Pasco Control Tower, which was built in the early 1940s. As of 2020, the first two floors feature exhibit space and are open to the public; the third and fourth floors are being renovated. A variety of Items are on display such as memorabilia, photographs, and artifacts. The museum also hosts aviation events, which sometimes feature aircraft from the WWI-era and beyond.
Images
Pasco Aviation Museum promotes aviation history. It is located in the historic NAS Pasco Control Tower, which dates to the early 1940s.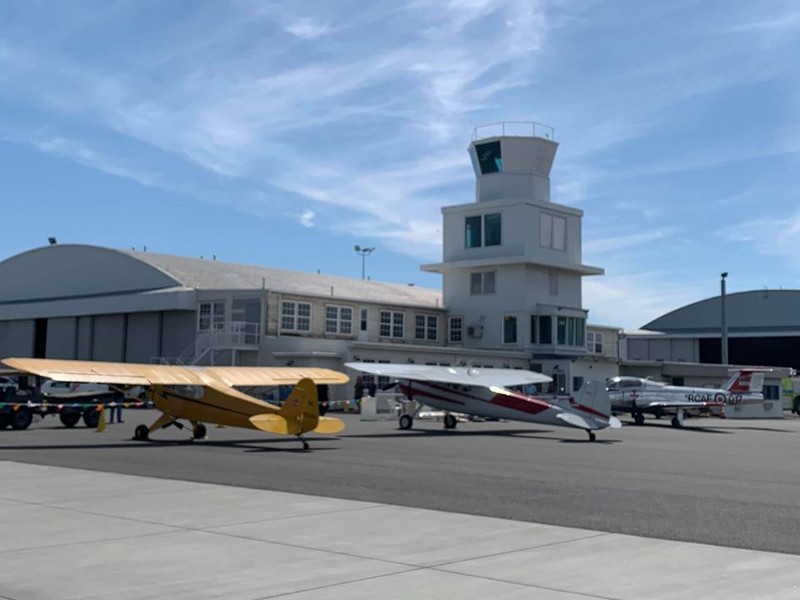 Backstory and Context
The building was constructed by the U.S. Navy, which used it to train pilots in aerial combat. Eventually, it was used to train experienced pilots in new aircraft. After the war, the city acquired the building under the condition that the Navy still had the right to use it for training in landing and take-off. The building was used until 1966 then essentially abandoned. As a result, it fell into disrepair and it seems to have remained vacant until the Pacific Northwest Aviation Museum and Historical Association leased it in 2012 for the purpose of opening the museum. The first floor opened in 2018 and the second floor in 2019.
Sources
"Community Efforts to Save Pasco Naval Air Station Tower." Warbird Digest. July 1, 2013. http://warbirdsnews.com/aviation-museum-news/group-pushes-save-pasco-naval-air-station-tower.html.
"Pasco Aviation Museum set to unveil remodeled second floor." YakTriNews.com. May 17, 2019. Last Updated December 18, 2019. https://www.yaktrinews.com/pasco-aviation-museum-set-to-unveil-remodeled-second-floor.
Additional Information