U.S.S. Gary Works
Introduction
The industry in Indiana has changed quite a bit through the span of the state's life, and it would be foolish not to talk about one of, and still sort of, biggest industries in Indiana. It was because of the mill, and others like it, that people started to migrate up North from the South in search of better work.
Images
Open Hearth, USS Gary Works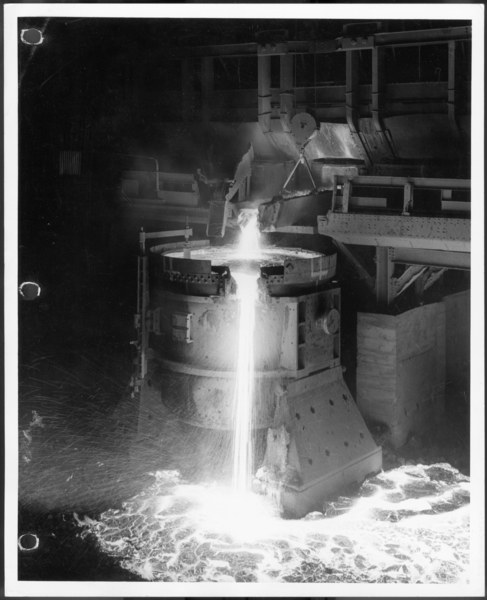 Backstory and Context
Gary Works was at one time the world's largest steel mill and produced much of the jobs for the Indiana work force. Anyone that was anyone was going to work the mill in the early 1900s, when the mill first opened. Steel production was picking up, and there was no better spot for a mill than right on Lake Michigan. To help with the influx of workers coming into the mill, it built more than 2,500 homes along with the mill and used it as an initial payment for the employees. Gary Works survived both world wars, the Great Depression, and several workers strikes before it became a crown jewel of Gary. The mill was such a popular place for people to find work, that by 1929 Gary went from a population of just about 55,000 to 100,000. The city would continue to see an increase in its population for years to come until the start of its steady decline in the early 1970s. With growing oversea steel competitors U.S. Steel had to start its decent and began to lay its workers off. This trend of laying workers off continues today as the steel industry in Indiana declines. It was because of this mill that we saw one of the bigger shifts in our economy. This mill caused a mass migration of people to come to it, and when it started to lay those workers off, we see how it almost brought complete chaos to the economy.
Sources
McShane, Steve. "U.S. Steel Gary Works Photograph Collection, 1906-1971." Gary, the Magic City- U.S. Steel Photograph Collection. Indiana University, October 13, 2010. http://webapp1.dlib.indiana.edu/ussteel/context/essay.jsp.
O'Hara, S. Paul. Gary, the Most American of All American Cities. Bloomington: Indiana University Press, 2011.
Pieters, Nancy. "Inside Gary Works. Changing History. Building of Gary Works." nwitimes.com. North West Indiana Times, November 27, 1992. https://www.nwitimes.com/uncategorized/inside-gary-works-changing-history-building-of-gary-works/article_144a03a1-d60e-587c-a576-c482f7184f73.html.
"Moves Gary Again By Magic Of Gold." The Indianapolis News. April 7, 1916.
Image Sources
http://webapp1.dlib.indiana.edu/ussteel/results/item.do?itemId=/nw/cra/ussteel/CRA-42-118-028

http://webapp1.dlib.indiana.edu/ussteel/results/item.do?itemId=/nw/cra/ussteel/CRA-42-118-028