Alice Moseley Museum and Historic L & N Train Depot
Introduction
The historic L & N Train Depot was built in 1928 and has been designated a "Mississippi Landmark." The restored station and currently houses the Hancock County Tourism Development Bureau. The second floor is home to the Alice Moseley Museum which features 40 pieces of the nationally-acclaimed folk artist. The museum closed temporarily in September 2014, but resumed operations shortly thereafter. The museum also features vintage bottles, Majolica vases, depression glasses, and antiques.
Images
The Historic Train Depot has undergone a complete exterior and interior renovation following 2005's Hurricane Katrina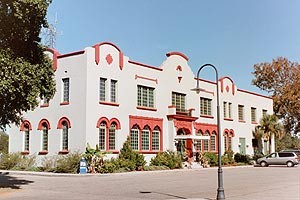 Backstory and Context
Alice Moseley (1909-2004) was born in Birmingham, Alabama. She studied at the University of Alabama and work as a teacher afterwards. She married her husband, William, and they lived in Batesville, Mississippi. In the 1960s Alice's mother moved in with them as she was beginning to suffer fro Alzheimer's disease. Alice took care of her (and continued to teach) but doing so caused a lot of stress. To relieve some of the tension Alice began to take up painting. In 1970, her son, Tim, convinced her to let him sell her paintings at a flea market in Nashville. A buyer bought all of the paintings for $45 each. It was here that the idea of painting and selling her art was born. Things really took off in 1977 and in the coming years her reputation grew. In 1988, she was asked to show her work in 5 cities, one of which was Bay St. Louis. She had her assistant randomly pick one (Bay St. Louis) and, viewing the city from Bay Bridge and pleased with what she saw, she decided it would be her new home. 
Sources
"Miss Alice." Alice Moseley Museum. Accessed January 2, 2017. http://www.alicemoseley.com/miss-alice.
Additional Information