Shirley's Grocery and Drive-In
Introduction
Shirley's Grocery and Drive-In was located on the south side of Main Street about where Pizza Hut is today. It opened for business in 1947 and was owned and operated by Fred Shirley and his son Henry. As his obituary noted, Henry Shirley was more than a local business owner, "he served his country during World War II from 1941-1945 ... [and] was a teacher at Madison Jr High and a city councilman and mayor of Rexburg from 1970 to 1973."
Images
Shirley's Grocery and Drive-in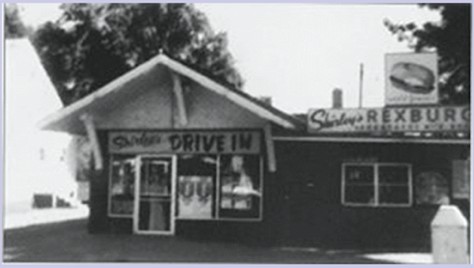 Shirley's after the flood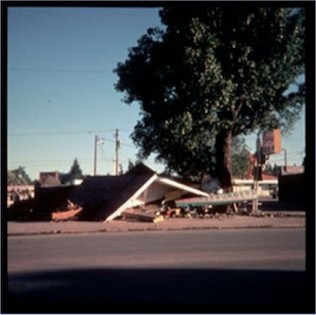 Backstory and Context
In 1976 Rexburg lost the greatest hamburger the area has ever known when Shirley's Drive-In, home of the "Rexburger," was tragically destroyed after the Teton Dam burst, sending a fifteen-foot wall of water crashing through the Upper Snake River plain. When the water receded Shirley's was unsalvageable. The famous "Rexburger" was no more. 
This was a greater tragedy than it might first appear, for the "Rexburger" was unlike any other burger then or now. Diane Perry misses Shirley's every day. It was a place the whole family could enjoy. Allison Staker remembers how Shirley's was her family's favorite place to eat out. She recalls, "there wasn't any special decor or atmosphere to Shirley's they just made a really good hamburger" and Rhonda Munns "so wishes we had a place like Shirley's now." While the location of Shirley's may be gone, the memories created by its presence, the smells and tastes associated with its food will last for some time to come. 
What memories of food do you have from your youth? How would you feel today if you could never eat at your favorite restaurant again? 
Sources
BYU-Idaho Public History Class Spring 2019. "Remembering Rexburg: Shirley's Drive-In", Accessed April 11th 2020. https://www.byui.edu/radio/remembering-rexburg-season-1-podcast.