Neutra VDL Studio and Residences
Introduction
Designed by Austrian-born architect, Richard Neutra, the VDL Studio and Residences represent Neutra's affinity for the International style of architecture and an experiment in high-density, mixed-used housing built on a small lot. The original house was completed in 1932 and named after Neutra's patron, Cees Van der Leeuw. Most of the original house was destroyed by fire in 1963. Neutra's son, Dion, with the help of his father, rebuilt the home on its original foundation in 1966. In 1980, Neutra's widow, Dione, donated the home to the California State Polytechnic University at Pomona. The university owns it to this day and offers tours on Saturdays. It was designated a National Historic Landmark in 2016.
Images
As with most of Neutra's structures, VDL II blends in with its surrounding environment.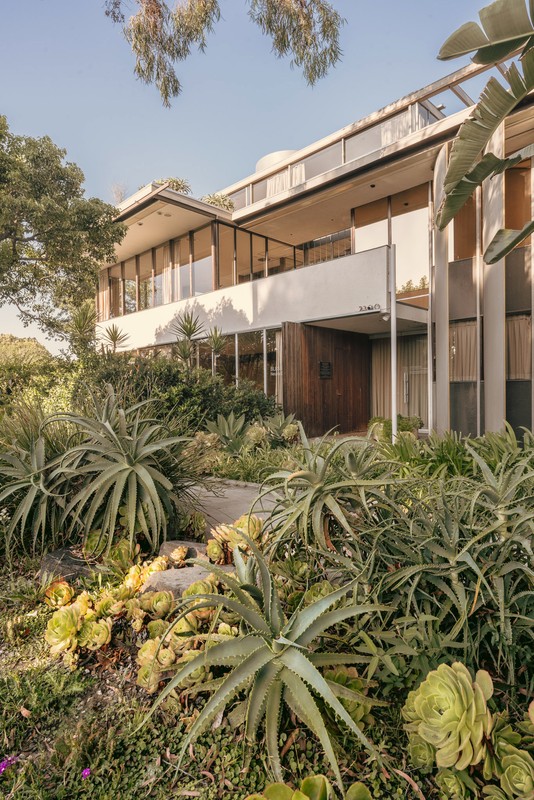 The interior of VDL I with a lived in appearance thanks to the Neutra family.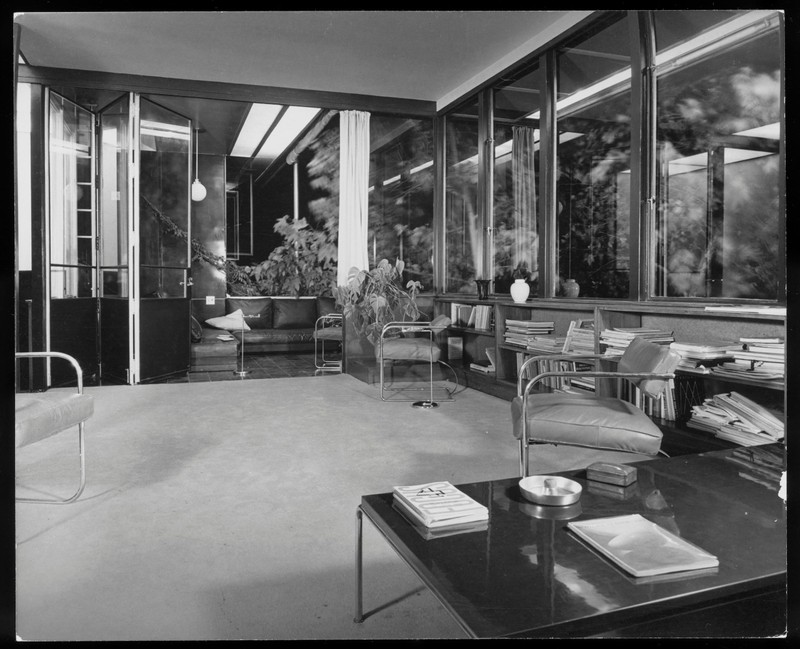 The 1939 Garden House with its large opening to the exterior garden patio.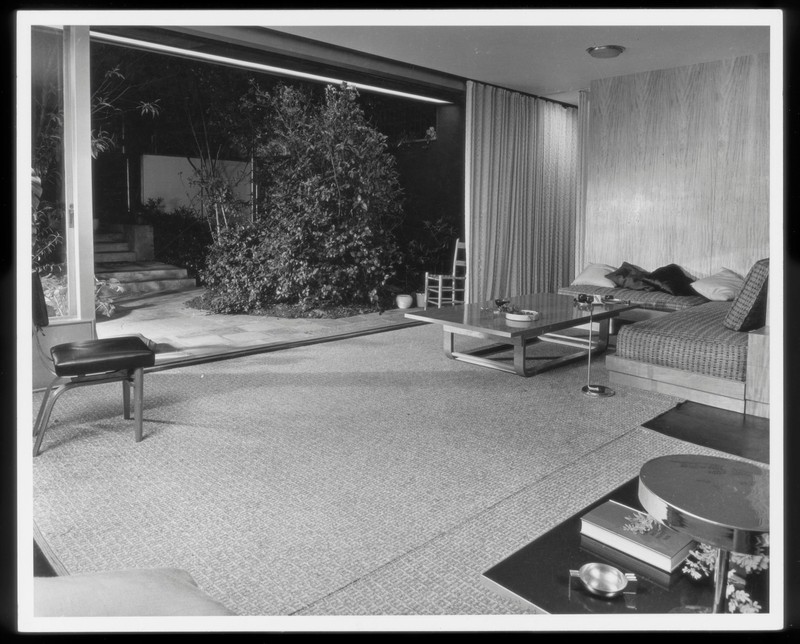 Richard Neutra standing outside his cherished home shortly after the 1963 fire.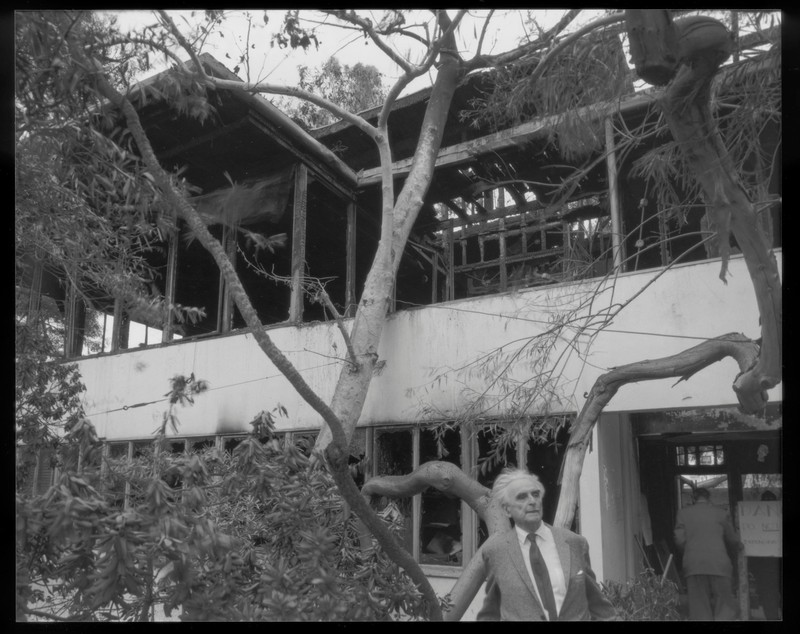 And Richard Neutra sitting on the roof balcony of VDL II in 1966.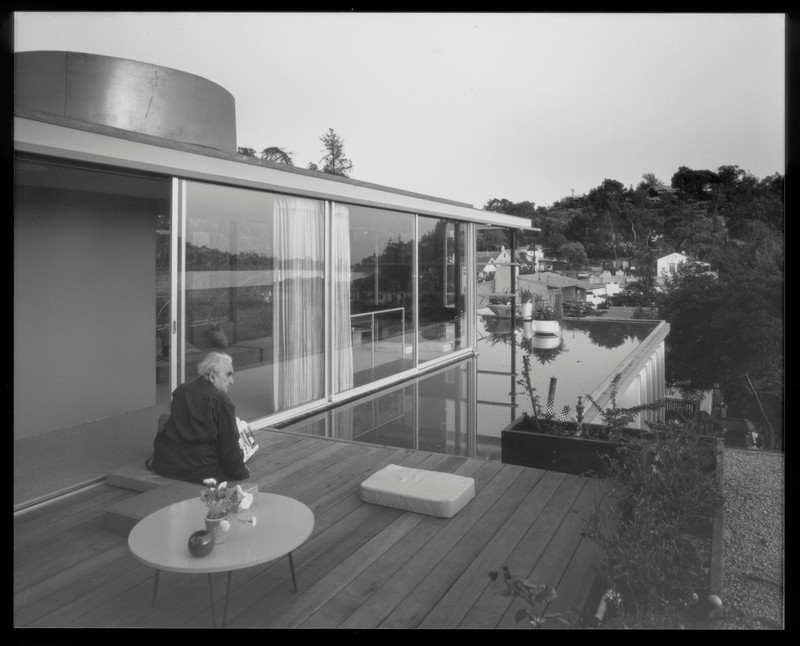 The interior space of VDL II.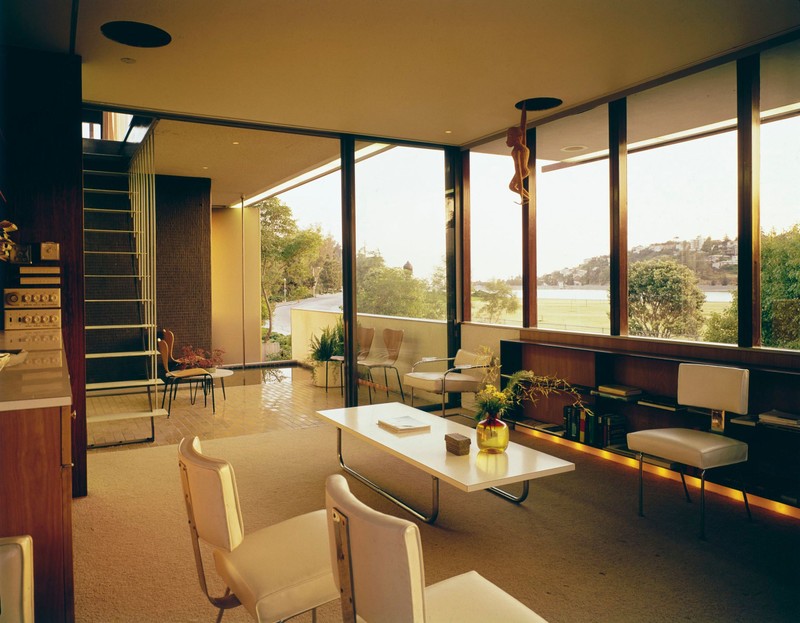 Backstory and Context
Born in Vienna, Austria in 1892, Richard Neutra was educated at its Technical Academy and served as an artillery officer for Austria-Hungry in World War I. He studied under Adolf Loos who introduced him to America's Chicago style of architecture and the works of Louis Sullivan and Frank Lloyd Wright. He married Dione Niedermann in 1922 and the couple immigrated to the United States the next year. Neutra went on to work for the Chicago firm of Holabird and Roche for a short time and also with Frank Lloyd Wright at his Taliesin Studio in Wisconsin.
Neutra designed almost exclusively in the International, or Modern, architectural style. This style melded aesthetics and technology as it utilized modern materials, such as steel, glass, and reinforced concrete to create geometric structures. Although, Neutra would occasionally use natural materials, such as stone and redwood in his Sternburg House and Corona School. These geometric buildings featured clean, unadorned plane surfaces, cantilevered construction techniques and open indoor spaces. Neutra, probably due to his work with Frank Lloyd Wright, fit his buildings into their natural environment and blurred the lines between indoor and outdoor spaces with balconies, patios and porches.
Neutra only stayed in the Midwest a short while. By 1926 he was in Los Angeles and designing the Lovell House, one of his most significant early works, by 1927. Neutra, a prolific designer, continued to create International style homes throughout the Great Depression and began to design a variety of structures, to include churches, apartments, university buildings, entire housing developments and cultural centers. Two of his prominent post-World War II projects were the Kaufman Desert House in Palm Springs and the Painted Desert Community Complex in Arizona. In 1966, he partnered with his son, Dion, to create Richard and Dion Neutra Architects and Associates. Richard Neutra died in Germany in 1970 while touring Europe. He is credited with popularizing the European Modernist style of architecture within the U.S. and producing architecturally significant housing for people of modest means, often in an urban environment.
In the early 1930s, a patron of Neutra's work, Dutch industrialist Dr. Van der Leeuw, loaned him money so that he might design and build a home for his growing family. The result was what Neutra referred to as the VDL Studio. He selected an affordable small lot across from the Silver Lake Reservoir for his 2,000 square foot home. Neutra sought to use the small lot as an experiment to design attainable, urban housing and used clean flat lines and large glass walls that opened onto patios and gardens. Inside he enhanced the natural lighting by using mirrors and utilized built-in furniture. In 1939, Neutra added the Garden House that was connected to the original via a garden patio mostly as a play area for his three young sons.
In 1963, while the family was away, most of the original house was destroyed by fire. The Garden House and the lower level of the house were all that were spared. Unfortunately, most of his original drawings, writings and his architectural library were lost to the fire. Neutra had no plans to rebuild until his son offered to recreate the house, to include design modifications, with his father's oversight. Dion lived in the Garden House as VDL Studio II wasn't completed until 1966. 
Dione, Neutra's widow, maintained ownership of the house until she donated it to Cal Poly Pomona in 1980. By the early 21st century VDL II needed restoration and repair and a fundraising campaign began in 2008 with the restoration completed soon after. The university now uses the VDL Studio for its Artist-in-Residence program and it is maintained by the Department of Architecture and the College of Environmental Design. Saturday tours of VDL II are conducted by Cal Poly Pomona architecture students.        
Sources
Bricker, Lauren; Laura Vanaskie and Jenna Bondsmith. "National Register of Historic Places Nomination Form: Neutra Studio and Residences." United States Department of the Interior/National Park Service. July, 2008. Accessed April 1, 2020. https://www.nps.gov/nr/feature/weekly_features/Neutra_Research_House.pdf
Ayyuce, Orhan. "Neutra's VDL House v. Hard Times." Archinect. March 17, 2008. Accessed April 1, 2020. https://archinect.com/features/article/72721/neutra-s-vdl-house-v-hard-times
Artsy, Avishay. "Neutra's Silver Lake house named a National Historic Landmark." KCRW. April 25, 2017. Accessed April 1, 2020. https://www.kcrw.com/culture/shows/design-and-architecture/neutras-silver-lake-house-named-a-national-historic-landmark
"Miller, Stephan. "Saving neutra's vdl house." Architect Magazine. August 19, 2008. Accessed April 1, 2020. https://www.architectmagazine.com/practice/professional-development/saving-neutras-vdl-house_o
"Life at VDL." Neutra-VDL. Accessed April 1, 2020. https://neutra-vdl.org/life
Craven, Jackie. "Richard Neutra, Pioneer of the International Style." ThoughtCo. November 6, 2019. Accessed April 1, 2020. https://www.thoughtco.com/richard-neutra-the-international-style-177868
Additional Information