Northern Pacific Railway Museum
Introduction
The Northern Pacific Railway Museum is dedicated to preserving and promoting railroad history. It is housed in the historic Northern Pacific Railroad Depot, which was built in 1911. The museum's collection consists of a variety of rolling stock. (locomotives, freight cars, passenger cars, a caboose, and pump cars) as well automobiles and trucks. Highlights include the 1364 Northern Pacific steam locomotive, the 1922 Shell Tanker Car, the 588 Northern Pacific Passenger Car, a 1931 Model A Roadster, and the last Mann McCann ballast and snow spreader in existence. Much of the building has been restored and many original items and equipment are on display. The also museum offers guided tours and train rides for children.
Images
The Northern Pacific Railway Museum opened in 1992 and is housed in the historic 1911 Northern Pacific Depot.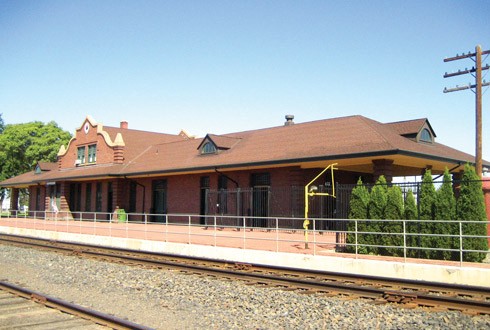 Backstory and Context
Northern Pacific built the first train station in Toppenish in 1885. A wood-frame building, it was used until the current depot was built in 1911. Passenger and freight service operated for several decades before both began to decline as use of other modes of transportation (cars, planes, trucks) increased. Passenger service finally ended in 1961. It appears that freight service continued for a couple of decades. An organization called the Railway Express Agency, a national package delivery service owned by a consortium of railroads, used the station until competition forced it into bankruptcy in 1975. The depot finally closed in 1981.
It sat vacant for eight years until 1989 when a local group of rail enthusiasts, the Yakima Valley Rail and Steam Museum Association, leased it from Northern Pacific. The association led the effort to restore the old building, which took a few years. The museum opened on July 4, 1992. The next year, Northern Pacific sold the depot and freight house next door (it is not clear to whom). The museum changed its name to the current one in 2000.
Sources
"Depot." Northern Pacific Railway Museum. Accessed March 31, 2020. https://nprymuseum.org/depot.
Additional Information