Meyer Riddle House
Introduction
The Meyer Riddle House was built in the early 1900s by Victor Meyer, who immigrated from Germany. Meyer was a plumber and a contractor, and he lived with his wife and two sons, an engineer and a plumber. The skill of the Meyer family is reflected in the quality of the house. The home is listed on state and local registers as well as the National Register of Historic Places.
Images
Meyer Riddle House as it appears today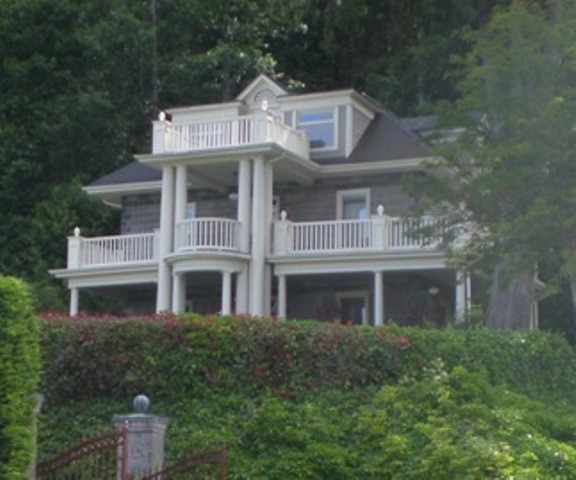 The house in roughly 1910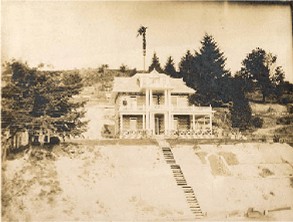 Backstory and Context
The imposing Meyer Riddle House, which sits on a prominent location overlooking Budd Inlet, was built in the early 1900s. One source lists 1904 as the date of its construction and another dates the home to 1910. It was built by Victor Meyer, a German immigrant who came to Olympia by way of Nebraska. Meyer was a carpenter and plumber and his two sons were a plumber and an engineer, and their expertise went into the building of the home.
The large, two-story home is unique for its use of artistic concrete block, or concrete blocks designed to look like building stone. The material was popular in other parts of the country in the early 1900s but was an unusual choice in Washington. Massive columns sit on either side of the entryway, supporting the second-floor balcony. A steep stairway leads down the bluff to the street below. The home also features a tunnel that leads to East Bay Drive from the basement.
In 1924, the home was purchased by Emma Riddle. She opened a massage and treatment center in the home, which she called the Riddle Nerve Sanitarium. She also operated a bed-and-breakfast on the top two floors. It is unclear how long Riddle operated her business in the home.
The Meyer Riddle House underwent an extensive renovation in the 1980s. Today, the landmarked home is a private residence but can be rented for events. The home is a state and local landmark and is listed on the National Register of Historic Places.
Sources
Meyer House, Olympia History . Accessed April 19th 2020. https://olympiahistory.org/wp-content/uploads/2016/11/HistoricID-0815-Meyer-House.pdf.
Meyer-Riddle House , Olympia History . Accessed April 19th 2020. https://olympiahistory.org/meyer-riddle-house/.
Gilmore , Molly . New Homeowners Happy to be Part of Tour of Historic Homes , The Olympian . December 1st 2016. Accessed April 19th 2020. https://www.theolympian.com/entertainment/article117835663.html.