Masonic Temple
Introduction
When it was completed in 1911, the former Masonic Temple was Yakima's tallest building. Still one of the city's most beautiful structures, it was erected by the Yakima Freemasons to be their new meeting place. The eight-story building is a fine example of the Second Empire architectural style with Classical elements incorporated into the design. Interesting features include a mansard roof, dormer windows, and pilasters (decorative elements that resemble columns) topped with Corinthian capitals. The most notable room inside is the lodge hall on the sixth floor, which was designed to replicate Solomon's Temple. It features 29 columns and a ceiling with stained glass windows. The building, which is now a boutique hotel, was added to the National Register of Historic Places 1996.
Images
Now the Hotel Maison, the former Masonic Temple building was built in 1911. It is a fine example of Second Empire architecture.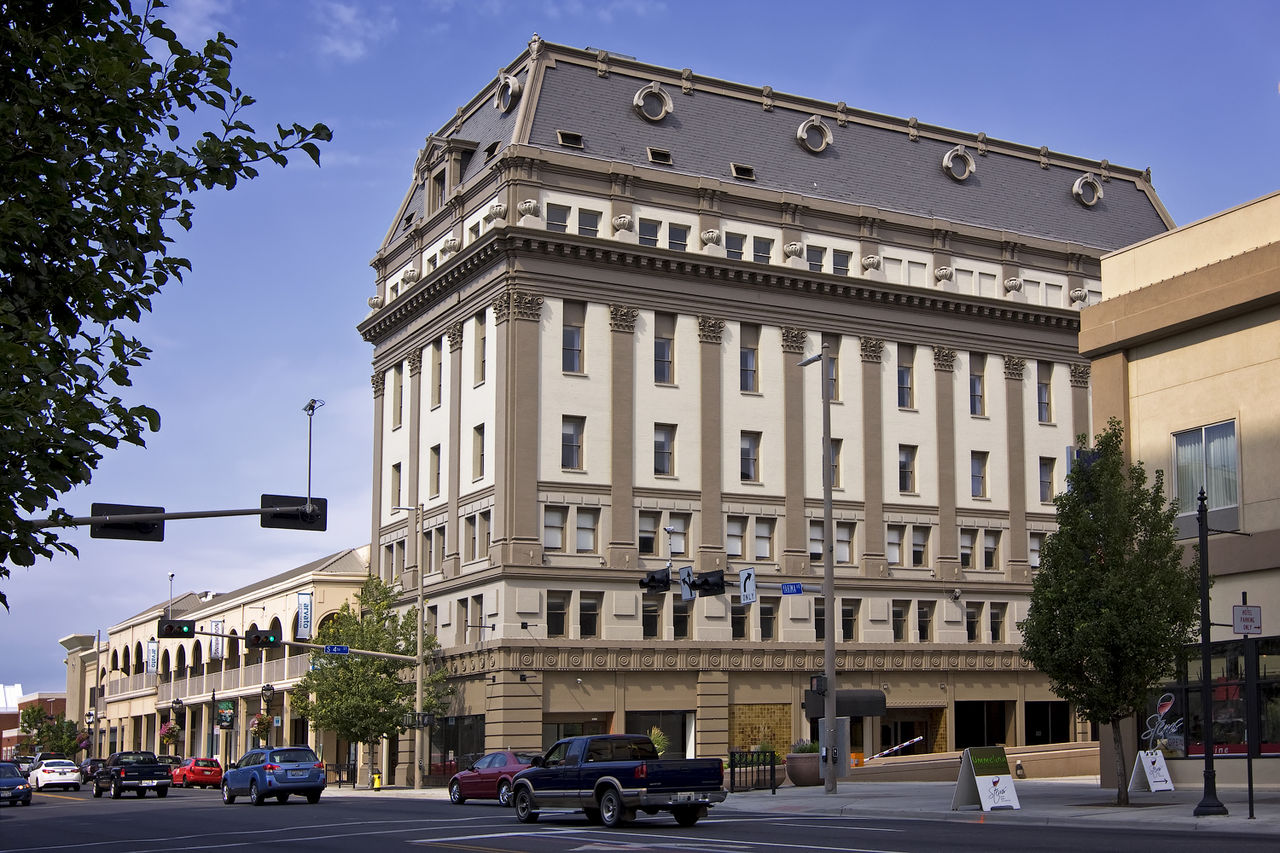 Backstory and Context
By 1900, Yakima was a bustling community. Its central location in the state along the Yakima River made it an important economic hub for the surrounding region. A number of industries were thriving especially agriculture, as irrigation transformed the lands (around 500,000 acres) around the city into excellent farmland. Shipping was also a key sector. Indeed, the railroads played a vital role in facilitating the city's prosperity. When the Yakima Freemasons announced they were going to build the temple, the community welcome the news. Upon completion, the building confirmed Yakima's status as an established city. It was also an important place where residents could socialize, which was essential in creating a strong community.
The men who designed the building were local architects. One of them, it is alleged, studied archaeology excavation in Jerusalem, where he apparently helped excavate the temple of Solomon. This is perhaps where the idea for the design of the lodge hall originated from. Furthermore, supposedly the stone used to form the main entrance's arch was sourced from quarries near Jerusalem—where the stones used to build Solomon's temple came from.
The Freemasons moved out of the building in 1965. The building remained vacant for a few years and was vandalized during this time. In 1969, a local architect bought and restored the old building. He also apparently renamed it to the Great Western Building. Various commercial, restaurants, and retail establishment were located in the building. Plans to convert into a hotel began in 2013 and the work was finished in 2015. The hotel plans to offer the lodge hall for events.
Sources
Ayer, Tammy. "Historic recognition set for downtown Yakima landmark." Yakima Herald. August 11, 2018.
Jordan, Mary H. "Masonic Temple." National Park Service - National Register of Historic Places Nomination Form. February 16, 1996. https://npgallery.nps.gov/GetAsset/2e2a3067-033b-4fe9-bd70-bbded31ec4c5.
"Our Story." Hotel Maison. Accessed March 27, 2020. https://thehotelmaison.com/our-story.
"Yakima." Washington Trust for Historic Preservation. Accessed March 27, 2020. https://revisitwa.org/waypoint/yakima/#.
Image Sources
Steven Pavlov, via Wikimedia Commons: https://commons.wikimedia.org/wiki/File:Masonic_Temple_(Yakima,_Washington).jpg

Additional Information