Olympia National Bank
Introduction
This striking building is the historic former Olympia National Bank, which was built in 1915. Designed to resemble an ancient Greek or Roman temple, it is arguably the finest example of Neoclassical architecture in the city. It features a terra cotta exterior with a colonnade of fluted, Corinthian pilasters (decorative features to mimic columns), among other interesting decorative elements. The bank played an important role in the city's history in the early 20th century as it served many prominent businessmen. The building is also significant for its association with Leopold Schmidt, the founder of the Olympia Brewing Company, who bought it in 1912. The building, which is currently home to a bicycle shop, is part of the downtown Olympia walking tour.
Images
The former Olympia National Bank was constructed in 1915 and is an excellent example of Neoclassical architecture.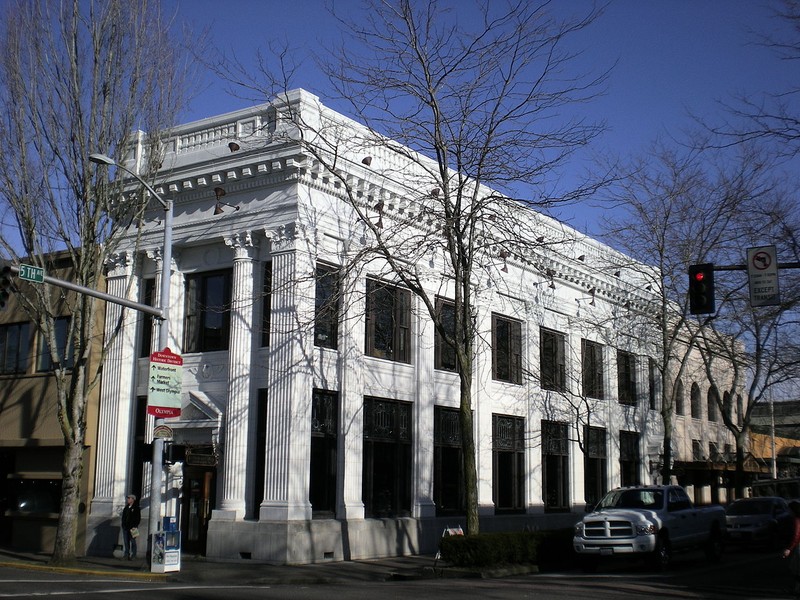 Backstory and Context
Olympia National Bank was established in 1899 as Olympic State Bank, and its first trustees included important businessmen and professionals. It opened its first location on Capital Way between Third and Fourth Streets. In 1900, the bank decided to become national and changed its name to Olympia National Bank. It also moved to another building where it remained until the present building was erected. The bank hired local architect Joseph Wohleb to design it, who chose the Neoclassical style which was popular around the country at the time. Bank operations and offices were located on the first floor and the leased offices were on the second floor. The building was added to the National Register of Historic Places in 1987.  
Sources
"Olympia National Bank Building/5th and Capitol." Olympia Historical Society and Bigelow House Museum. Accessed March 25, 2020. https://olympiahistory.org/olympia-national-bank-5th-and-capitol.
"Olympia National Bank." State of Washington Department of Community Development - Historic Property Inventory Form. June 17, 1987. https://npgallery.nps.gov/GetAsset/4708f7e6-7682-4acd-9f2b-58125ebab380.
Additional Information