Caloosahatchee River
Introduction
The Caloosahatchee River is a main water way in Florida that runs from Lake Okeechobee to San Carlos Bay out to the Gulf of Mexico. The name comes from the first Indians, the Calusa, who began dredging the river. Today, the river is a huge resource for transportation, fishery and many other aspects within the surrounding areas.
Images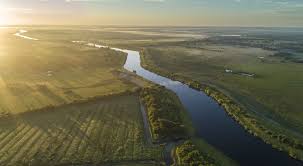 Sources
"Caloosahatchee River and Estuary." South Florida Water Management District, www.sfwmd.gov/our-work/caloosahatchee-river.
This article is from South Florida Water Management District and provides 
many options for tracking the latest data regarding the river. This includes operational planning, water levels, rainfall maps and DBHYDRO, a database that provides underground and surface water information. There is also a brief background paragraph that discusses the beginning of the Caloosahatchee River in the late 19th century and modifications that have been made to regulate the waterway and its watershed. 
Kimes, C.A, and L.C. Crocker. "The Caloosahatchee River and Its Watershed." CES FAU, Apr. 1998, www.ces.fau.edu/publications/pdfs/the-caloosahatchee-river-and-itswatershed.pdf.
This historical overview is an extensive source of information from Florida Gulf Coast University. This weblink is broken down into a timeline, map, population chart, geology and physiology, hydrology, changes to the Caloosahatchee and much more. I chose this because it was extremely informative and provides a significant amount of historical detail which was hard to find on other sites. The purpose of this work is to, "demonstrate the interconnectedness of the different components of the river ecosystem and the dangers of isolating individual elements" (Kimes, Crocker, 4).