Ivy Terrace
Introduction
Ivy Terrace is a Queen Anne style historic home built in 1893, that was the home of Governor Lawrence V. ("Lon") Stevens. Stevens was the State Treasurer when he had the house constructed. The huge Victorian home has about six bedrooms and seven baths and offers nearly 6,000 square feet of living space. As part of its mission to fight blight in urban Jefferson City, Ivy Terrace and five other nearby historic homes nearby (dating from 1875 to 1920) were acquired in 2019 by the Jefferson City Housing Authority and offered for redevelopment. The house was slightly damaged in a tornado that struck the town recently. Dozens of potential buyers viewed the Ivy Terrace home during open houses, and a redevelopment plan was accepted in February 2020, with details to be announced.
Images
2014 photo of Ivy Terrace house (anneecox)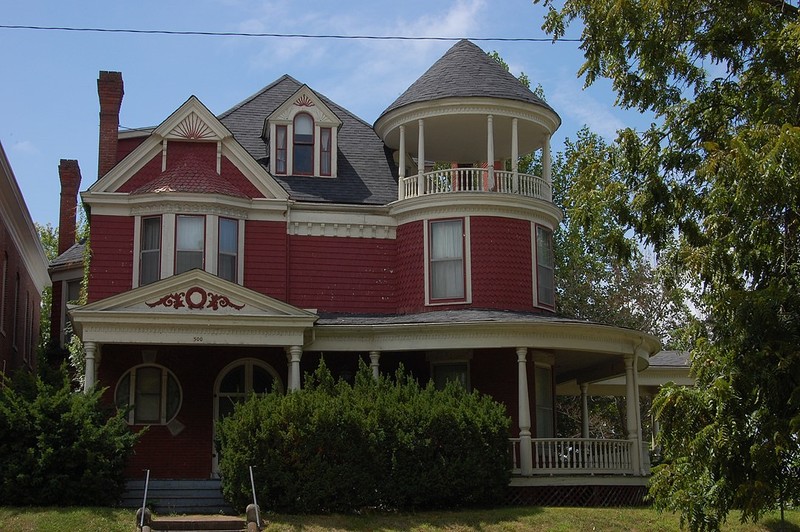 Front entrance on E. Capitol Avenue side, from NRHP Nomination (Sone 1989)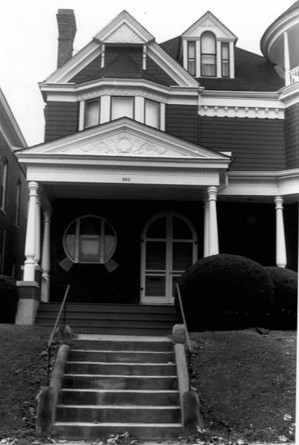 West facade along Jackson Street in 1989 (Sone)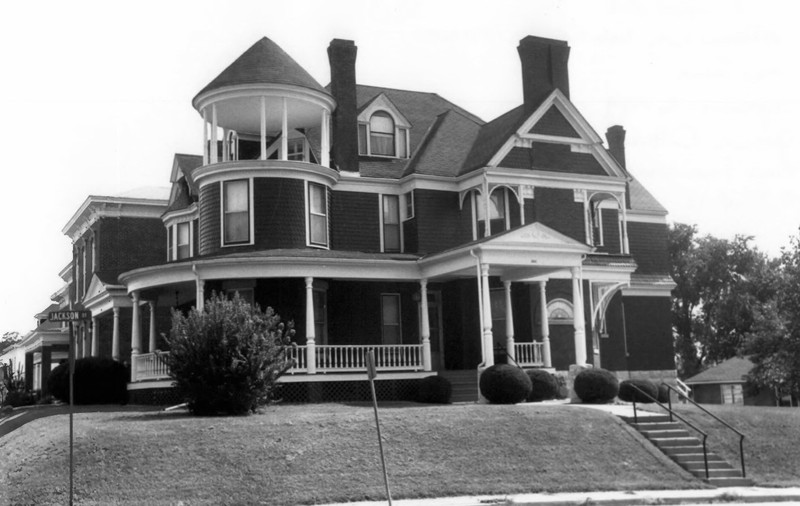 Turret and wraparound porch at northwest corner of Ivy Terrace (Sone 1989)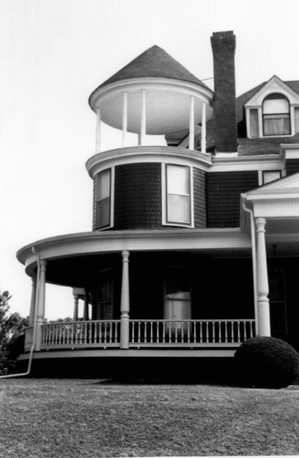 Oak grand staircase in entrywa in 1989 (Sone)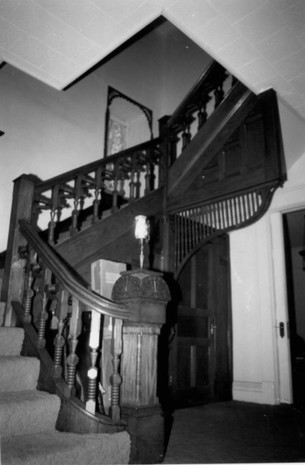 Backstory and Context
The Victorian home on the corner of East Capitol Avenue and Jackson Street was constructed in 1893 for the future governor of Missouri, "Lon" Stevens, who took office in 1898. Stevens had moved to Jefferson City in 1890 from Boonville, where he had been born in 1855, to become the state treasurer. The local architect was Charles Opel, the child of German immigrants; Opel worked as a cabinetmaker before going into architecture.
The open-air turret, wrap-around porch, and fish scale shingles are highlights of the brick, 2-1/2 story Victorian home. The hipped roof with intersecting gables was originally made of cedar shingles but has been replaced with asphalt. The house was built as a duplex but was later divided into four apartments. The interior features eight hand-carved fireplaces with original Italian tile, and a grand entryway oak staircase. The third floor ballroom was the site of many parties in the 1890s, thrown by Stevens and his wife, Maggie. The Stevens family sold the home to a local druggist, Gustavus A. Fischer, in 1903.
Fischer founded the G.A. Fischer Drug Company at 105 E. High Street; his son followed him in the family business. Fischer was involved in the establishment of the Jefferson City Country Club, the Central Missouri Trust Company, and the Capitol Telephone Company. Fischer and his wife, Jennie, lived in Ivy terrace until their deaths in 1933 and 1947, respectively.
Mary Woods bought the home in 1948, and operated the Mariwood College of Beauty Culture here until 1966. Thomas Whitecotton and his wife, Dee, the next owners, lived in the home until around 1987. Whitecotton restored the home in the 1960s. Whitecotton retired from the Missouri Highway Patrol in 1965 after over 30 years on the job; he once served as warden of the Missouri State Penitentiary. He was involved in a shootout with the infamous Barrow Gang in 1933. Whitecotton served as a local councilman until he died in 1987; a local police station was named in his honor.
Ivy Terrace is within the Capitol Avenue Historic District and was listed in the National Register of Historic Places in 1990. The house is one of the most intact examples in the city of the Queen Anne architectural style. The home is one of the historic houses in the Capitol Avenue Urban Renewal Plan approved by the Jefferson City Council in 2016. Renovations are being planned by a new owner who has been approved by the council in early 2020.
Sources
Brooks, Michelle. "Houses in initial urban renewal plan steeped in history." Fulton Sun (Fulton, Mo) January 27th 2017. online ed, Local News sec.
Brown, Noah. Ivy Terrace redevelopment proposal accepted by Housing Authority, 13KRCG. February 22nd 2020. Accessed March 22nd 2020. https://krcgtv.com/news/local/ivy-terrace-redevelopment-proposal-accepted-by-housing-authority.
Cole, Emily. "No proposals for Ivy Terrace as Capitol Avenue redevelopment progresses." News Tribune (Jefferson City, MO) January 20th 2020. online ed, Local News sec.
Pogue, Samantha. Bringing 'Portraits of History' to Jefferson City, JC Arts Foundation receives grant and spearheads project for HistoricWalkingTour.com mobile app in capitol city. Her Magazine. January 15th 2019.
Sone, Stacy. National Register Nomination Form for Ivy Terrace. National Register. Washington, DC. National Park Service, 1989.
Image Sources
https://en.wikipedia.org/wiki/Ivy_Terrace#/media/File:Ivy_Terrace.JPG

https://dnr.mo.gov/shpo/nps-nr/90000426.pdf

https://dnr.mo.gov/shpo/nps-nr/90000426.pdf

https://dnr.mo.gov/shpo/nps-nr/90000426.pdf

https://dnr.mo.gov/shpo/nps-nr/90000426.pdf

Additional Information