Maternity Hospital (Ripley Memorial Hospital) 1896-1956
Introduction
Ripley Memorial Hospital, formerly known as Maternity Hospital, operated at this location from 1896 until 1956. The hospital was founded by Martha G. Ripley, a pioneering female physician who was also a leading advocate for women's rights. Primarily serving poor and unmarried pregnant women, the hospital complex offered medical treatment and social services. The hospital was also unique for having all-female staff and board members. After the buildings were sold in 1956, the medical complex became the Queen Care Nursing Home until 2000. In 2007, the non-profit organization Aeon, with assistance from the Restore America program, transformed the historic structures into a sustainable affordable housing complex called Ripley Gardens.
Images
Ripley Memorial Hospital and the Emily Paddock Cottage in 2019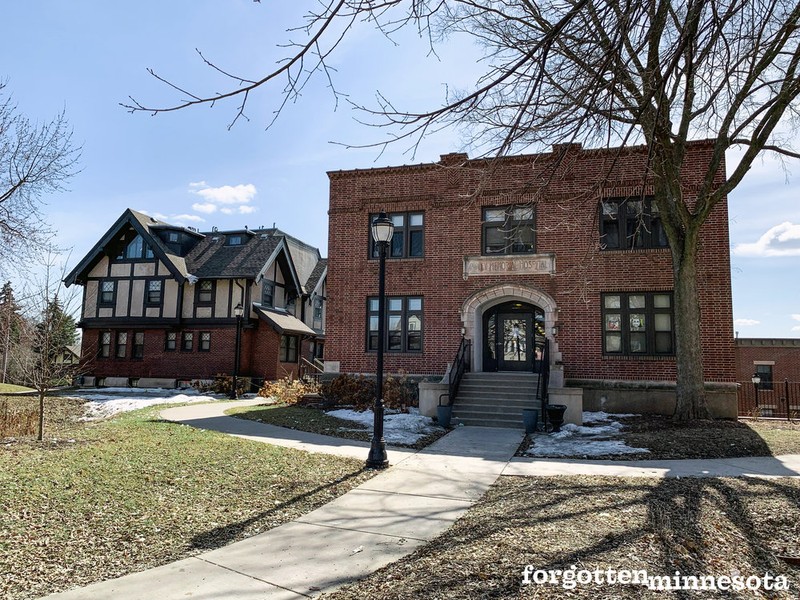 Nurses on the steps of the Ripley Memorial Hospital after it was completed in 1916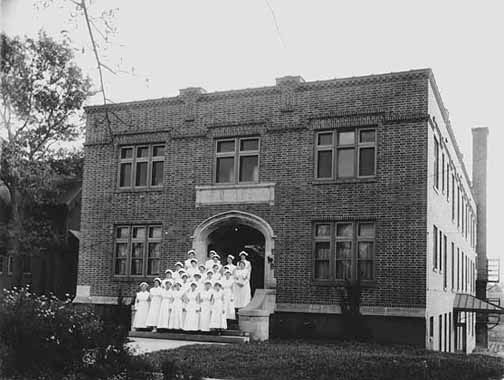 The Emily Paddock Cottage, which housed the nurses, in the 1920s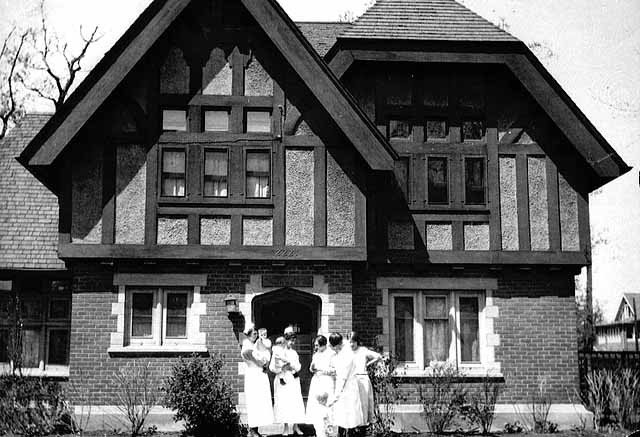 The Babies' Bungalow served as an isolation unit for sick infants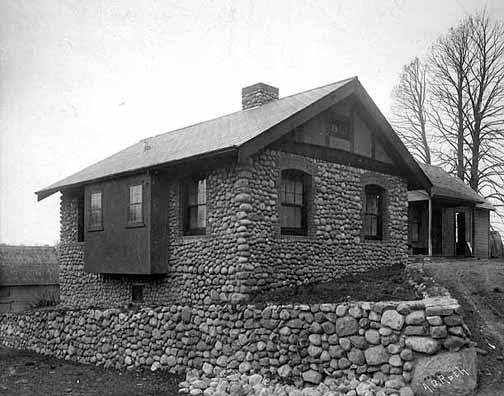 One of the private hospital rooms, circa 1922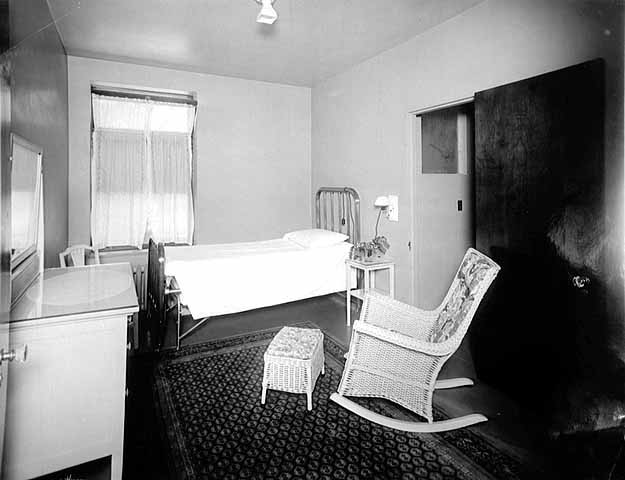 A group of newborn babies in the hospital around 1910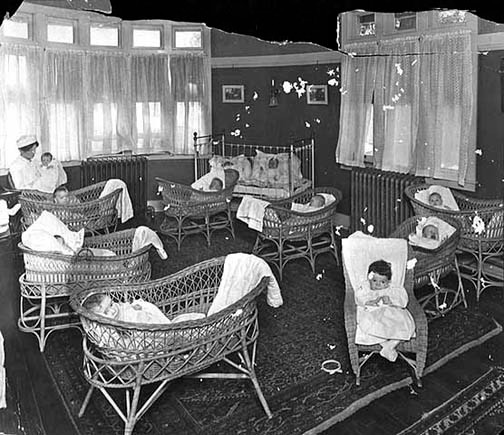 The Ankeny Family Home, which served as the hospital's main building from 1896-1916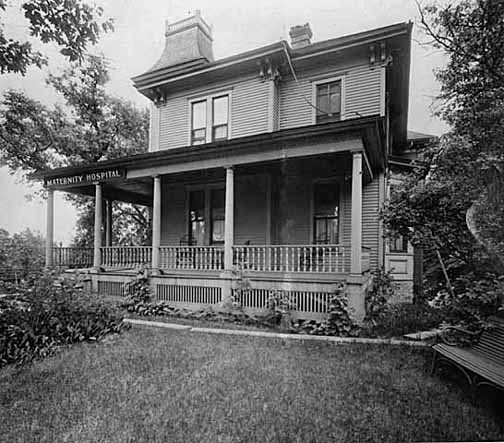 The hospital grounds as they looked in 1909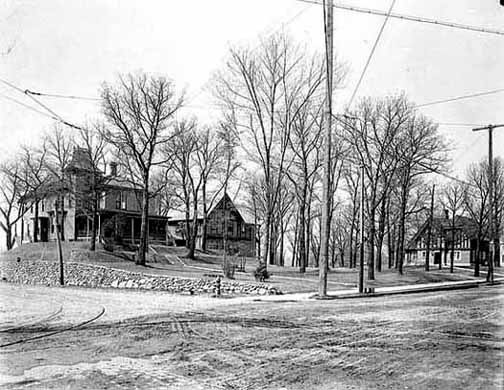 Martha Ripley in 1868, a year after she married and moved to Massachusetts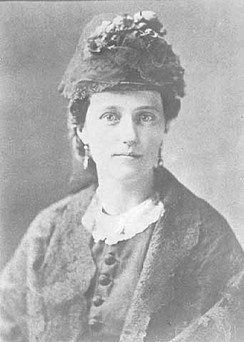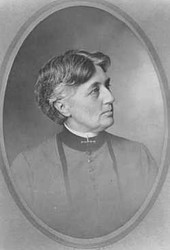 Ripley's memorial plaque, which was placed in the Minnesota State Capitol in 1939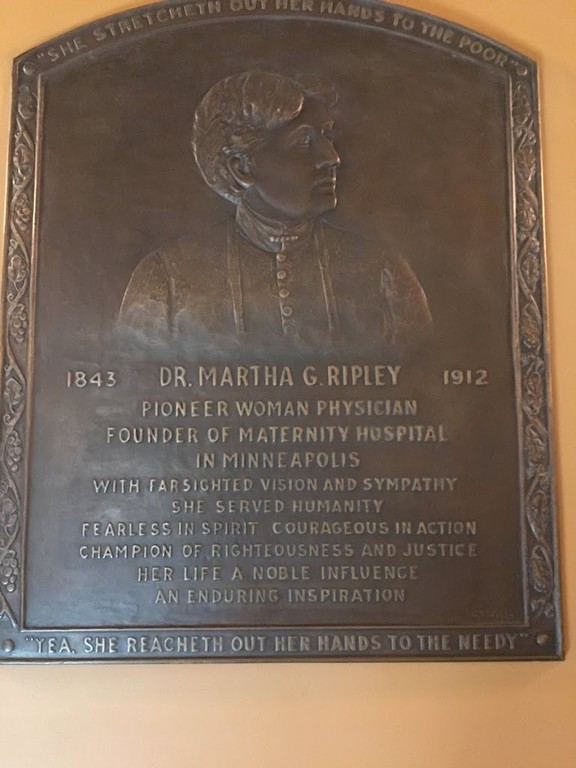 Backstory and Context
Martha G. Ripley was born in Vermont but grew up in Iowa during the antebellum period. After the Civil War, she married and moved with her husband to Massachusetts, where she volunteered as a nurse for local millworkers and their families. While in New England she became involved with the burgeoning women's rights movement and made important connections with other suffragists in and around Boston. After the death of an infant in her care, Ripley decided she needed more education and training, so she enrolled in the Boston University School of Medicine. She graduated in 1883, the same year her husband suffered a workplace injury. Needing to earn money for her husband and three daughters, she moved her family out to Minneapolis and set up a medical practice in the booming Midwestern city. 
Ripley soon became a leader within the suffragist movement in Minneapolis, and she was also at the forefront of several important women's issues in her new town. Her medical and social work exposed her to the mistreatment of unwed mothers and other socially outcast women, and she took action to help. In 1886, Ripley hired a nurse and rented a small house at 316 Fifteenth Street S. to care for expectant single mothers and their newborn babies. Word spread quickly, and within a month her growing operation relocated to larger quarters at 2529 4th Avenue S. The following year, Ripley formed a corporation for her endeavor under the name "Maternity Hospital."
The hospital's first years were difficult. Ripley struggled to secure financial resources and found herself ridiculed by socially conservative voices in the press and throughout her community. She persisted, however, and the reputation of her hospital grew as her patient's improved health and well-being could be statistically demonstrated to support the success of her measures. In an era when life expectancy of infants were low, not a single baby was lost in the hospital's first eleven years. Maternity Hospital's mortality rate for mothers was also less than four times the state average. The success of Ripley and her staff can be attributed to their training and the modern medical techniques they utilized, as well as the specialized cottage system it developed. In addition to medical care, the hospital served as an informal adoption agency. The institution also offered training, counseling, and employment assistance for its patients. The facility was also ahead of its time for having an all-female staff, as well only women board members.  
In 1896 Maternity Hospital moved to its final location at what was then the corner of Western and Penn Ave N. Here, the hospital expanded into a complex, with different departments housed in their own buildings. The first additional building was the Marshall Stacy Nursery in 1909, which was a residence for the mothers; the Babies' Bungalow, which housed sick infants, was completed in 1910; the Emily Paddock Cottage was built the following year, providing a home for the hospital's nurses (the Marshall Stacy Nursery was demolished in 1965, but the other two are still standing). Ripley's wish for a new main building was realized in 1916, four years after her death. A proponent of cremation due to its sanitary benefits, Ripley's ashes were placed in the cornerstone of the structure, which was named Ripley Memorial Hospital. 
By the time of Ripley's passing in 1912, the hospital had taken in 5,200 patients, and it continued to serve the Minneapolis community for the next 44 years. The buildings were sold to the Children's Hospital in 1956 and the organization's assets were used to create the Ripley Memorial Foundation. this non-profit organization has continued the work of the hospital by assisting women and children in need.
The hospital's buildings were used by the Queen Care Nursing Home until 2000, after which they sat vacant for six years. In 2007 they were acquired by Aeon, a non-profit organization that builds and renovates sustainable, affordable housing. With assistance from the Restore America program, Aeon transformed the historic hospital buildings into housing for low to medium-income residents. Appropriately called Ripley Gardens, the buildings carry on Martha Ripley's legacy of caring for the underprivileged.   
Sources
Roth, Susan. National Register of Historic Places Inventory--Nomination Form, National Park Service. Accessed March 19th 2020. https://npgallery.nps.gov/NRHP/GetAsset/9bb5d0be-3af5-46a4-8e72-0ce2833b9398/.
Solberg, Winton U.. Martha G. Ripley: Pioneer Doctor and Social Reformer. Minnesota History, vol. 39, no. 1 (Spring 1964): 1-17. Minnesota Historical Society.
Ripley Memorial Maternity Hospital, 301 Penn Avenue North, Minneapolis, Minnesota, Place Geography . Accessed March 19th 2020. http://www.placeography.org/index.php/Ripley_Memorial_Maternity_Hospital%2C_301_Penn_Avenue_North%2C_Minneapolis%2C_Minnesota.
Maternity Hospital, City of Minneapolis. Accessed March 19th 2020. http://www.ci.minneapolis.mn.us/hpc/landmarks/hpc_landmarks_queen_ave_n_300_maternity_hospital.
Ripley Gardens, Aeon. Accessed March 19th 2020. https://ripleygardens.aeon.org/.
Image Sources
https://forgottenminnesota.com/blog/2019/2/ripley-memorial-maternity-hospital-in-minneapolis

http://www.actionsquad.org/ripleys2.htm

https://forgottenminnesota.com/blog/2019/2/ripley-memorial-maternity-hospital-in-minneapolis

http://www.actionsquad.org/ripOLD15.htm

https://forgottenminnesota.com/blog/2019/2/ripley-memorial-maternity-hospital-in-minneapolis

http://historyapolis.com/blog/2014/04/04/the-duty-of-not-keeping-silent-martha-ripley-and-minneapolis-maternity-hospital/

http://www.placeography.org/index.php/Ripley_Memorial_Maternity_Hospital%2C_301_Penn_Avenue_North%2C_Minneapolis%2C_Minnesota

https://www.mnopedia.org/person/ripley-martha-george-1843-1912

https://www.mnopedia.org/person/ripley-martha-george-1843-1912

https://readtheplaque.com/plaque/dr-martha-g-ripley

Additional Information