Herman Dean Firearms Gallery
Introduction
Author-Uploaded Audio
The Herman P. Dean Firearms Collection is the result of a lifetime of enthusiastic and informed collecting. Mr. Dean, an avid sportsman, historian, and one of the Museum's founders, was known internationally for his historic firearms collection and his expertise on the subject. The collection was donated in the early years of the Huntington Museum of Art, and traces the use of firearms from the earliest hand cannon through the machine-made weapons of the nineteenth century. Today, the collection holds nearly four hundred items, and is considered one of the finest firearms collections in the United States.
Images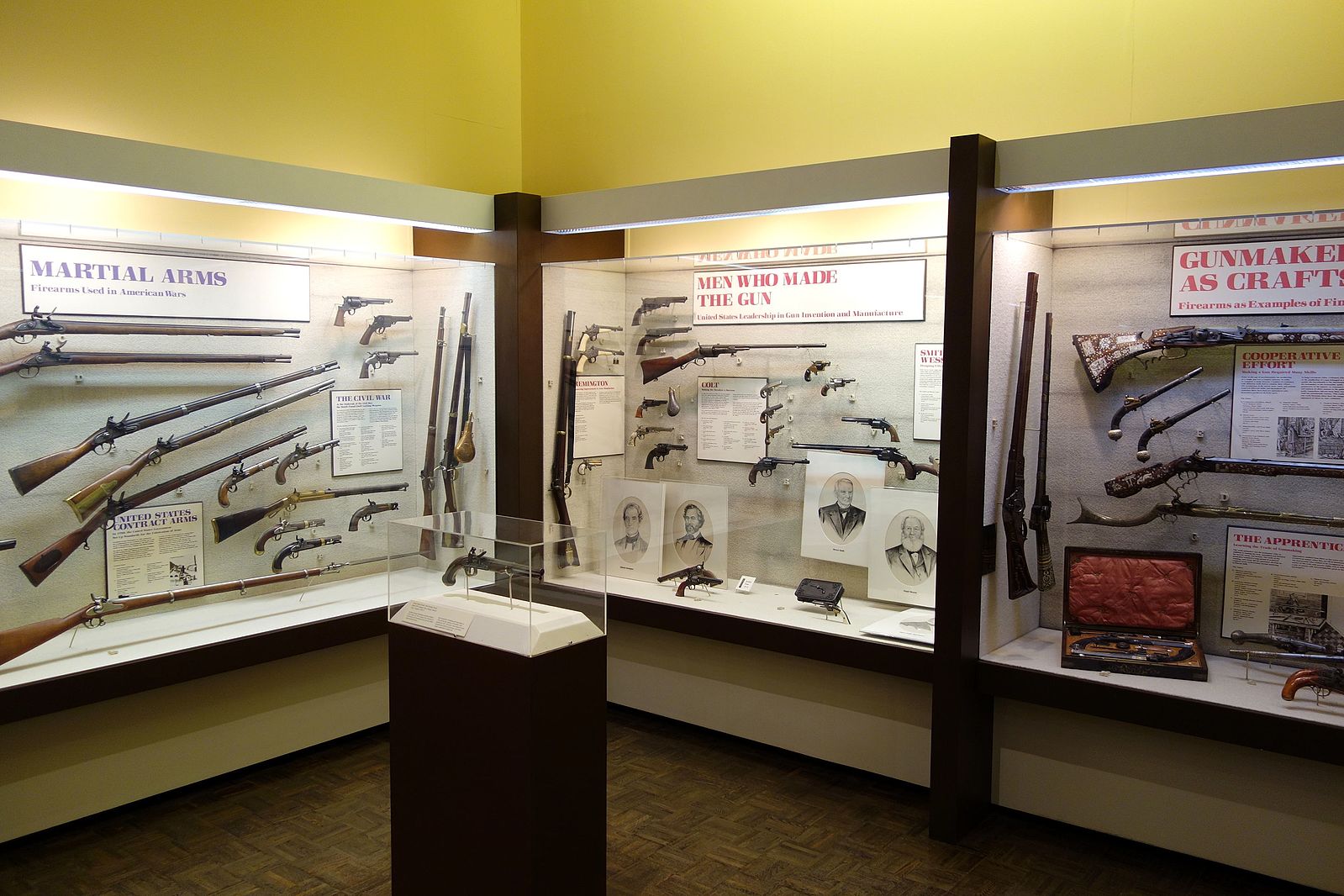 Gun display titled "Men Who Made the Gun: United States Leadership in Gun Invention and Manufacture"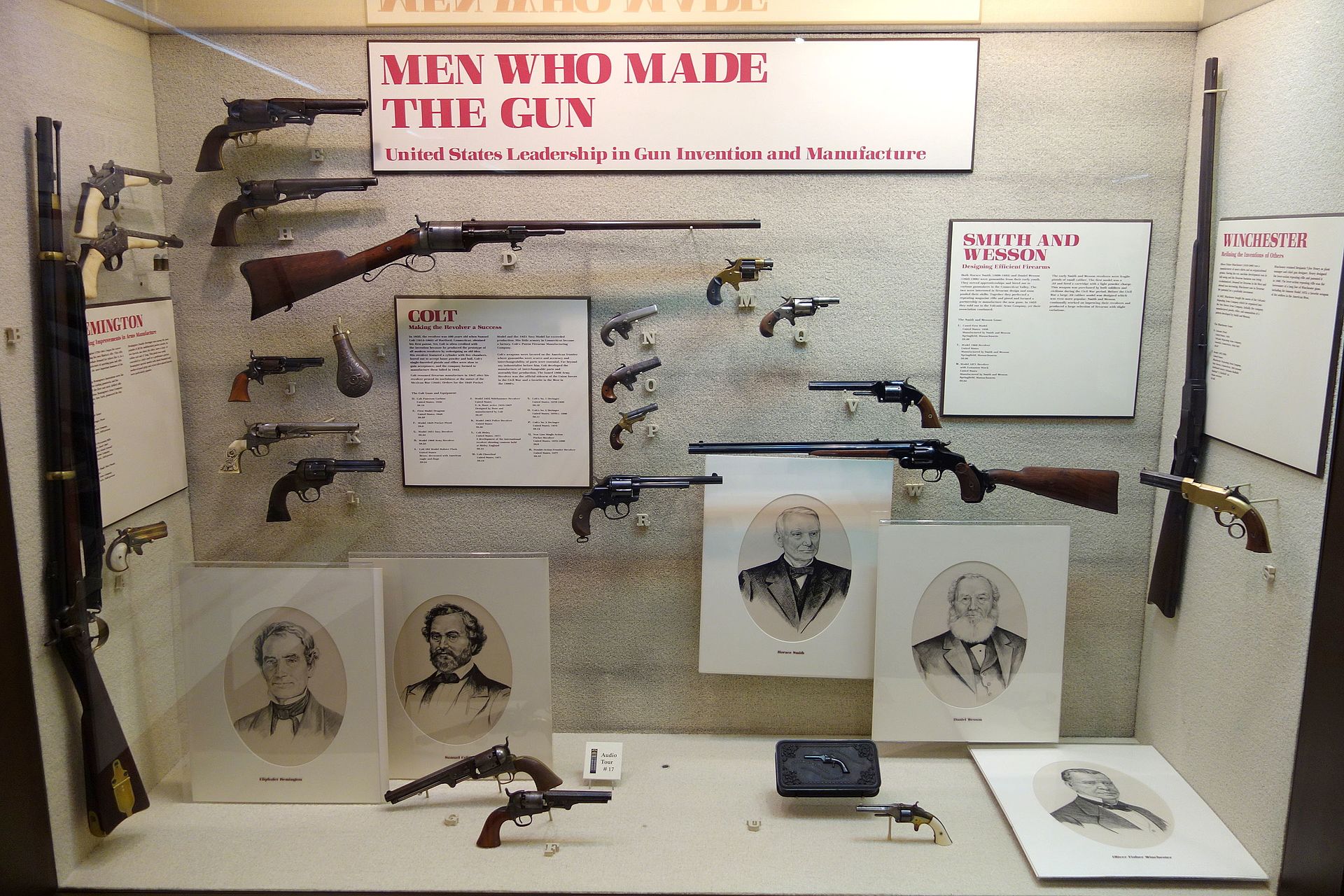 Dean with an item from his collection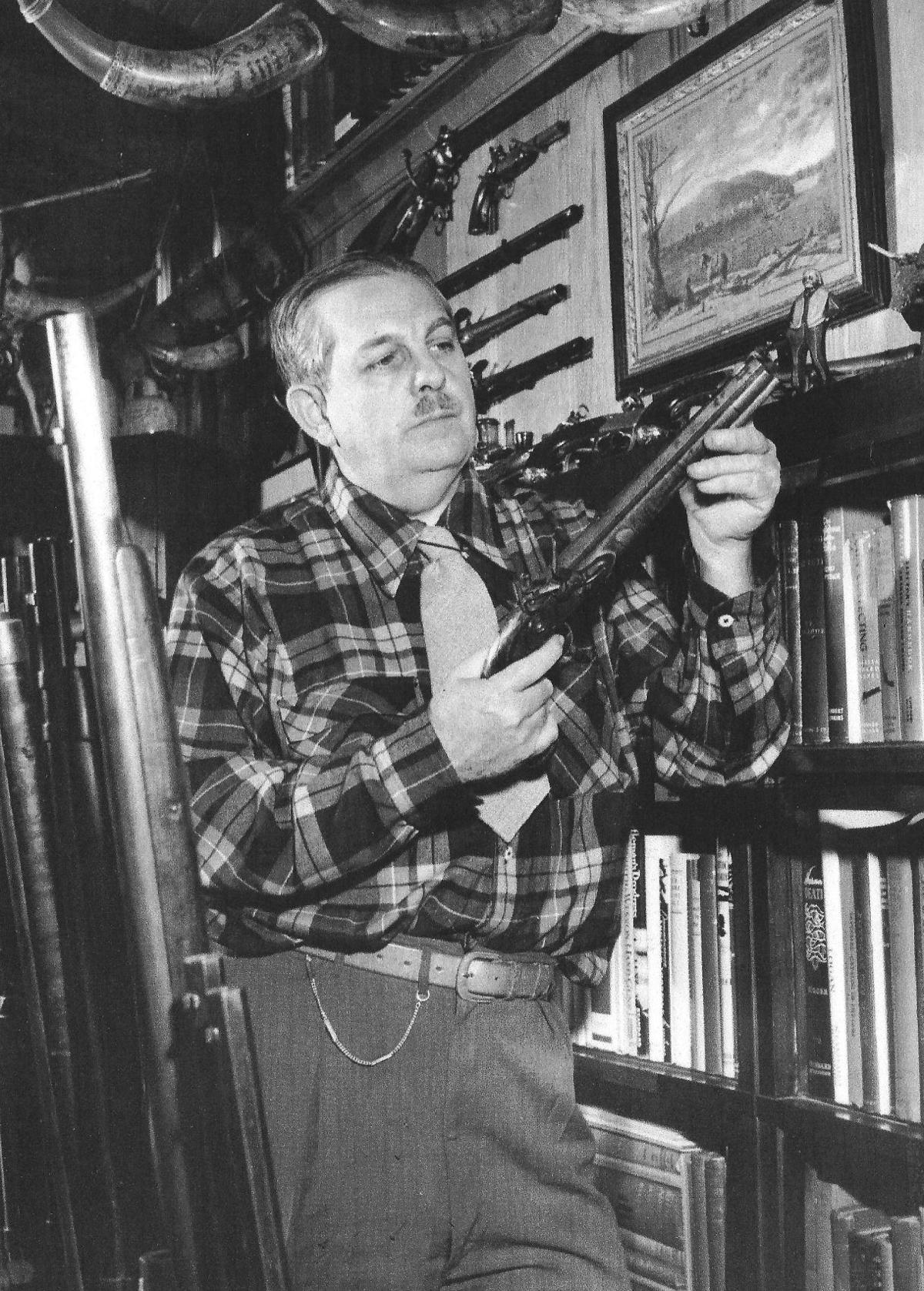 Herman P. Dean on his travels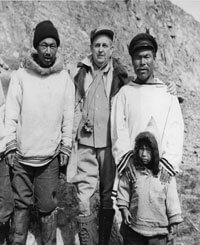 Kentucky flintlock rifle, signed S. Miller, from circa 1775-1806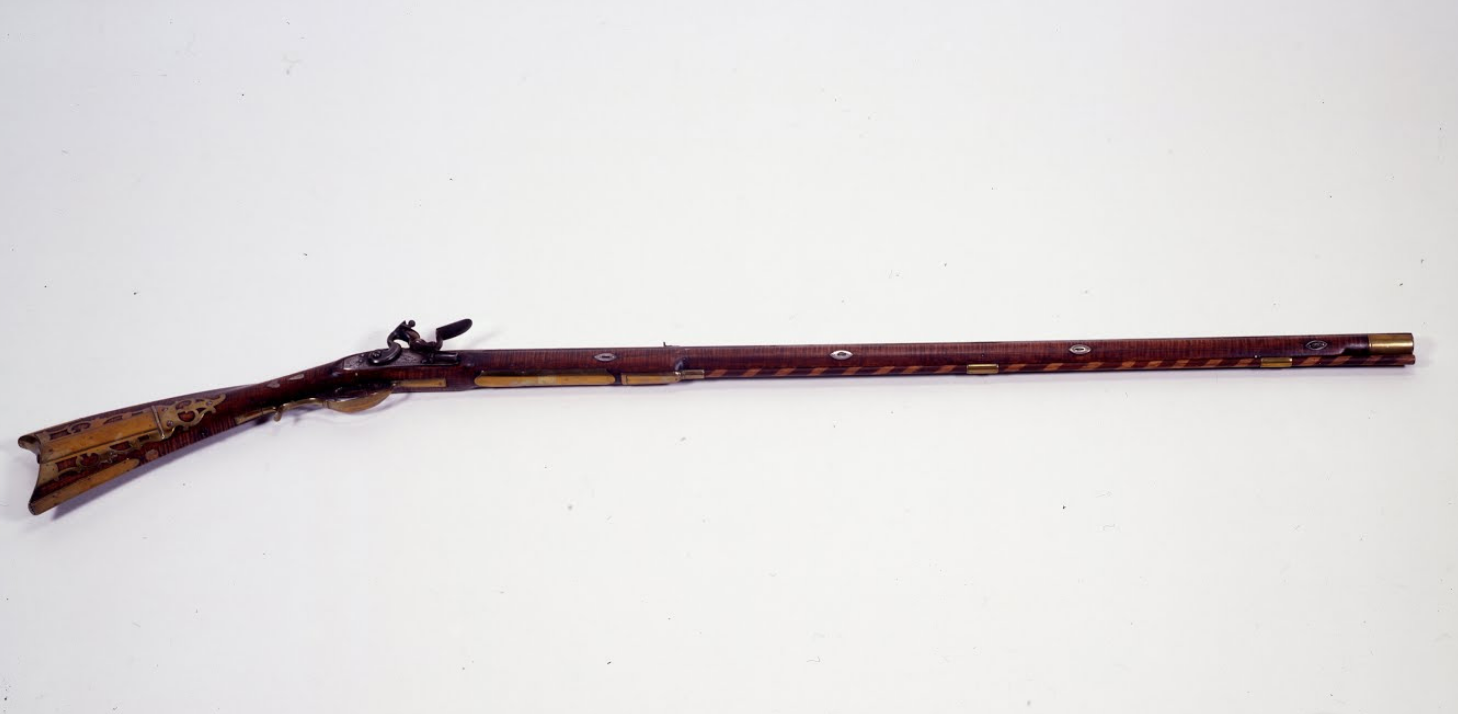 Intricately-decorated matchlock musket by an unknown maker, 16th century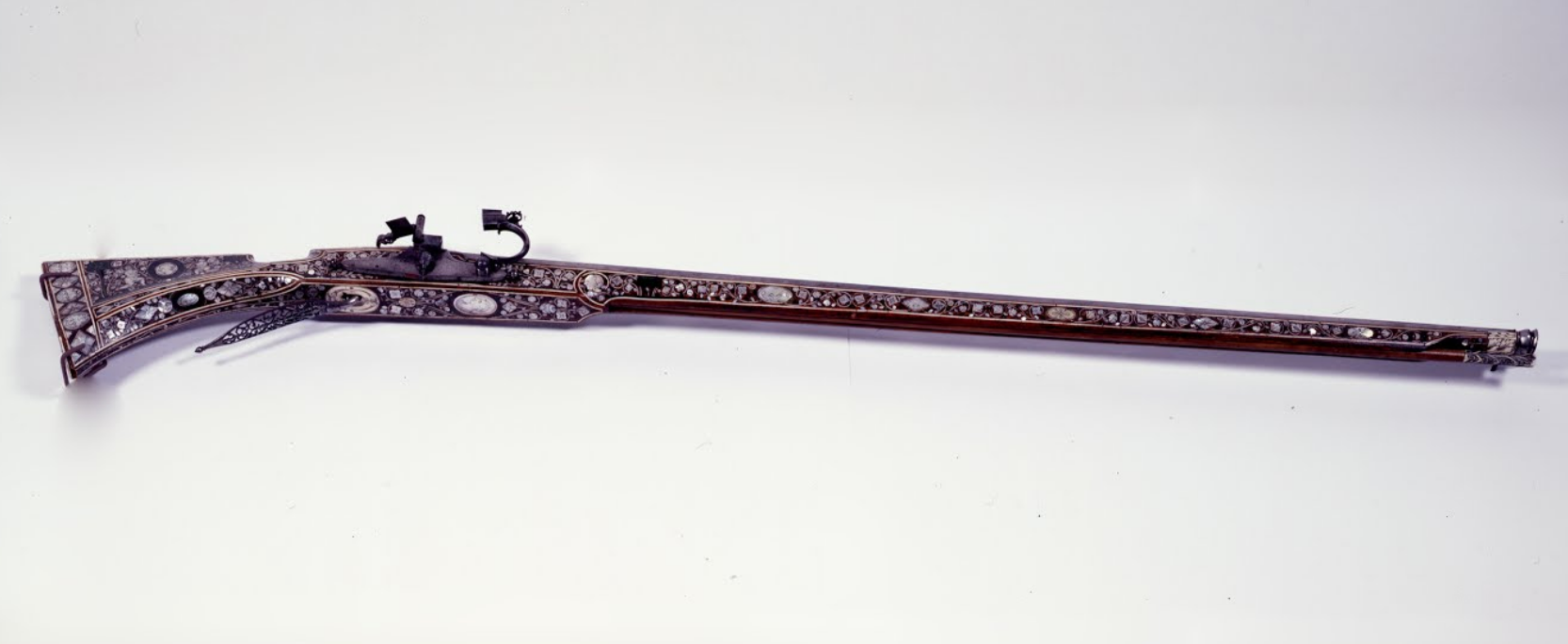 Powder Horn, United States, 1820.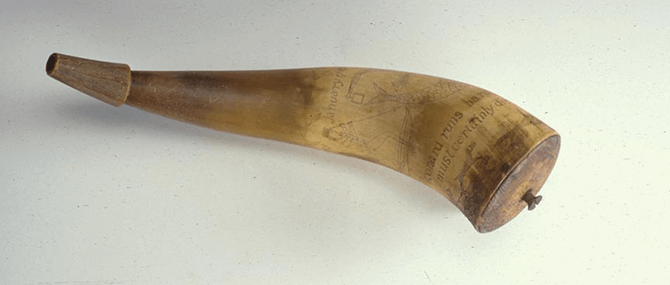 Powder Horn, United States, 1752. Carved horn, wood.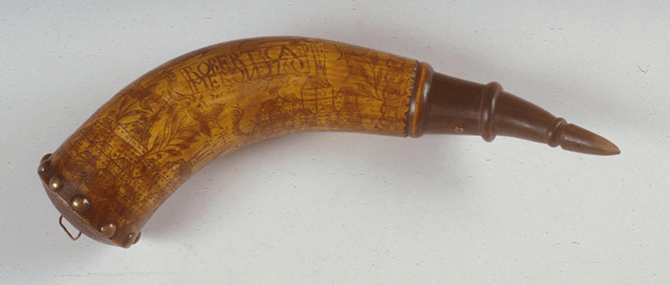 Powder Horn, United States, 1760.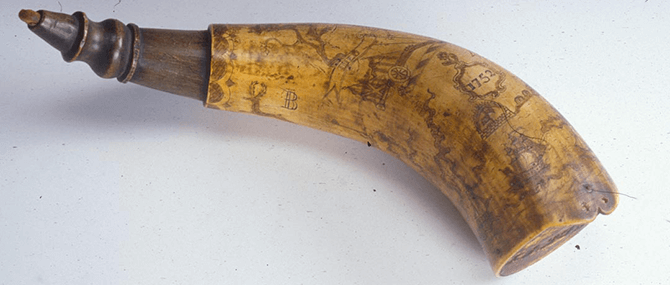 Backstory and Context
Herman P. Dean was born in Wayne, West Virginia on May 6, 1897. He developed an interest in journalism from a very young age, writing a weekly column for The Herald-Advertiser at just nine years old. Dean went on to attend Bethany College and Ohio State University, where he majored in journalism. After serving in the Navy during World War I, Dean returned to Wayne and bought The Wayne News, changing its name to The Wayne County News. In 1932, Dean purchased Standard Printing and Publishing Company, which was based in Huntington. Dean used the company's presses to print books about firearms written by experts.
Not long after he purchased the publishing company, Dean embarked on the first of his many international voyages. He went on to travel across Europe, Russia, and South America, but perhaps his favorite locations were the Arctic regions. Dean traveled with Hudson's Bay Company to various regions and provinces in Canada. While traveling these parts, Dean developed a fondness for the Inuit people he encountered, and often stated how cheerful, courageous, and friendly they were. Dean spent a lot of his time hunting in the bay, and once boasted that he'd shot "just about every animal in North America," including a 1,650-pound Kodiak bear. As an avid hunter, Dean was knowledgeable about firearms, and began collecting them as a hobby. However, he soon found himself immersed in learning about the craftsmanship of the weapons as well as the history behind them.
Dean was also passionate about Daniel Boone's ties to West Virginia, and once said that studying Boone had opened the door for him to learn about all of West Virginia's history. Boone was born in 1734 near Reading, Pennsylvania. He left home on a military expedition during the French and Indian War, and in 1769 led an expedition that blazed a trail westward through the Cumberland Gap. In 1775, Boone settled an area he called Boonesborough in Kentucky. In 1788, Boone and his family settled near the mouth of the Kanawha River in western Virginia. After representing Kanawha County in the Virginia General Assembly in 1791, Boone moved to a site near present-day Charleston in 1792, then back to Kentucky in 1795. Like any early American frontiersman, Boone owned a number of firearms for hunting and self-defense. He was best known for using a Kentucky Rifle, a flintlock rifle that became popular among settlers and adventurers like Boone because it was more lightweight and accurate than its predecessors. One of Boone's guns, a flintlock rifle, forms part of Dean's collection. 
Dean loaned his firearms collection to Huntington Museum of Art (then Huntington Galleries) upon its formation in 1952, and later donated it to the Museum. As a founder of the institution, Dean wanted the Huntington community to enjoy his collection just as much as he had when acquiring its pieces. After he retired in 1961, Dean set up an office in Huntington, where he surrounded himself with the souvenirs of his travels, such as Inuit art carved out of soapstone in the shapes of various animals, tusks of ivory, and hunting pictures. During his later years, he also took time to teach museum tour guides about his firearms collection, as well as lead a few tours of his own. Dean died in 1978 at the age of eighty, leaving behind a wealth of items and knowledge to the Huntington area.
Today, the Herman P. Dean Firearms Collection leads visitors through a chronological survey of historical firearms, with an emphasis on the firearms and accoutrements of the American frontier. Each case in the collection has an overriding theme, such as "The Pioneer: The Kentucky Rifle - Symbol of the American Frontier," "Westward Expansion: Traders and Trappers and the Buffalo Rifle," and "Tools of the Trade: Gun Making Tools and a 19th Century Rifling Bench." Overall, the collection holds nearly four hundred items, and is widely regarded as one of the country's finest firearms collections. Noteworthy items include the Boone flintlock rifle and an intricately decorated 16th-century matchlock musket. Also included in the collection are a Remington percussion pistol and a Lefaucheux revolver that were allegedly left behind by the infamous James Gang during the 1875 robbery of the Bank of Huntington. 
Sources
Casto, James E.. The faces that shaped Huntington, Huntington Herald-Dispatch. June 9th 2019. Accessed April 3rd 2020. https://www.herald-dispatch.com/special/discover_communities/the-faces-that-shaped-huntington/article_075e1eff-5267-5370-993d-405682d891d5.html.
Herman P. Dean Firearms Collection, Huntington Museum of Art. Accessed April 3rd 2020. https://www.hmoa.org/art/collections/herman-p-dean-firearms-collection.
Meet the Collector, Huntington Museum of Art. Accessed April 3rd 2020. https://www.hmoa.org/art/collections/herman-p-dean-firearms-collection/meet-the-collector.
Sturm, Philip. Daniel Boone, The West Virginia Encyclopedia. September 26th 2012. Accessed April 3rd 2020. https://www.wvencyclopedia.org/articles/611.
Image Sources
https://commons.wikimedia.org/wiki/File:Gun_displays_-_Huntington_Museum_of_Art_-_DSC05478.JPG

https://commons.wikimedia.org/wiki/File:Gun_displays_-_Huntington_Museum_of_Art_-_DSC05478.JPG#/media/File:Gun_display_-_Men_who_made_the_gun_-_Huntington_Museum_of_Art_-_DSC05503.JPG

https://www.herald-dispatch.com/special/discover_communities/the-faces-that-shaped-huntington/article_075e1eff-5267-5370-993d-405682d891d5.html

https://www.hmoa.org/art/collections/herman-p-dean-firearms-collection/meet-the-collector

https://www.hmoa.org/art/collections/herman-p-dean-firearms-collection/meet-the-collector

https://artsandculture.google.com/asset/kentucky-flintlock-rifle-simon-miller/-AGVbr8FfLaCYw

https://artsandculture.google.com/asset/matchlock-musket-unknown-maker/tQFqCGh9Yv7P3Q

https://www.hmoa.org/art/collections/herman-p-dean-firearms-collection

https://www.hmoa.org/art/collections/herman-p-dean-firearms-collection

https://www.hmoa.org/art/collections/herman-p-dean-firearms-collection

Additional Information