The Philip L. Van Every Statue
Introduction
This statue commemorates the life of Philip Lance Van Every (1913-1980), a Charlotte-born entrepreneur known for his role in growing the Charlotte-based company Lance, Incorporated. This local business is best-known for creating the first commercially-produced peanut butter cracker into a national success. The entrepreneur also created the Philip L. Van Every Foundation, which continues to support Charlotte nonprofits. For this and other contributions to the city, Charlotte's local boosters and historians selected Philip L. Van Every to be included in the Queen City's Trail of History, a trail commemorating some of the city's most influential historic figures along the Little Sugar Creek Greenway.
Images
The Philip L. Van Every statue.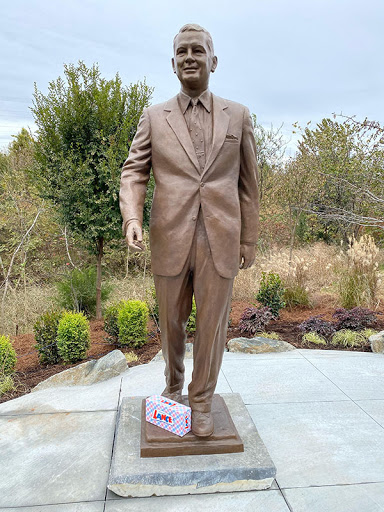 A picture of the real P. L. Van Every.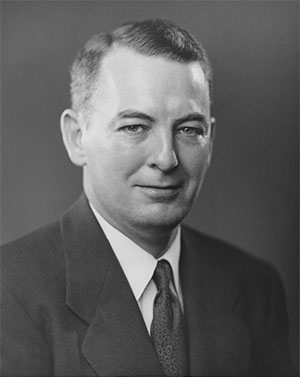 Backstory and Context
Phillip Lance Van Every was born in Charlotte, North Carolina on December 9th, 1913. He was one of six brothers, and the grandson and son of the founders of the Lance Packing Company, founded in Charlotte. The company had been formed as a result of the coffee salesman Philip L. Lance's (Philip L. Van Every's grandfather) purchase of 500 pounds of Virginia peanuts for a customer who eventually decided he did not need them. As a result of their sudden overabundance of peanuts, Phil's father, Salem Van Every, and grandfather decided to roast and sell them for a nickel a bag at the corner of Trade & Tryon in Charlotte. After Van Every's father and grandfather found success in this venture, they founded Lance Packing Co. Eventually, the men's peanut-roasting business outgrew the Lance home and they were forced to buy a facility on Charlotte's College Street. A mechanical roaster was installed in the Company's new headquarters, leading to the business's ability to manufacture peanut butter. In order to demonstrate the quality of their new product, Philip L. Van Every's ancestors began spreading the peanut butter on crackers and selling it, thus creating the first commercially sold peanut butter cracker.
Van Every's father's and grandfather's legacy of innovation and creativity was one he would continue to carry on upon his introduction to the family company. After receiving education throughout his grade school years in the Queen City and graduating from the Staunton Military Academy, Philip joined the Lance Packing Co. as a salesman. Upon his introduction to the business in 1932, annual sales were just below $1 million. By 1938, the Packing Co. began making its own crackers and changed the business's name to Lance, Inc. In 1943, Philip's father died in a car accident. At the age of 29, Philip L. Van Every then became the president and chief executive officer of the former packing company, with no prior experience in management. Due to his lack of experience, Van Every sought advice about successful business strategies. began implementing strategies to improve Lance, Inc. He traveled to Baltimore, Maryland to seek advice about McCormick & Company's management style. Soon after visiting the corporation, Van Every instituted his own version of McCormick's multiple management program at Lance, Inc. Upon this multiple management program, the sales and distribution of products of Lance, Inc. were dispersed on a district basis with sales managers in key areas. This application was very successful, as was Every's addition of a company-funded employee pension fund and his office's open-door policy for employees. Under Philip's leadership, vending machines for Lance products were also introduced; the sales garnered from these machines would account for over 25% of Van Every's sales volume during his tenure.
During the 1950s, Philip entered local politics and quickly found success there, as well. He served as the temporary mayor on Charlotte's City Council from 1951-1953, and later served as Charlotte's mayor for two terms, from 1953-1957. During his time as mayor, he oversaw the completion of a number of significant additions to the Queen City, including the building of Independence Boulevard and Park Road Shopping Center, and the expansion of Memorial Hospital. He also played a major role in constructing the Dowd Y.M.C.A., leading the fundraising campaign. Throughout his years as the Queen City's mayor, he was prized for his honesty and dedication to public service.
In 1961, Every undertook two of his most lasting legacies upon the Charlotte community. The first of these was the opening of his business's expansive plant on Pineville Road, which was officially established in 1962. This building is still the headquarters for Lance snacks today. Phil also established the Philip L. Van Every Foundation in 1961. He first established this foundation with $1,000; it is now worth over $40 million. Today, this foundation supports various hospitals, community service organizations, and arts-centered organizations around the state of North Carolina, in honor of his legacy of generosity and community support.
By the time Van Every retired in 1973, the company garnered over $80 million in annual sales and had 4,500 employees in 34 states. He passed away in 1980, at the age of 67. Today, Lance vending machines can be found at more than 60,000 locations in 40 states. The company maintains manufacturing facilities in Charlotte as well as in Iowa, Massachusetts, and Canada. It garners over $600 million in annual sales.
Van Every's statue was established along Charlotte's Little Sugar Creek Greenway's Trail of History on November 16th, 2019. The statue was created by the Charlotte-born artist Chas Fagan, and depicts Philip L. Van Every's likeness standing with one of Lance's famous peanut butter crackers in his hand. The Little Sugar Creek Greenway stretches from Seventh Street to East Morehead Street in Charlotte. The Trail of History is funded by local historians in an effort to highlight Charlotte residents who have played significant roles in shaping the Queen City into the flourishing metropolis it is today.
Sources
Coffin, Alex. "Lance, Inc." The Encyclopedia of North Carolina, 2006, https://www.ncpedia.org/lance-inc. Accessed 18 March 2020.
"Philip Lance Van Every." The Philip L. Van Every Foundation, http://www.vaneveryfoundation.org/VanEvery.aspx. Accessed 18 March 2020.
Image Sources
http://www.vaneveryfoundation.org/

http://www.vaneveryfoundation.org/VanEvery.aspx

Additional Information