First Africans in Jamestown Historical Marker
Introduction
The first Africans to arrive in the English American colonies were enslaved people captured from a Portuguese slave ship who disembarked at Point Comfort. It was late August 1619; colonial officials traded food for the "20 and odd" enslaved individuals. A few of these individuals were transported to Jamestown; by 1625 at least nine African men and women were enslaved there. Some free individuals in the community eventually gained their freedom. In the late 1600s Virginia would lay the legal foundations for the system of hereditary slavery which would persist for 250 years.
Images
First Africans in Jamestown marker, by Don Morfe on HMDB.org (reproduced under Fair Use)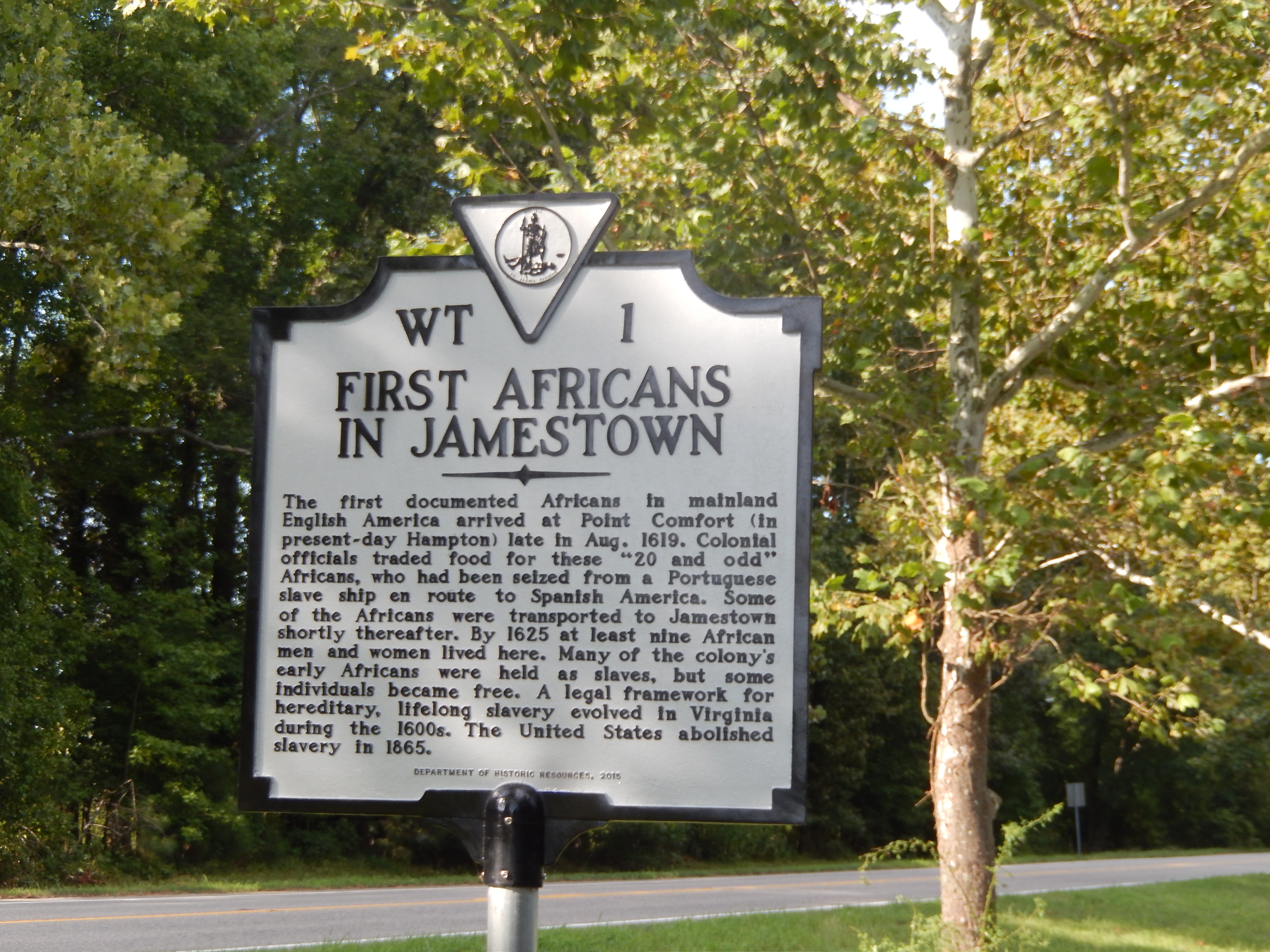 Backstory and Context
In August 1619, the English ship White Lion stopped at Point Comfort to trade over 20 Africans for food. These Africans had been stolen from a Portuguese ship, the São João Bautista, sailing for Spanish America. These Africans were most likely from west central Africa, what is now Angola, and would have probably been Kimbundu-speaking with some familiarity with Catholicism. Several days later, another English ship, the Treasurer, stopped to sell several more people as slaves. The captains of both ships carried letters of marque, which allowed them carry out what were essentially acts of piracy.
This was not the beginning of slavery in the New World, of course. Thousands of enslaved people had already been transported to Spanish America and the Caribbean before 1619; this date marks the earliest Africans transported to the English colonies on the mainland of North America.
Virginia did not codify its slavery law until the late 1600s, culminating in "An act concerning Servants and Slaves" in 1705. Because of this, it is not clear what slavery in these early years looked like. The 1705 act made clear distinctions about the Christianity of imported servants or enslaved workers; if these people were not Christian at the time of their import (with the exception of some groups from countries allied with the Crown), then they were to be considered slaves.
Jamestown once had landing markers declared that the first Africans in English America had come ashore there, but these were removed in 2011 after lobbying from the group Project 1619 (unrelated to the New York Times' later 1619 Project). President Barack Obama declared Point Comfort, now Fort Monroe in Hampton, Virginia, a National Monument as the real place where the first Africans in the colonies disembarked.
The Virginia Department of Historic Resources placed this marker in Jamestown, which qualifies the significance of the Jamestown settlement in the narrative of Africans in English America, in 2015.
Sources
Guasco, Michael. The Fallacy of 1619: Rethinking the History of Africans in Early America, Black Perspectives: Published by the African-American Intellectual History Society. September 4th 2017. Accessed March 15th 2020. https://www.aaihs.org/the-fallacy-of-1619-rethinking-the-history-of-africans-in-early-america/.
Hannah-Jones, Nikole. America Wasn't a Democracy, until Black Americans Made it One, New York Times Magazine. August 14th 2019. Accessed March 15th 2020. https://www.nytimes.com/interactive/2019/08/14/magazine/Black-history-american-democracy.html.
McCartney, Martha. Virginia's First Africans, Encyclopedia Virginiana. October 8th 2019. Accessed March 15th 2020. https://www.encyclopediavirginia.org/Virginia_s_First_Africans.
Morfe, Don. First Africans in Jamestown, Historical Marker Database. April 17th 2017. Accessed March 15th 2020. https://www.hmdb.org/m.asp?m=97318.
Project1619. Why were the first Landing Day markers removed?, Project1619 FAQs. January 1st 2018. Accessed March 15th 2020. http://box5485.temp.domains/~rojecwf4/faqs/why-were-the-first-landing-day-markers-removed/.
Virginia General Assembly. An act concerning Servants and Slaves, reproduced in Encyclopedia Virginiana. January 1st 1705. Accessed March 15th 2020. https://www.encyclopediavirginia.org/_An_act_concerning_Servants_and_Slaves_1705.
Image Sources
https://www.hmdb.org/PhotoFullSize.asp?PhotoID=361164