Indiana University Baseball Uniforms: 2008-Present
Introduction
These Indiana University Hoosiers baseball uniforms were first worn in circa 2008. The defining feature of these uniforms is the "Indiana" script across the front of the uniforms. There was an all-white and an all-red variant, both are pictured. These uniforms differed from older uniforms that featured the IU "trident" logo on the jersey. That logo is still featured on the cap.
Images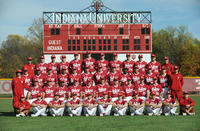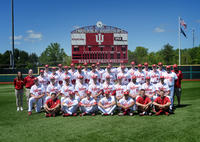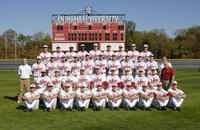 Backstory and Context
These uniforms, introduced in 2008, are still being used to this day in the 2020 season. Some defining features of the new uniforms are the cursive script of "Indiana" across the chest of the uniform. The red piping on the white background continues from previous uniforms, as well as the red "trident" logo on the cap with a white background and red brim. The pants are also white with red piping down the side. The other variant, also pictured for the 2012 team, is red with white piping.
Adidas is the creator of these uniforms, as well as all other uniforms for Indiana University Athletics. The trends seen in these uniforms can be seen across other sports at IU as well. Most teams have one all red jersey and one all white. The distinctive "Indiana' script across the front of the baseball uniforms can be found on the uniforms of several other teams, such as the women's rowing team. The "trident" IU logo is also heavily featured across all varsity teams at IU. Both the script and the "trident" are also featured in IU merchandise sold all around campus.
Adidas became the uniform sponsor for Indiana in 2004, according to an article in the South Bend Tribune. The contract was extended in 2015 and pays Indiana $53.6 million until 2024, or $6.7 million a year for the right to produce both uniforms and merchandise with the university's colors and logos.
The IU baseball team has seen considerable success in these uniforms. They made their first College World Series in 2013 under the guidance of coach Tracy Smith. Several current MLB players wore these uniforms, such as: Kyle Schwarber of the Chicago Cubs, Josh Phegley of the Chicago Cubs, Johnathon Stiever of the Chicago White Sox, Sam Travis of the Boston Red Sox, Alex Dickerson of the Pittsburgh Pirates, and many more.
Sources
Story Archives, IU Hoosiers Baseball Official Site. Invalid date. Accessed March 11th 2020. https://iuhoosiers.com/sports/baseball/archives.
, Indiana Department of Collegiate Athletics. Brand and Uniform Guidelines, January 1st 2018. Accessed March 11th 2020. https://s3.amazonaws.com/sidearm.sites/iuhoosiers.com/documents/2018/8/28/IUB_athletics_brandguide_TO_PRESS_8_2.pdf#page=46.
Indiana University extends apparel contract with Adidas, South Bend Tribune. August 20th 2015. Accessed March 13th 2020. https://www.southbendtribune.com/news/local/indiana-university-extends-apparel-contract-with-adidas/article_94964254-b91a-5d30-9453-c3f00a7a0989.html.
Indiana University Baseball Players who Made it to the Major Leagues, Baseball Almanac. Accessed April 28th 2020. https://www.baseball-almanac.com/college/indiana_university_baseball_players.shtml.
Image Sources
Indiana University Archives Photograph Collection

Indiana University Archives Photograph Collection

Indiana University Archives Photograph Collection

Additional Information