Conneaut Lake Park (1892-Present)
Introduction
In 1892, the Exposition Park was opened by Colonel Frank Mantor and was later renamed Conneaut Lake Park after a change in ownership. Over a century later, the park has seen multiple changes of ownership, suffered four fires, and filed three bankruptcies. This amusement park is the home of a roller coaster and historical landmark, the Blue Streak, which was built in 1937 and is the 17th oldest wooden roller coaster in the United States.
Images
Picture of the historical landmark and roller coaster, the Blue Streak.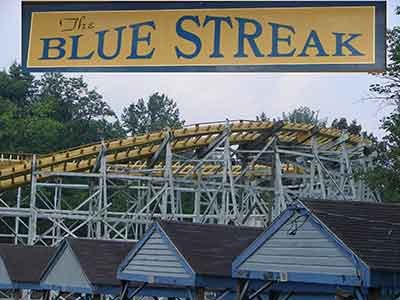 Pictures of Conneaut Lake Park when it first opened (n.d.).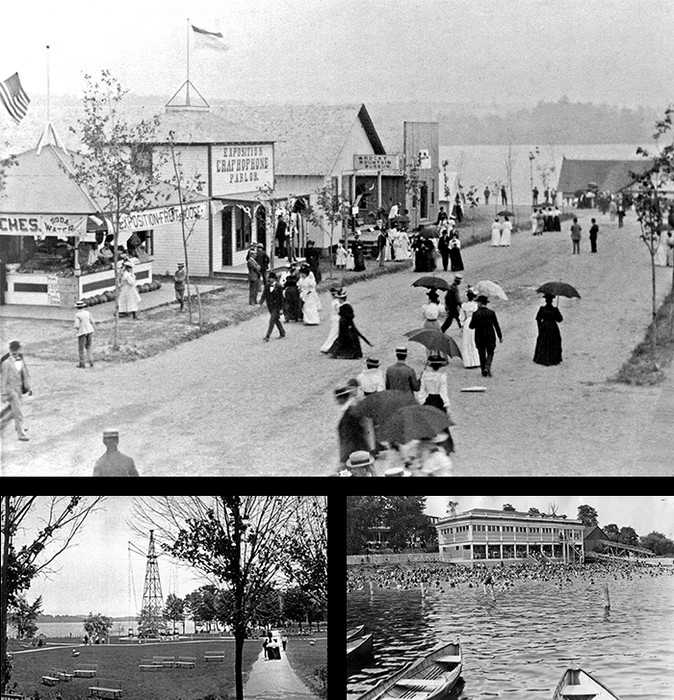 The Conneaut Lake Park sign visitors see as they visit the park.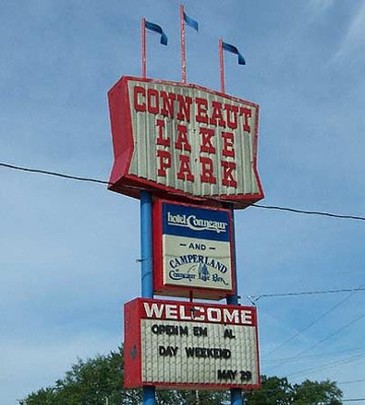 Backstory and Context
In 1877, the Conneaut Lake Exposition Company purchased 175 acres of land from Aaron Lynce and allowed him 75 acres for payment of his estate. What is now known as the Conneaut Lake Park, located on the West side of Conneaut Lake in Western Pennsylvania, opened in 1892 as the Exposition Park by Col. Frank Mantor. The park was used as a permanent fairground and exposition for livestock, machinery, and industrial products from the Western side of Pennsylvania. Amidst the park's opening, a dance hall, a convention hall, and a bath-house were built. There was a farmhouse on the property purchased, and instead of tearing it down, Conneaut Exposition Company renovated and turned it into a hotel for guests visiting the park. In 1899, the park introduced its first mechanical ride, a carousel. 
In 1901, the Pittsburgh & Shenango Valley Railroad bought Exposition Park, and by 1907, they had visitors to the park traveling by boat, train, or trolley. During this time, many more hotels and attractions were added to the area. These changes allowed the park to blossom with business. In 1920, Exposition Park was officially renamed Conneaut Lake Park in order to connect the significance to the lake and in hopes of it becoming more popular for rides and hotel stays. They added more rides like bumper cars, a Figure Eight Roller Coaster, and a Tumble Bug. The park is known for its signature roller coaster that opened in 1938, which is called the "The Blue Streak." It has been named the 17th oldest wooden roller coaster in the United States. The age of the coaster, along with the upkeep of repairs and unique design helped it become one of the first roller coasters to be named an ACE Coaster Classic. 
Over the years, Conneaut Lake Park has suffered many ups and downs. The first being a fire that took place in 1908. This fire caused many of the original buildings to be destroyed. New buildings were built using concrete blocks shortly after, including a Dreamland Ballroom. The owners filed for bankruptcy in the 1930s. In 1943, almost all of Hotel Conneaut was destroyed in a fire. They also had fires occur in 2008 and 2013 that destroyed the Dreamland Ballroom, the dockside restaurant, and the beachfront building. In 1974, the park owned by Dr. John and Mary Gene Winslow Flynn was found to be $750,000 in debt. Their son, Charles Flynn, decided to take control of the family business to help salvage the amusement park. In 1990, after seeing many parks closing, Flynn decided that it would be best to close the park for the season to ensure the maintenance of the park. The new layout of the park and poor weather conditions caused a decline in customers after they reopened. Many of the rides were soon auctioned off, but most were purchased by a group of four local businessmen who soon bought the estate from the Flynn family. They spent one million dollars in order to refurbish the park, but this wasn't enough to draw in customers.
In 1995, they had to file for bankruptcy, and the park remained closed. In 1996, Gary Harris and Summer Resorts Inc. purchased the estate, and the park reopened on July 4, 1996. In 1997, Gary Harris was convicted of tax evasion. He left the park to the Conneaut Lake community in 1997, only to file a lawsuit against them because he had a 99-year lease on the estate and owned most of the rides. The trial was lost in 2001 when the ownership was given to a court-appointed trustee, a non-profit organization. The Trustees of Conneaut Lake Park, along with the help of volunteers, repaired many of the rides that are still standing at the park, including the most popular ones like the Devils Den and the Blue Streak. The park also received $50,000 in funds from a contest that Pepsi sponsored in 2010 to repair the Blue Streak. Since 2015, the Economic Progress Alliance has operated the park due to the Trustees filing for bankruptcy protection in 2014. While most local amusement parks that were built at the turn of the century closed in the late 20th century, Conneaut Lake Park remains open and provides many summer jobs in Crawford County.
Sources
 Cheney, Jim. "Visiting the Historic Conneaut Lake Park in Crawford County." Uncovering PA. Last modified August 1, 2016. https://uncoveringpa.com/conneaut-lake-park-in-crawford-county.
"Conneaut Lake Park." Conneaut Lake Park. Accessed May 11, 2020. https://www.newconneautlakepark.com/index.cfm.
"Conneaut Lake Park Beach Club Destroyed in Fire." Amusement Today. Last modified August 1, 2013. https://amusementtoday.com/2013/08/conneaut-lake-park-beach-club-destroyed-in-fire/.
Drumm, Lorri. "Conneaut Lake Park celebrates 125 years of fun." The Meadville Tribune. Last modified July 24, 2017. https://www.meadvilletribune.com/news/conneaut-lake-park-celebrates-125-years-of-fun/article_fbce5efa-7019-11e7-b585-dbdd7610f939.html.
"Former Conneaut Lake Park Owner Returning to Prison." Pittsburgh Post-Gazette. Last modified July 21, 2004. https://www.post-gazette.com/uncategorized/2004/07/21/Former-Conneaut-Lake-Park-owner-returning-to-prison/stories/200407210219.
Futrell, Jim. Amusement Parks of Pennsylvania. Stackpole Books, 2002. 
KDKA. "Conneaut Lake Park Dreamland Ballroom fire - Feb. 01, 2008." YouTube. February 1, 2008. https://www.youtube.com/watch?v=e9nNurYZ9ao. 
Myers, Valerie. "Conneaut Lake Park in 'the right direction'." Observer-Reporter. Last modified August 19, 201. https://observer-reporter.com/news/regional/conneaut-lake-park-in-the-right-direction/article_78ce3440-601b-5477-95f9-510707f033c6.html.
WFMJ. "Conneaut Coaster Labeled 'historic'." WFMJ. Last modified July 3, 2010. https://www.wfmj.com/story/12708674/conneaut-coaster-labeled-historic.
Image Sources
"Conneaut Lake Park." Conneaut Lake Park. Accessed May 11, 2020. https://www.newconneautlakepark.com/attractions/rides.cfm.

"Conneaut Lake Park." Conneaut Lake Park. Accessed May 11, 2020. https://www.newconneautlakepark.com/about-clp/history.cfm.

"CLP Sign - Picture of Conneaut Lake Park." Tripadvisor. Accessed May 11, 2020. https://www.tripadvisor.com/LocationPhotoDirectLink-g52410-d116603-i26831304-Conneaut_Lake_Park-Conneaut_Lake_Pennsylvania.html.

Additional Information