Anoka County History Center and Museum
Introduction
Author-Uploaded Audio
The Anoka County Historical Society maintains a 3,000 square foot exhibit gallery in the heart of downtown Anoka, surrounded by historic buildings and river ways. It strives to represent the legacy story of the 21 communities that constitute Anoka County through artifacts, written accounts, photographs, and oral histories. ACHS conducts educational programming, tours, and special events throughout the year that focus on keeping legacy stories alive for the present generation. The organization is an advocate for individuals to privately preserve their own family histories, businesses to document their journey, or the communities themselves to better address the way future residents will remember previous generations.
Images
From our collection: three young men, outdoors, each with a mug of beer in their hand. They are behind a sled on which a wooden keg of beer is sitting.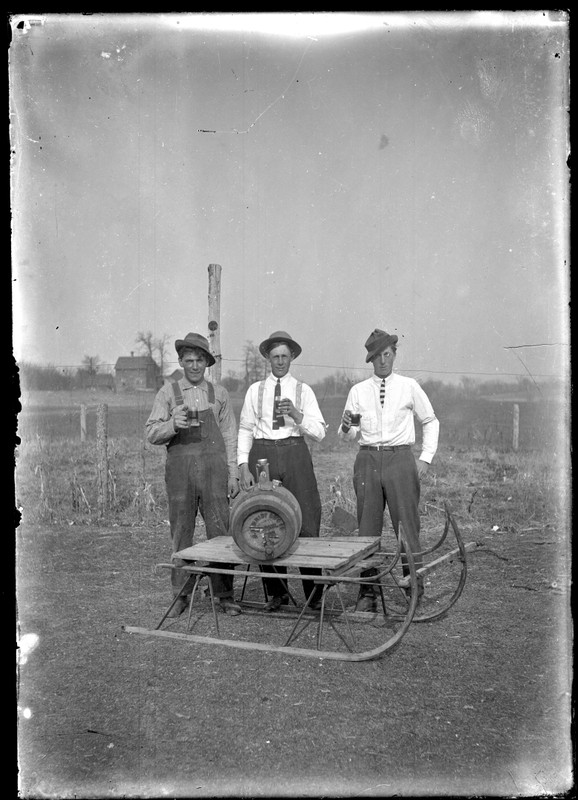 Behind the scenes tours are available upon request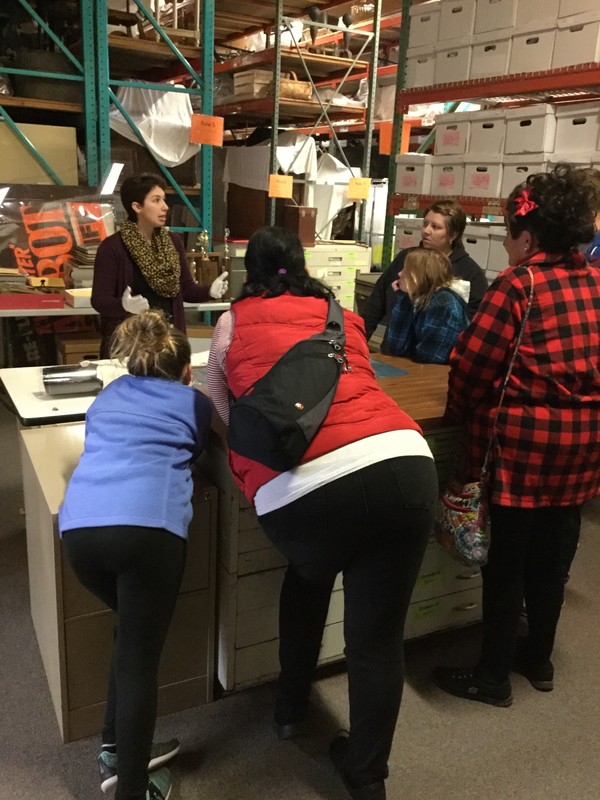 Ghost tours of Anoka are a must in September and October!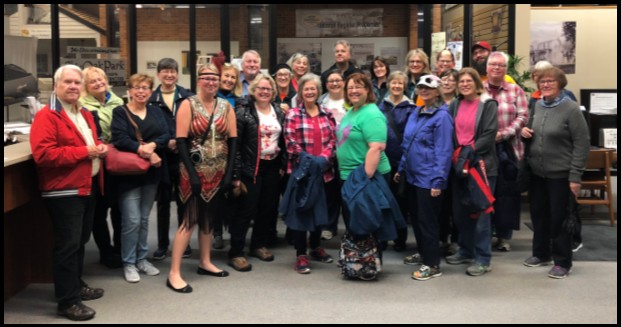 Backstory and Context
We're taking history beyond the dates you memorized in high school and finding context for those community stories. What does it mean to hold the keys to a Century farm? How does living as a teenager today compare to the past? When do immigrants become established legacy families? Who do we call neighbors and friends?
Whether inside the classroom or the museum; out and about during festivals, social events, or conducting oral histories, the Anoka County Historical Society ties tales of the past to the lived experiences of the present — all while looking to the future.History happens today.
None of us want to believe we're old enough to HAVE history, let alone BE history. There's a negative connotation there we simply can't shake.
Yet, we value anniversaries and long-term friendships. We brag about the longevity of business relationships and traditions that have survived. The new and innovative may draw attention with shiny splendor, but so much wisdom exists in the aged walls of buildings, artifacts, and minds.
The Anoka County Historical Society began in 1934 and has a long relationship with the communities it serves. That longevity proves our organizational tenacity, strength, and loyalty. It speaks of trust, determination, and reputation. Unfortunately, those responsible for the infant years of ACHS can no longer tell this story—we know them through what they left.
We spent many years housed at Colonial Hall, led by volunteers and part-time staff. We told a limited story of the county and focused on the strong history of Anoka and it's many prominent families. As we outgrew that space and added staff, we leveraged our reputation and the work of those before us to navigate a move to our current location, the old city library building in Anoka. But that was 20 years ago and those who remember are getting fewer.
Our staff have the job of balancing the heritage story of what we were with the current version of what we are against the vision of what we will be. What we can be. What the communities in Anoka County need us to be in this moment—a midpoint between the 85 years from our inception and 85 years before another generation preserves the story we're living.
Our museum—your museum—depends on your donations of time, talent, and treasure, as well as your membership support. What we leave behind is the story of the future. It's history. It's our story
Additional Information