The William Henry Belk Statue
Introduction
On May 12th, 2015, the statue of William Henry Belk was installed as part of the Trail of History in Charlotte, North Carolina. William Henry Belk was the founder of what is today Belk, Inc., the company behind hundreds of department stores across the United States. Belk proposed a number of innovative and influential business strategies, including clear retail prices, the refunding of items, superb customer service, and a centralized buying service. Belk greatly contributed to the economic development of Charlotte and many other southern cities, as he continually fostered and supported other promising business men and businesses. Ultimately, William Henry Belk's statue stands as a reminder not only of the great economic success Belk had, but also as a reminder of the values of generosity, hard work, and innovation which he and his company represent.
Images
The statue of William Henry Belk.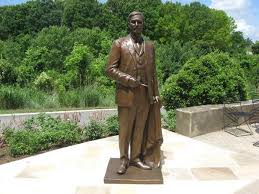 A close-up of the face of the Belk statue.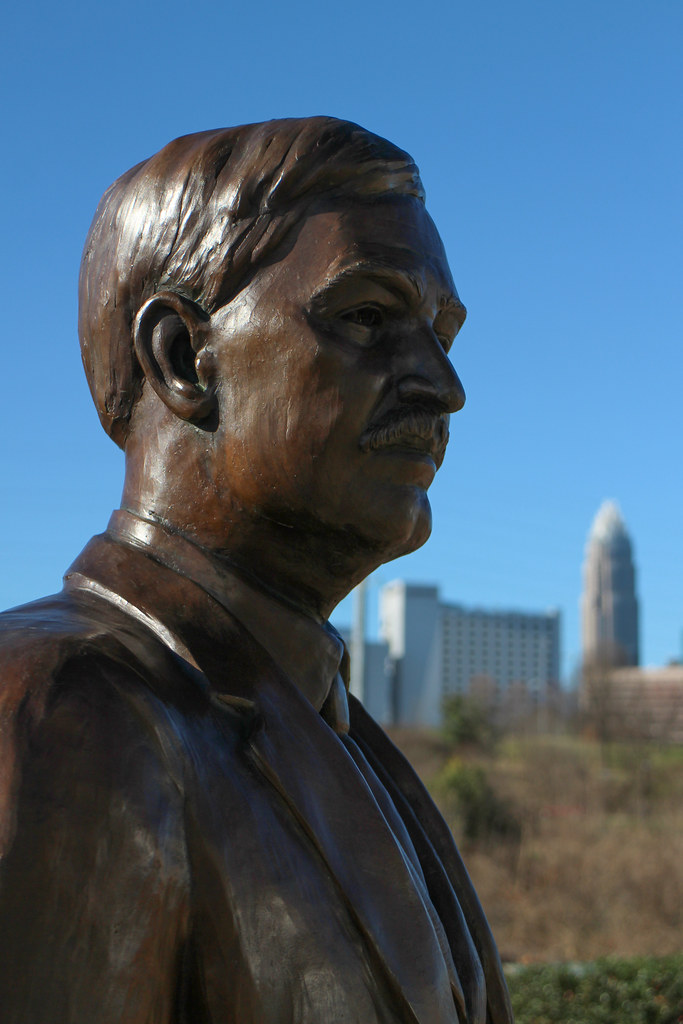 William Henry Belk around 1930.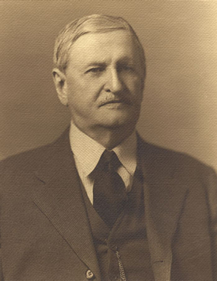 Backstory and Context
William Henry Belk (1862-1952) was a pivotal economic figure and innovator of Charlotte, North Carolina. Belk was born in Lancaster, South Carolina, but later moved to his family to Monroe, North Carolina after his father was killed by Union soldiers during the Civil War. During his time in Monroe, Belk worked at a dry goods store for eleven years and eventually became the manager. After receiving a loan and compiling his savings, Belk obtained a quantity of goods on consignment from a bankrupt store. On May 29th, 1888, at the age of 26, Belk opened a small store in Monroe called the "New York Racket," which he advertised as "The Cheapest Store on Earth." At the New York Racket, Belk exemplified a number of business strategies that were new to the southeast region of the U.S. He used a clear retail prices for products and did not allow for negotiation of these prices. He also had an exchange policy, as he allowed customers to return undamaged goods for a refund. Belk also required cash-only purchases, which was rather revolutionary at the time as the typical practice had been for farmers to take goods on credit and pay for them at harvest time. After just six months of business, Belk made enough money off of the New York Racket to pay off the money he borrowed, cover his expenses, and still make a profit of $3,100.
Eventually, William Henry Belk convinced his physician brother, John Montgomery Belk, to join the business and leave his medical profession. Together, the brothers expanded the business and opened stores in Chester and Union, South Carolina. In 1895, William and John opened a store in Charlotte, North Carolina called "Belk Brothers Company." The store was located on East Trade Street and prospered due to its accessibility for farmers and other residents of the town. The Belk Company store implemented the strategies previously used by William Henry Belk, such as clear retail prices, refunds, and cash transactions. In addition to these practices, however, the Belk Brother's Company store also used innovative advertising and customer service techniques, such as offering free ice water to customers in the summer. The Belk brothers also developed a centralized buying service which enabled each store to buy specialists in every merchandising area. Today, this service remains a widespread practice throughout various businesses.
William Henry Belk saw the possibility for stores to join together in the south and form large department stores, thus gaining price concessions from manufacturers. He continued to build partnerships with stores across the south, and also provided management expertise and supplied stores with items from the company warehouse in Charlotte. The names of Belk's stores always included his name in some fashion, such as the Belk-Leggett in Virginia, the Parks-Belk in Tennessee, the Belk-Gallant in Georgia, and the Belk-Hudson in Alabama. Belk's ability to recognize promising businessmen and foster their talents allowed him to play a prominent role in the flourishing businesses of many southern communities. William Henry Belk's legacy continues on, as the Belk department store company still exists and hundreds of Belk, Inc. stores endure throughout the United States.
Today, the statue of William Henry Belk stands in front of the Metropolitan shopping complex in Charlotte, North Carolina as part of the city's Trail of History. His statue stands as testament to the powerful influence Belk had on Charlotte's economy and communities as well as many other communities and economies across the United States. The Trail of History covers 16 miles of the Sugar Creek Pedestrian Greenway running from 7th Street South to Morehead Street, near uptown Charlotte. A bike and walking path are available to navigators of the trail.
Sources
"William Henry Belk." MeckNC, https://www.mecknc.gov/ParkandRec/TrailOfHistory/Pages/HenryBelk.aspx. Accessed 19 February 2020.
William Henry Belk, Charlotte Trail of History. Accessed August 28th 2020. https://charlottetrailofhistory.org/portfolio/william-henry-belk/.
Image Sources
http://www.seniorscholars.net/assets/Scott_Syfert_11_16_18_PDF_Eminent_Charlotteans.pdf

https://www.flickr.com/photos/mattbritt00/32886598112/

https://www.mecknc.gov/ParkandRec/TrailOfHistory/Pages/HenryBelk.aspx

Additional Information