Vaughn Public Housing
Introduction
Vaughn Public Housing was established in the Mill Creek Valley neighborhood before it was taken down in 1995. Named after African American attorney, George L. Vaughn, this building was home to many people of the African American community until the city of St. Louis began its urban renewal projects in this area. Around this housing complex, they built universities, highways, and sports arenas to establish new ground for tourism and the predominately white population. As of now, the Cahill House Apartments sit in its exact location.
Images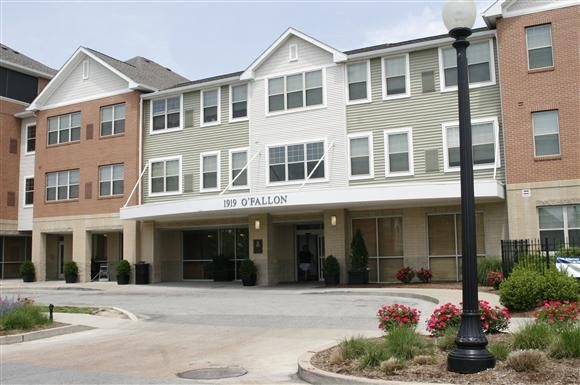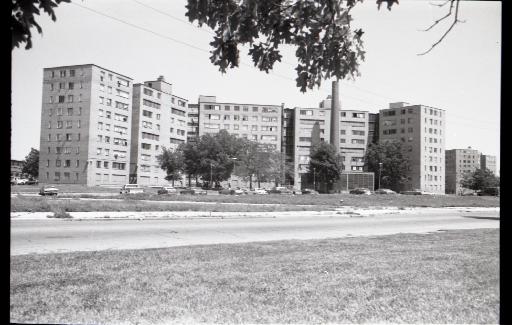 Backstory and Context
The Vaughn Public Housing Towers were developed and opened for business on April 28, 1957 with 660 units created with the intention of providing cheap, affordable housing to the poor and minority populations of St. Louis. The buildings were named for the African American attorney, George L. Vaughn, who represented the African American community of St. Louis within politics and on the St. Louis NAACP board. He was an influential figure in St. Louis and for a person of color at this time he was able to make significant advancements in the St. Louis area. Some of his greatest achievements include being the first president of the Mound City Bar Association and putting an end to "racially restrictive covenants as a legal consideration in the sale of housing" ( ). In regards to his political power, he was very active in campaigns and rallying for Republican candidates until about the 1930s when he began to question their loyalty to the African American people of St. Louis. After determining that they were not advocating for the greater good of all St. Louisans, he convinced 60 percent of Black voters to switch to the Democratic party, primarily the younger generations. He continued to make significant changes and impacts on the African American community until his death in 1949.
Only eight years after his death, the Vaughn Public Housing Towers were built in honor of him during the time when St. Louis was beginning their urban renewal projects. The idea of reestablishing the Mill Creek Area arose in the 1920s but wasn't put into action until about 1954. During this time, the Mill Creek Valley neighborhood saw a rise in African American residents and moved from an 82 percent Black population in the 1940s to a 99 percent Black population in the 1970s. As a result of segregation and racial discrimination, this area was considered as one of the slums that needed to be urbanized or, as we know now, gentrified.
Building began after the implementation of the Housing Acts of 1937 and 1949. These two acts were put into place to provide funding to local agencies to improve housing for poor and to clear the slums by creating and pushing for more large scale developments. By creating more developed buildings, the city of St. Louis was able to provide mass housing opportunities for low income families all while developing a more appealing and reputable area. Until 1995, the Vaughn Housing Complex was able to dedicate housing to low income families for thirty-eight years. Since then, the location has change into Vaughn Residence at Murphy Park and now is the Cahill House Apartments and currently serves those of mixed-incomes.
Sources
Mizuki, Henry. Building: Vaughn Public Housing Project. Missouri Historical Society. June 18th 1981. Accessed April 9th 2020. https://mohistory.org/collections/item/resource:227790.
Erde, Rebecca . Vaughn Towers Research Project, Issuu Inc.. October 28th 2016. Accessed April 9th 2020. https://issuu.com/rebeccaerde/docs/430-rebecca_erde-vaughn_towers_fina.
Patterson, Steve. The Last Public Housing Complex Tower in St. Louis, Urban Review. March 12th 2012. Accessed April 9th 2020. http://www.urbanreviewstl.com/2012/03/the-last-public-housing-complex-tower-in-st-louis/.
O'Neil, Tim. 65 years ago, the decision to clear Mill Creek Valley changed the face of the city, St. Louis Post-Dispatch. August 7th 2019. Accessed April 14th 2020. https://www.stltoday.com/news/local/years-ago-the-decision-to-clear-mill-creek-valley-changed/article_04738cde-b0f8-5688-a20e-6fd86266d1ac.html.