American Muslim Mission
Introduction
The American Muslim Mission, now known as the Muslim American Society, was established in the 1970s by Imam Warith Deen Mohammed, the sixth son and successor of former Nation of Islam leader, Elijah Muhammad. Masjid al-Mu'minum, the mosque commonly associated with the American Muslim Mission in St. Louis, is the oldest mosque in the city and remains a place of worship to this day. This despite being located in what was once Mill Creek Valley, a historically Black neighborhood that was largely torn down in an urban renewal project during the latter half of the 20th century. The mosque is still open to parishioners and remains an active organization within St. Louis.
Images
The Al-Mu'minun Islamic Center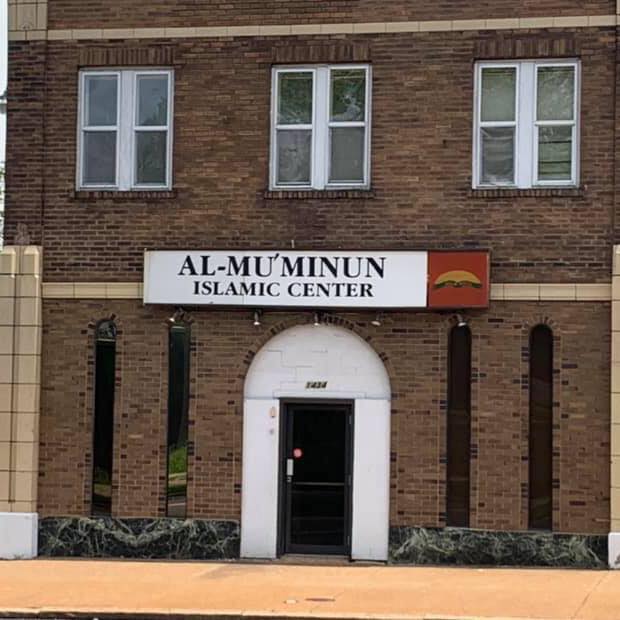 Imam Warith Deen Mohammed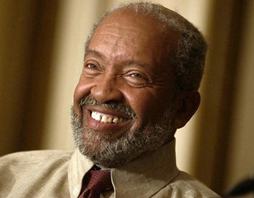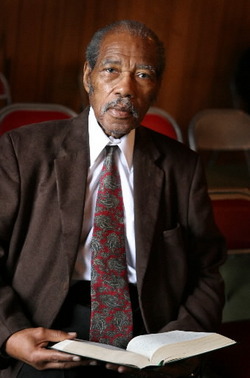 Backstory and Context
Masjid al-Mu'minum was established as part of the African American Muslim movement, the Nation of Islam, in 1957, and was commonly known then as St. Louis Temple No. 28. During its time under the Nation of Islam, the mosque acted as the headquarters for the organization's St. Louis chapter and as the center of African American Islamic culture in the city's historic Mill Creek Valley neighborhood.
The Nation of Islam was founded in 1930 by Wallace Fard Muhammad and combined Islamic tenets with Black nationalism. At this point in time, the segregation and inequality of African Americans was commonplace throughout the United States. Due to intense frustration with the lack of progress through legal mediums, many turned to more radical methods as a way to fight for their rights and speak out against injustice. In 1934, Elijah Muhammad took over the NOI following the disappearance of Wallace Fard Muhammad. Under the new leadership, the NOI garnered upwards of 50,000 members by 2007, including Civil Rights activist Malcolm X.
In the 1950s and 1960s, the Nation of Islam hit a snag in the St. Louis area because of local Islamic leader Clyde Rahman, better known as Clyde X. Rahman was affiliated with a mosque known as Temple No. 28, where he taught locals the core beliefs of Islam and helped establish many local businesses. While Rahman was well-respected social activist among the general populace of St. Louis, the local media chose to depict him as an instigator, largely due to negative government opinions on Islam. However, despite the negative press, Rahman's involvement in his community was so significant (particularly through his business endeavors) that many began to call that stretch of Grand Avenue "Little Egypt." Rahman's trouble began in 1961, when Temple No. 28 experienced a split with some patrons joining the Islamic Service Church on Union Boulevard. Although the Nation of Islam attempted to broker a reconciliation, the efforts were ultimately unsuccessful. Rahman would later adopt many of the reforms put forth by Imam Warith Deen Mohammed and became the American Muslim Association's representative in Cleveland, Ohio, a position he retained until his passing in 2009.
In 1975, Elijah Muhammad, the leader of the Nation of Islam, passed away, leaving his son, Imam Warith Deen Mohammed as leader of the movement. However, the new Imam was far less radicalized than his father had been, and began moving towards a more tolerant religion in line with traditional Sunni beliefs. This led to the formation of the American Muslim Association in 1978 by Warith Deen Mohammed, which was renamed the Muslim American Society in 1997. W.D. Mohammed was regarded as being very radical for his time, especially concerning his belief in interfaith cooperation. This meant, however, that the Nation of Islam in America at that time split into two major organizations: the traditionalist NOI and W.D. Mohammed's tolerant and peaceful American Muslim Association. Masjid al-Mu'minum followed Imam Warith Deen Mohammed, eventually coming under the leadership of Imam Samuel Ansari in 1988, and remaining a center for Islamic teachings and worship in St. Louis.
Sources
1. Clyde X, Wikipedia. Accessed April 14th 2020. https://en.wikipedia.org/wiki/Clyde_X.
2. Curtis, Edward E.. African-American Islamization Reconsidered: Black History Narratives and Muslim Identity. Journal of the American Academy of Religion, vol. 73, no. 3, 659 - 684. Published September 2005. JSTOR.
3. Melton, J. Gordon. Nation of Islam. Encyclopædia Britannica. November 19th 2019. Accessed March 30th 2020. www.britannica.com/topic/Nation-of-Islam.
4. Pinckard, Cliff. Clyde Rahman, 79, founder of African-American mosque in Cleveland, dies, cleveland.com. February 9th 2009. Accessed April 14th 2020. https://www.cleveland.com/metro/2009/02/clyde_rahman_79_founder_of_afr.html.
5. The Editors of Encylopædia Britannica. Warith Deen Mohammed, Encyclopædia Britannica. December 15th 2019. Accessed March 30th 2020. https://www.britannica.com/biography/Warith-Deen-Mohammed.
6. Townsend, Tim. Mosques are struggling, Cult Education Institute. Accessed March 30th 2020. https://culteducation.com/group/1289-general-information/8694-mosques-are-struggling.html.
7. U.S. Black Muslim Group Adopts New Name, Los Angeles Times. September 6th 1997. Accessed March 30th 2020. https://www.latimes.com/archives/la-xpm-1997-sep-06-me-29415-story.html.
8. Wright, Jason Aaron. Discovering African American St. Louis: A Guide to Historic Sites. St. Louis, MO. Missouri History Museum, 2002.
Image Sources
https://www.facebook.com/Al-Muminun-Islamic-Center-353429451490394/

https://en.wikipedia.org/wiki/Warith_Deen_Mohammed

https://www.findagrave.com/memorial/38567097/clyde-rahman