Harris Music Building
Introduction
Fisk University's Harris Music Building was constructed around 1876. At that time, it was a one-story brick home designed in the Italianate style and the property of Richard Harris, a local African American entrepreneur. The home was built on the future location of the university. Mr. Harris was born a slave and became the first African American trustee of Fisk University in the 1880s. Harris gave one of the speeches at the dedication of Fisk University in January of 1866. A professor at Fisk, W. G. Waterman, later owned the house and transferred its ownership to the university in 1909. The building became the Music Annex in 1927 and the Harris Music Building in 1991.
Images
June 1977 photo of main (north) elevation of Harris Music Building by Berle Pilsk, in Fisk U. NRHP Historic District nomination (Pilsk & Looney 1977)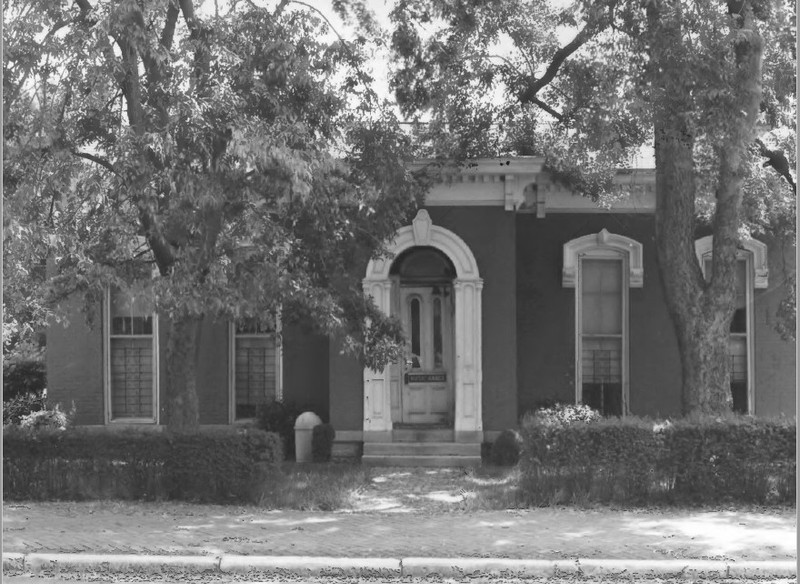 2015 photo of Harris Music Building (Brent Moore)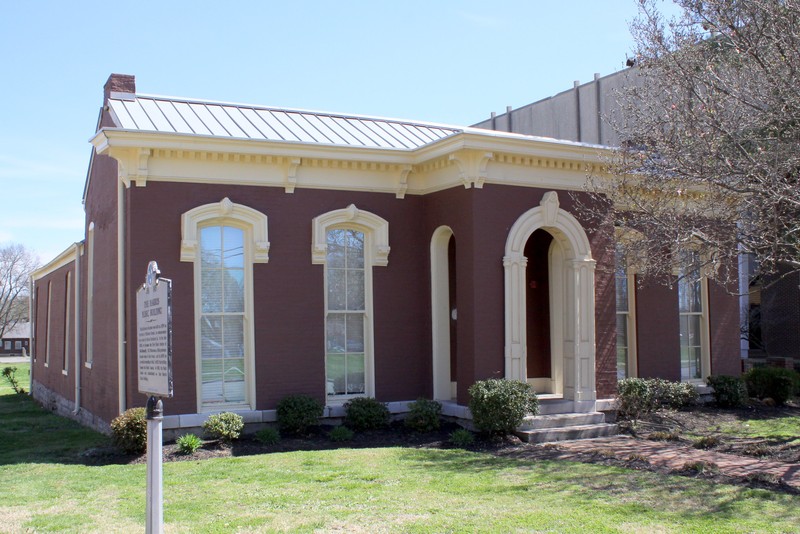 Map of Fisk University NRHP Historic District; Harris Music Building is #26; non-contibuting resources in red (Pilsk and Looney 1977)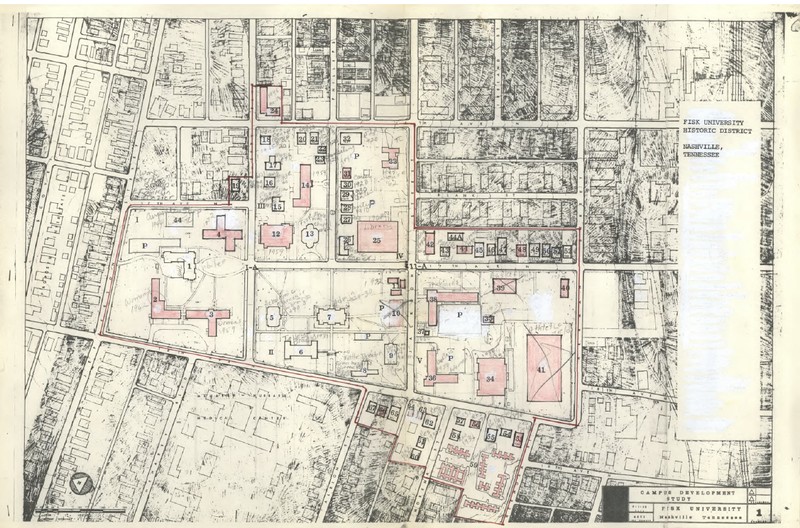 Backstory and Context
The Harris Music building started out as a private residence for Richard Harris, Sr., the owner of Harris Furniture Company, around 1876. Harris was born a slave in Hanover County, Virginia in 1832. Harris was allowed to work for wages and saved enough money to buy the freedom of himself, his mother and a brother. Once Harris moved to Nashville around 1850, he became a successful businessman. Harris spoke at the opening ceremonies of Fisk University in January of 1866. The furniture company also began in the 1870s on Cedar Street.
Harris married Lavinia Tate, a sister of one of the original Fisk Jubilee Singers, Minnie Tate. Richard and Lavinia had nine children, seven of whom attended Fisk University, literally in their backyard. The house is located across the street from the Fisk Memorial Chapel, the home of the Fisk Jubilee Singers. Descendants of Richard Harris, Sr. visited Nashville in 2017 for a reunion and toured their ancestor's home. Thirty-five Harris family members over five generations have attended Fisk University.
The L-shaped, one-story brick structure features bracketed eaves; hooded, narrow windows; and a denticulated wood cornice. The projecting arched entrance porch leads to a finely paneled entrance door facing 17th Avenue North.
A later owner, a Fisk University professor named W. G. Waterman, transferred the house and property to the university in 1909. A one-story clapboard wing was added in the 1920s. The building became the Music Annex in 1927.
In 1991, the building became known as the Harris Music Building. The building is a contributing resource to the National Register of Historic Places Fisk University Historic District, which was added to the Register in 1978. The deteriorated one-story wood frame wing was removed sometime after 1977.
Sources
Pilsk, Berle. Looney, Percy. NRHP Nomination Form for Fisk University Historic District. National Register. Washington, DC. National Park Service, 1977.
PRIDE Newsdesk. Former slave to Fisk University's first Negro trustee, Nashville PRIDE, Inc., Local News. September 21st 2017. Accessed February 18th 2020. https://www.pridepublishinggroup.com/pride/2017/09/21/former-slave-to-fisk-universitys-first-negro-trusteerichard-harris-sr-descendants-gather-for-reunion/.
Smith, R. E.. The Harris Music Building, The Historical Marker Database. June 16th 2016. Accessed February 16th 2020. https://www.hmdb.org/m.asp?m=4501.
Image Sources
https://npgallery.nps.gov/NRHP/GetAsset/9a288b6c-bc75-41ef-9093-9e964c937ab6

https://www.flickr.com/photos/brent_nashville/27890798245

https://npgallery.nps.gov/NRHP/GetAsset/5117c039-675d-4179-93fc-fed1ad73b636

Additional Information