Wekiva Elementary School
Introduction
Wekiva Elementary School is in a part of the Seminole County Public School System and serves over 800 students in grades pre-K through fifth. It is ranked a grade A school, and has been around for thirty-eight years, and their mission is to ensure that all students get the knowledge and skills required to become productive, successful citizens.
Images
Wekiva Elementary School Campus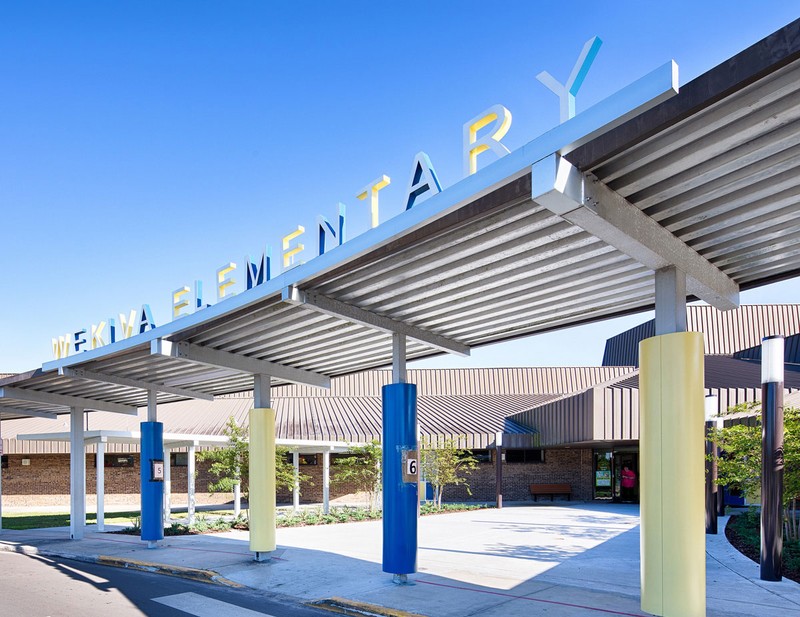 Backstory and Context
Wekiva Elementary School has been around for roughly forty years, and recently received renovations to modernize the school for the current demands of the 21st century. The school currently holds the Five Star School Award, which shows that it excels in community involvement in numerous different outlets, as well as maintaining A school status. As of 2020 there are approximately 835 enrolled students, and the school is in the top 20% in Florida. The Math proficiency score is 74%, which is in the top 20%, and the reading proficiency is in 79%, which is in the top 10%. Nearby public schools include Lake Brantley High School, Teague Middle School, and Forest Elementary School. 
Sources
Solodev. "Wekiva Elementary School." Wekiva Elementary School, www.wekivaelementary.com./.
               The Wekiva Elementary School official website page provides a lot of key information about the reputation of this school, such as it holds the Five Star School Award, which is presented annually to schools that excel in community involvement through partnerships, volunteerism, community service, and other contributions to the community. It also displays the Seminole County Public Schools mission statement, which is "to ensure that all students acquire the knowledge, skills, and attitudes to be productive citizens." This source has relevancy because it comes directly from people who currently work for Wekiva Elementary and provides details on the school's standing and current events. 
Solodev. "Seminole County Public Schools." Seminole County Public Schools, 25 Feb. 2020, www.scps.k12.fl.us./.
         The Seminole County Public Schools website offers up a lot more information on the community itself that Wekiva Elementary is a part of, in addition to stating who the current principal and administrative faculty members are. The page also displays the office hours, school hours, and a map to verify school zoning. This remains a relevant source because it covers not just Wekiva Elementary, but the school system itself. SCPS was rated an "A" school district this past year, and has been rated an "A" district for 18 years total. 
"Wekiva Elementary School Profile (2020): Longwood, FL." Public School Review, www.publicschoolreview.com/wekiva-elementary-school-profile.
            The Wekiva Elementary School Profile website gives a lot of detailed information on the school itself and how it compares to others in terms of academic performance and other statistics. It includes information like the total number of students, the total number of teachers, the ratio of teachers to students, the gender ratio, and other percentages I found useful in my research. I found this significant because no other resource provided this type of insight on the numbers. 
"Wekiva Elementary School." SchenkelShultz Architecture, www.schenkelshultz.com/portfolio/wekiva-elementary-school/.
            This page provided insight on the architectural renovations done to Wekiva Elementary School in order to keep it up to date and modern in the 21st century. It elaborated on how the 38 year old campus now has a technology enhanced media center that has a computer testing area and reading nook for students to take quiet time away from one another to learn. It also had multiple high quality images to flip through. I found this source significant because I could not find many up to date photographical sources or descriptions of the campus, and this answered my questions. 
Griffin, Walt. "Lake Mary Life Publishing." Lake Mary Life, www.lakemarylife.com/lake-mary-news/article/seminole-county-public-schools-a-source-of-community-prid/.
            This article worked as a source because it provided some more information about SCPS as a whole, and also further discussed Seminole County's mission to ensure the best education possible for students so they are ready to face the real world when they graduate. They also mention that the district continues to maintain an A rating as a whole, and this is significant as Wekiva Elementary is an A school and has been for a number of years. 
Image Sources
https://www.schenkelshultz.com/portfolio/wekiva-elementary-school/