Dallas Black Dance Theatre
Introduction
This iconic dance and theatrical organization was founded by Ann Williams in 1976. Aside from employing a troupe of talented and diverse dancers that perform all over the metroplex for audiences of all ages and backgrounds, they also provide educational workshops, classes, and summer intensives with the goal of bridging cultures and reaching diverse, less-affluent communities through arts education and exposure.
Images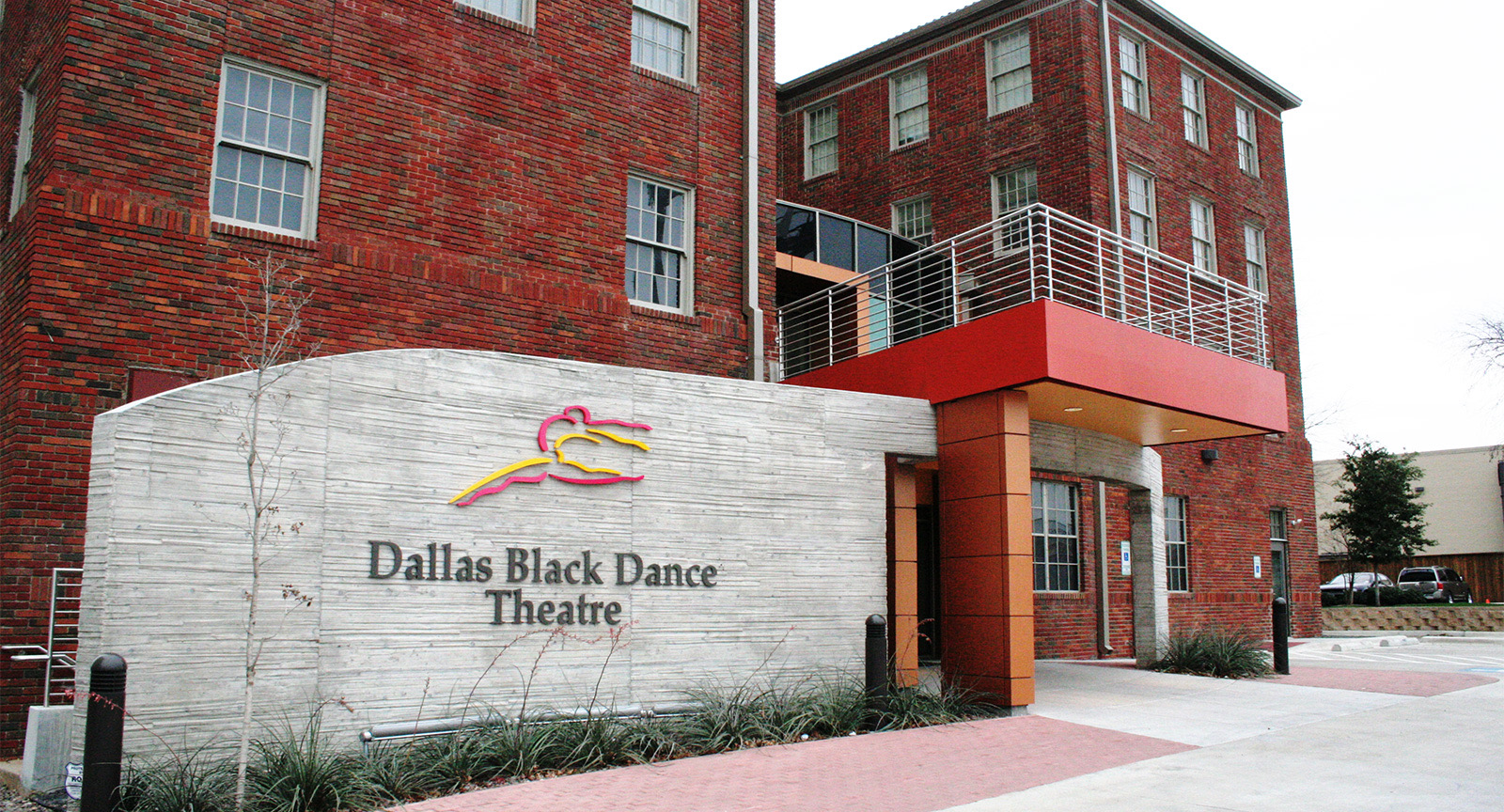 Backstory and Context
The Dallas Black Dance Theatre is currently celebrating its 43rdseason. This is a momentous occasion because this marks the company as the oldest, continuously operating professional dance company in Dallas, Texas. 
The Dallas Black Dance Theatre is currently under the watchful eye of Artistic Director Melissa M. Young. Young employs a dedicated, full-time company of 12 dancers. These 12 dancers work full time to create an array of performance pieces, as well as further their training in various styles such as modern, ballet, jazz, and a unique focus of theirs, ethnic works by internationally renowned choreographers. This distinct focus and specialization on ethic dances is very important, for it is a genre of dance that often times goes unnoticed and is under-represented in today's world of dance performance. Director Melissa Young works to showcase these styles in an educational light not just for those who have these dances running through their blood, but also for those who have never had to opportunity to be exposed to these styles in the first place. Many do not realize, but some of the world's most popular, mainstream styles of dance, are rooted in ethnic styles that most of which have never heard of. The Dallas Black Dance Theatre is hoping to give these under-recognized styles the credit they deserve, as well as continue the life-span of these styles. This is done through both exposure through performance, and through education. 
The Dallas Black Dance theatre employs their company members to operate a fully functional dance school that teaches upwards of 550 students per week in their year-round style classes. Founder Ann Williams was always a firm believer that they best way to enact positive change for the future, was through arts education for the youth of the country. Specifically, "The Academy emphasizes that through directed dance studies in a learning environment, the mind is disciplined to control one's total body in making better decisions for life and developing self-esteem." 
Sources
"About." Dallas Black Dance Theatre, dbdt.com/about/.
This article is the home website of the Dallas Black Dance Theatre. While navigating this well-crafted website, one can read about the history of this organization, as well as its many influences and contributions throughout the years. This website also digitalizes the growth and development this organization has seen over time. What once started as a very small group of dancers has evolved into an international powerhouse that has inspired so many young performers as well as audiences across the globe. There is also a nice biography of the theatre's founder, Ann Williams. She is credited with the success of this organization, and has lived an admirable life. This short biography gives some insight to her intentions for this theatre, and her process that led to this theatre's birth. 
This website has a whole page dedicated to expressing their message and purpose as an organization. While they do so many things, it all boils down to education, inclusion, and diversity. While the company was founded by Black individuals, and much of their work focuses on telling the stories of African American people through theatre and dance, they offer training and welcome students of all various ethnicities. This push for diversity and inclusion is a theme that has run quite heavily through every single module we have covered thus far. So many groups of people throughout history have had to push for diversity and inclusion, and that is a theme that the Dallas Black Dance Theatre has been founded upon. 
Bizjournals.com, www.bizjournals.com/dayton/news/2019/01/22/dallas-Black-dance-theatre-keeps-pushing.html.
This is an article written by data reporter and Business journalist, Elizabeth Kyle, for the Dayton Business Journal. Kyle is detailing many more specifics of the company. Through interviews with some of the key players in the creation of this organization, and discussion of the dynamics of the company of dancers as they operate today. This article informs you what this dance company looks like outside of the educational aspect of the organization. While it is a school that educated hundreds of young performers at a time, they also employ 12 full-time professional dancers that represent their organization. 
A large portion of this article includes segments and quotes from several of the founders of the Dallas Black Dance Theatre. This article features their commentary on the growth of the organization, how it came to be, and their plans for the future. This was a great inclusion in the article because it gave this prestigious company a personal touch. It helps the reader to see this organization as a group of individuals, which the reader has a better capability of relating to. What better way to express the mission of an organization than through the words of the people that work on a daily basis to make it what it is? 
While this article does a great job of offering up more information on this company itself, it doesn't really give us any more new information that relates back to American History, other than the ideals we have already recognized from the previous source. It does continue to emphasize the importance of inclusion and diversity, while adding their plans for extension and growth so they can improve their odds of reaching even more people than they do today. 
Additional Information