Charles W. Morgan Whaling Ship
Introduction
The Charles W. Morgan, moored at Mystic Seaport, is America's oldest commercial sailing vessel and only the USS Constitution (Old Ironsides) is older. The Morgan was built and launched from the shipyard of Jethro and Zachariah in New Bedford, Massachusetts in 1841. She spent the next 80 years pulling whales out of the oceans for their oil, derived from blubber, and baleen or whalebone. She was saved by Edward Green in 1921, arrived at Mystic Seaport in 1941 and went through lengthy restorations in 1968, 1974, and 2008. The Morgan's most recent voyage occurred in 2014 when she visited ports along the New England coast. The Morgan was designated a National Historic Landmark in 1966.
Images
The Charles W. Morgan docked at Mystic Seaport after its 21st century restoration.
And the culmination of those restoration efforts, the Morgan at sea.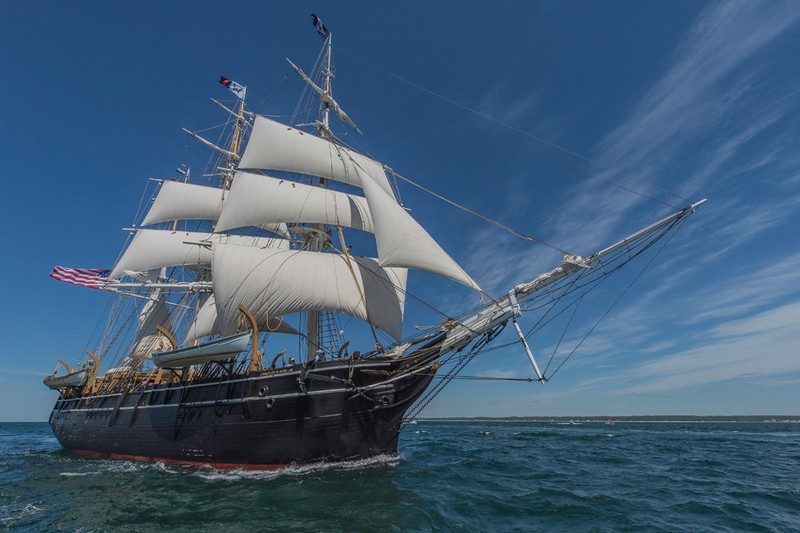 The Morgan being relaunched in 2013. Notice the masts have yet to be installed.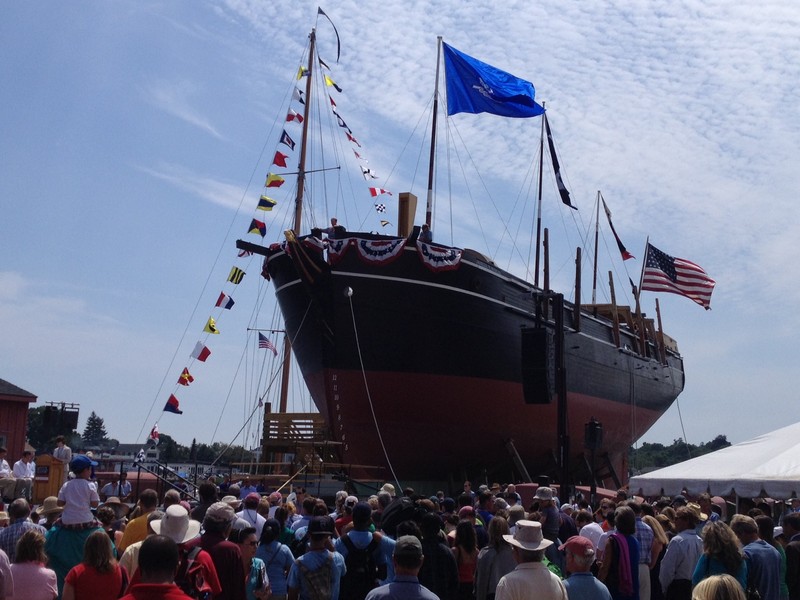 The Morgan's exposed "ribs" during restoration.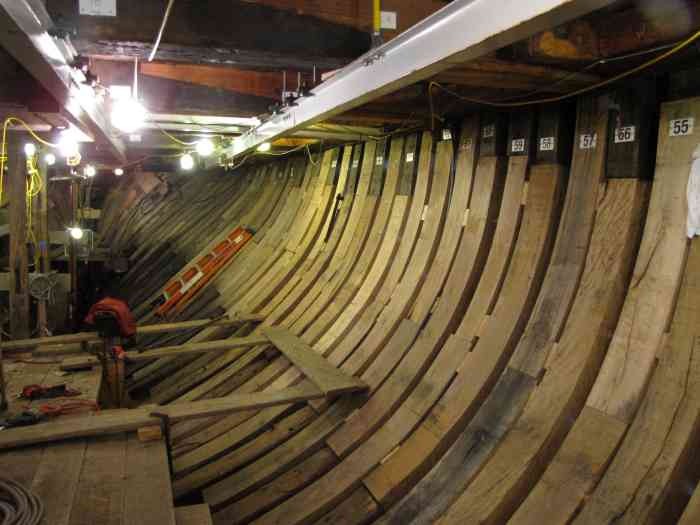 The Morgan's bow from c. 1900.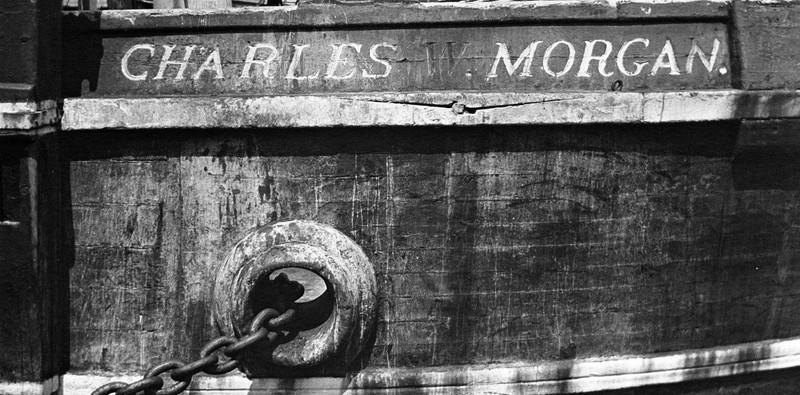 Backstory and Context
The Charles W. Morgan, named after her principle owner, was launched to hunt and kill whales in order to obtain their profitable oil and whalebone. Whale oil had been used for centuries for various things, to include light, lubrication, soap, jute, and textiles. During World War I, whale oil was used to prevent trench foot. By the time the Morgan was launched in 1841, whale oil was used primarily to lubricate the machines that drove the Industrial Revolution. Larger whaling vessels, such as the Morgan, would spend years on a single voyage, stripping whales of their blubber and then rendering it down to oil on deck to prevent the blubber from spoiling.
The Morgan is constructed of various types of wood, to include living and white oak, hemlock, and yellow pine. She is over 100 feet in length and has a beam of just over 27 feet, making her wide and slow. She has three masts that can raise over 7,100 square feet of sail and she displaces 314 gross tons. Her upper deck was dominated by large trypots which were used to boil whale blubber, while the typical crew of 30-35 lived in cramped quarters below deck. Lashed to her sides were four, 25-foot whaling boats that the crew used to hunt sighted whales while the Morgan awaited their return at a safe distance. 
The Morgan's first captain was Thomas Morton, who successfully returned to New Bedford after a voyage in excess of three years. During the voyage, the Morgan harvested 59 whales that yielded over 2,000 barrels of oil and 5 tons of whalebone. Morton's share of the profits totaled almost $11,000 which he used to retire from the sea. Over the next 80 years, the Morgan survived hurricanes, ice storms, and angry natives off a South Pacific Island. She hosted 21 captains, over 1,000 sailors, two captain's wives who served as navigators and harvested over 2,500 whales.
In 1859, petroleum was discovered at Titusville, Pennsylvania and this, along with decades of whale hunting which pushed some species to the brink of extinction, brought about the end of the whaling industry. After 37 voyages, the Morgan embarked on her last whaling voyage in 1921. She was then acquired by Colonel Edward Green and saved with the help of Whaling Enshrined Inc. She resided near his estate at South Dartmouth, Massachusetts until 1941 when she was towed to the Marine Historical Association, which would become Mystic Seaport. At this time, Mystic consisted of little more than a maritime museum. The re-created seaport town and living history museum would be built largely around the Charles W. Morgan.
The Morgan sat on a bed of gravel and sand and underwent intermittent restorations beginning in 1968. In 1974, she was removed from her bed and underwent extensive hull restoration in dry dock. In 2008, it was decided that the Morgan would be made seaworthy once again. Using 21st century imaging technology to determine which parts of her needed replaced and repaired, the Morgan was made whole once again. The restoration efforts cost $7.5 million, a bit more than her original cost of $52,786. 
In 2013, she floated on her own for the first time since she arrived at Mystic. The next year, she set sail once again and visited ports along the New England coast to include a return to New Bedford, New London, Newport, Vineyard Haven, Provincetown and Boston. She also, not without some irony, sailed through the Stellwagen Bank National Marine Sanctuary, now a popular whale watching site. Since her arrival at Mystic, over 20 million visitors have walked her deck and she is still the seaport's anchor.   
Sources
Bradford, Sydney S. and Blanche Schroer. "National Register of Historic Places Nomination Form: Charles W. Morgan." United States Department of the Interior/National Park Service. December 11, 1974. Accessed January 24, 2020. https://npgallery.nps.gov/NRHP/GetAsset/NHLS/66000804_text
Bond, Constance. "For the First Time in 93 Years, a 19th Century Whaling Ship Sets Sail." Smithsonian Magazine. May 15, 2014. Accessed January 24, 2020. https://www.smithsonianmag.com/smithsonian-institution/for-the-first-time-93-years-19th-century-whaling-ship-sets-sail-180951410/
Bond, Michaelle, "Museum Relaunches Wooden Whaler Built in 1841." New York Times. July 21, 2013. Accessed January 24, 2020. https://www.nytimes.com/2013/07/22/nyregion/museum-relaunches-wooden-whaler-built-in-1841.html
"World's Last Wooden Whaling Ship Has A Complicated History." WBUR. June 27, 2014. Accessed January 24, 2020. https://www.wbur.org/radioboston/2014/06/27/charles-morgan-whaling
Additional Information