We Welcome You by Sally King
Introduction
"It's a weaving of people, food, community, nature. I believe art is not only about making beauty, it's about speaking our truth to empower and bring people together." Sally King
Images
We Welcome You by Sally King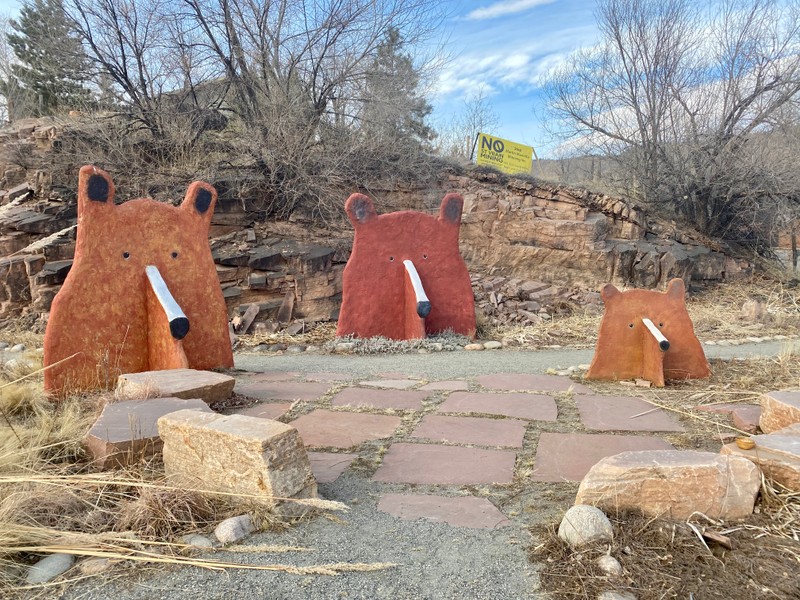 Backstory and Context
We Welcome You by Sally King is located on the corner of High Street and Highway 36. It was created with wood, stucco, paint, and dye. Sally King is a Lyons local who hopes to spark creativity in her community. She is known for her colorful and whimsical bear paintings and her vibrant floral paintings. We Welcome You is a 3d manifestation of Sally King's bears and are permanently placed to welcome visitors to Lyons. They are a celebration of the Black bears that live in this area and the nature that surrounds the Lyons community.
"Art is not made in isolation. It's a weaving of people, food, community, nature. I believe art is not only about making beauty, it's about speaking our truth to empower and bring people together." 
Sally King has been featured in the tandem Lyons Arts and Humanities Commission and Lyons Regional Library art shows and her work is recognized throughout the community. As you walk through town and visit businesses, you will likely see her works gracing the walls of real estate offices and galleries.
To see more of Sally King's work, visit her website.
Sources
https://www.sallywhiteking.com
http://www.townoflyons.com/181/Lyons-Arts-Humanities-Commission
Additional Information