Pettigrew Home & Museum
Introduction
The Pettigrew Home & Museum is a historic house built in 1889 and named after one of the most consequential figures in Sioux Falls' early history, Richard F. Pettigrew (1848-1926), who was instrumental in the city's growth in its early history and served as the state's first U.S. Senator. The home is a contributing property of the Cathedral Historic District, which is listed on the National Register of Historic Places, because of its Queen Anne architecture and association with Pettigrew. It has been a museum since 1925. Visitors can see the house, which has been restored, on guided tours and exhibits that contain artifacts that Pettigrew collected.
Images
The house has been restored and appears much as it did when Pettigrew lived there.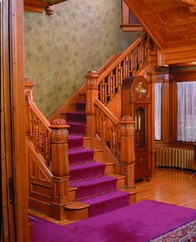 The Pettigrew Home & Museum was built in 1889 and later became the home of its namesake, Richard F. Pettigrew, who was the state's first U.S. Senator.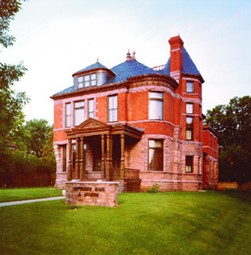 Backstory and Context
Richard Pettigrew was born on July 23, 1848 in Vermont to a large family of nine children; he was the sixth child. In 1854, his father, Andrew, moved the family to Rock County in Wisconsin when Pettigrew was six years old. After going to school at Evansville Academy in Evansville, Wisconsin, he attended Beloit College in 1864 and studied there for two years. He then taught for a year while also studying law in Iowa before enrolling at the University of Wisconsin to continue his law studies.
Pettigrew moved to South Dakota in 1869, settling in Sioux Falls. There, he started to practice law but he also found work as a surveyor. In 1871, he was admitted into the state bar in 1871 and by this time he had also gotten involved in real estate.
His stature in the community rose during these years and was elected to the territorial legislature (South Dakota was a territory at that time) in 1872 and later became delegate to Congress in 1880. He was elected to the U.S. Senate in 1889 after South Dakota became a state; he served two terms. Pettigrew promoted the rights of women, farmers, and the working class.
After failing to be reelected, Pettigrew moved to New York City, where he practiced law and earned more wealth from his business dealings. He lived there for ten years before returning to Sioux Falls where he lived the rest of this life. Despite his success in his adult life, he was dogged by accusations of shady business practices and his changing political views often alienated him. Nonetheless, his impact on Sioux Falls is clear, helping it grow during its early period. Among his accomplishments was attracting the first five railroads to the city and investing in a variety of business that contributed to the city's development.
He started to collect artifacts on his travels around the world and became an amateur archaeologist, excavating Indian mounds around Sioux Falls. He would later build the addition to the house in 1925 which became the museum. He bequeathed the house to the city and, as mentioned above, another addition was built in 1930 to provide for more exhibit space.
Sources
Andrews, John. "Pettigrew's Redemption." South Dakota Magazine. September/October 2010. https://www.southdakotamagazine.com/pettigrews-redemption.
Homepage. Pettigrew Home & Museum. Accessed January 13, 2020. https://www.siouxlandmuseums.com/home-page/pettigrew-home-museum.
"Pettigrew, Richard Franklin (1848-1926)." Biographical Directory of the United States Congress. Accessed January 13, 2020. https://bioguideretro.congress.gov/Home/MemberDetails?memIndex=P000271.
Staggers, Kermit L. ""Pettigrew, Richard." Encyclopedia of the Great Plains. Accessed January 13, 2020. http://plainshumanities.unl.edu/encyclopedia/doc/egp.pg.062.
Image Sources
Pettigrew Home & Museum

Pettigrew Home & Museum

Additional Information