Robert Frost Historical Marker, San Francisco
Introduction
Author-Uploaded Audio
Robert Frost, the famed American poet who was best known for writing verses about rural New England life, was born in San Francisco on March 26, 1874. He spent his formative years living in this city with his family. Upon his father's death, his mother moved the family to Massachusetts, and Frost later worked as a teacher and farmer while writing poetry. Although he initially struggled as a poet, Frost ultimately found great acclaim, first in England and then in the United States. Frost's best-known poems include "The Road Not Taken" and "Stopping by Woods on a Snowy Evening." In 1962, he was awarded a Congressional Medal by President John F. Kennedy. Frost received numerous honorary degrees before his death in 1963. His work has been translated into many languages around the world. This historical marker was erected on the Centennial of Frost's birthday in 1974 by the California Friends of Robert Frost.
Images
Robert Frost Historical Marker, San Francisco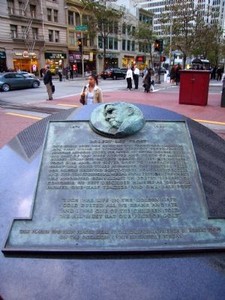 Robert Frost's family farm in Derry, New Hampshire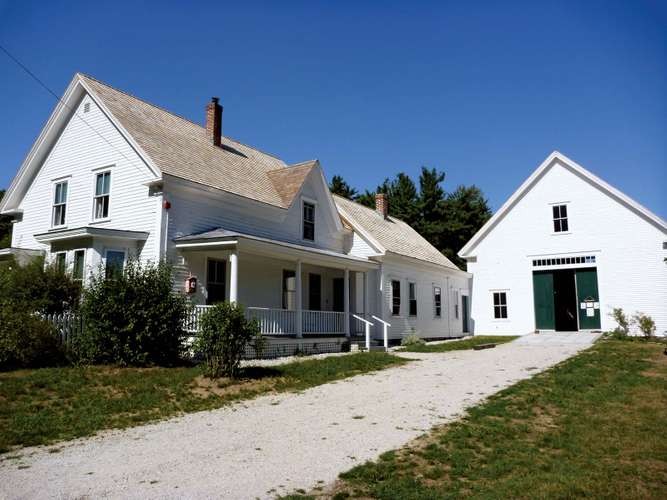 Robert Frost receiving a Congressional Medal from President John F. Kennedy in 1962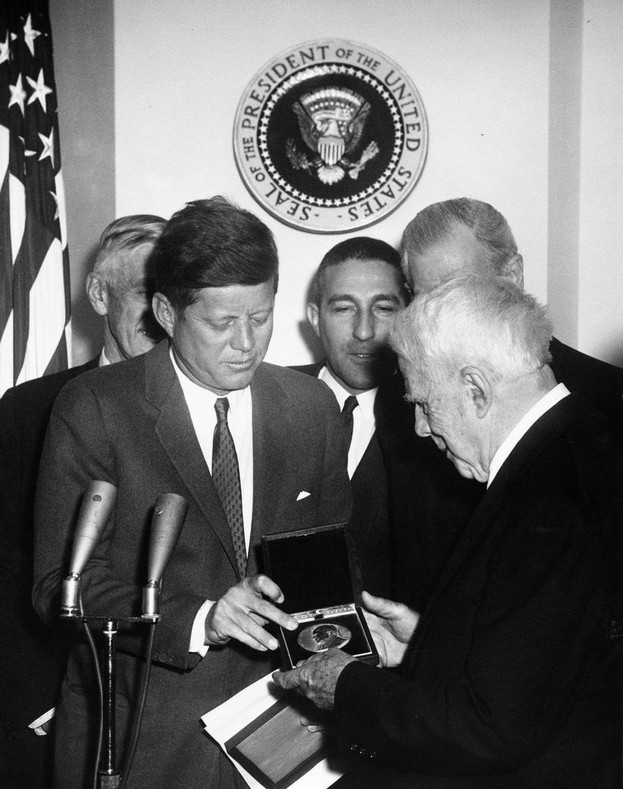 Backstory and Context
Author-Uploaded Audio
Born in San Francisco, Robert Lee Frost loved learning from an early age. His father worked as a teacher, journalist, and newspaper editor, and his mother also supported the family by working as a teacher. As a young boy, Frost lived with his family in seven different homes in San Francisco until his early adolescence, when his father died of tuberculosis and his mother relocated the family to Massachusetts. During the next few years, Frost lived with his mother, sister, and paternal grandparents, while his mother taught school in New England. He studied diligently throughout high school, graduating at the top of his class. Frost was named valedictorian, an honor that he shared with a female student, Elinor White, who would later become his wife. Together, they shared a love of poetry.
As a young man, Frost studied at Dartmouth College in New Hampshire as well as at Harvard University in Massachusetts, although he left before graduating. Thereafter, he taught school and farmed in Derry, New Hampshire, while raising children with his wife, Elinor, and writing poetry. As he approached age forty, however, Frost still found himself struggling to achieve success as a poet. In 1912, he decided to sell his family farm in Derry, New Hampshire, while using the money from the sale to relocate his family to England. Once in England, he was able to meet with publishers who became more receptive to his work, thus launching his career as a poet. 
In 1915, Frost and his family left England amidst the outbreak of World War I. Upon returning to the U.S., they resettled in the New England region in the northeastern United States. Frost now found himself acclaimed as a poet in America, where he had previously struggled for recognition. As his published output of poetry grew during the next decades of his life, Frost's reputation became that of a "rural sage." He became known for his poems about country life, written with his characteristic colloquial eloquence.
Throughout the remainder of his life, Frost was heralded for his work and he received numerous awards, including the Pulitzer Prize for poetry on four separate occasions. Frost also served as the poet-in-residence at Harvard, Dartmouth, and Amherst College. From 1958-1959, he was honored by being named the Poetry Consultant to the Library of Congress, a prestigious position that was later renamed "Poet Laureate." In 1961, Frost was asked to recite his poem, "The Gift Outright," at the inauguration ceremony for President John F. Kennedy. This further established his reputation as one of the most popular American poets of the twentieth century.
Although many of Frost's poems present a picture of rural New England that is grim and isolated, he also offered nostalgic depictions of rural life, which gained him popularity among the general public. For many years, it was common for schoolchildren in the U.S. to recite one of Frost's poems by heart, as an assignment in memorization and delivery. Today, his poems "Stopping by Woods on a Snowy Evening" and "The Mending Wall," remain widely known. "The Road Not Taken" continues to be Frost's best-known poem, with many scholars offering interpretations as to its meaning.
Sources
Gerber, Phillip L.. "Robert Frost: American Poet", Encyclopedia Britannica. Accessed January 11th 2020. https://www.britannica.com/biography/Robert-Frost.
Key, Karen. "Robert Lee Frost Historical Marker", The Historical Marker Database. October 21st 2006. Accessed January 11th 2020. https://www.hmdb.org/m.asp?m=639.
Image Sources
Karen Key, The Historical Marker Database

Public Domain

Additional Information