House at 690 South Boulevard
Introduction
The "house at 690 South Boulevard" in Atlanta is actually located at what is now known as 962 South Boulevard SE. The house was listed in the National Register in 2018 and the older system of street addresses was used in the nomination name. The home is significant for architecture as a good example of a cross-gable bungalow. Although bungalow homes were popular in the Georgia in the early 20th century, the cross-gable roof form is rare. The dwelling has elements of the Craftsman style like a horizontal look and wide front porch. The home was rehabilitated by the new owner after 2014. Newer additions were removed and original period details were restored.
Images
Photograph of a different cross-gable bungalow from 1910 book on bungalows (Wilson)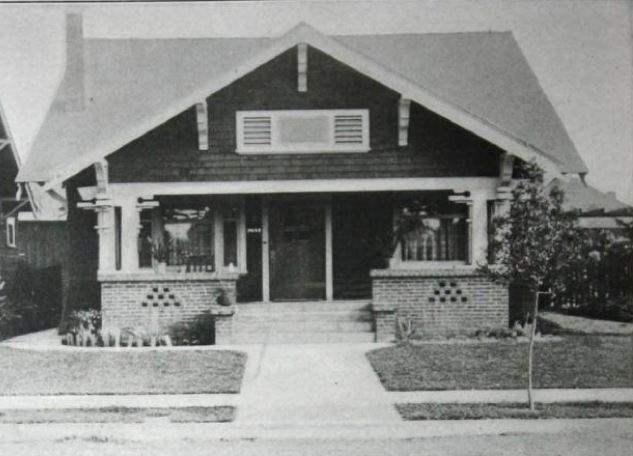 Description & floorplan of the 1910 book's cross-gable bungalow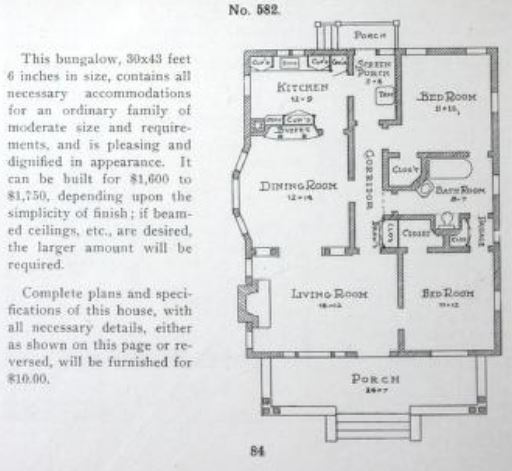 Backstory and Context
A Craftsman style cross-gable bungalow built in 1912 graces a ridge above South Boulevard in Atlanta a couple blocks south of Grant Park. The current address is 962 South Boulevard SE but before the city updated street numbers in 1926 the house's address was 690 South Boulevard. The National Register nomination from 2018 uses the old address as the resource name. The property owner sponsored and wrote the nomination.
The "house at 690 South Boulevard" is a 1.5-story wood frame home with clapboard siding. The house is significant for architecture as a good example of a cross-gable bungalow. Although bungalows were very popular in Georgia from 1900 to 1930, the cross-gable form is the rarest of the four roof types. The dwelling has other elements of the Craftsman style, with a low, horizontally-oriented form, an integral front porch, and decorative gable brackets. Rehabilitation recently removed later additions and restored period finishes to the private home. Windows are multi-light sash over a single sash. Porch columns are full height on the partial-wraparound front porch, facing west.
The home is fronted by a series of terraced garden beds, adding to the horizontal look of the house. Bungalows were built low to the ground to blend in with the natural surroundings. The inside retains its historic trim and fireplaces with original tile surrounds. The house contains four bedrooms, four and a half baths, and over 4,000 square feet of space.
Bungalows are based on a type of house style from 18th-century India called the bengala, popular with the colonists. A 1910 book on the house style by Henry L. Wilson, "the Bungalow Man" from Chicago, offered a description of the bungalow from its "primitive crudeness" to its "present state of artistic beauty and cozy convenience." Another proponent of the bungalow's charm, Fred T. Hodgson, wrote in 1906 that bungalows were the best type of cheap frame house built in large numbers in the U.S. since the old New England farmhouse went out of style. Hodgson thought there was nothing insincere or affected about these little houses.
The Grant Park neighborhood is one of a number of Atlanta bungalow-rich areas, inspired by the Arts and Crafts movement. Other neighborhoods include Candler Park, Oakhurst, East Lake, Inman Park, and Ormewood Park. Some of the city's popular streets with bungalows (including new construction in bungalow form) are Metropolitan Avenue, Glenwood Avenue, Gresham, and Woodland Avenue NE.
Sources
Georgia SHPO. House at 690 South Boulevard Listed in the NRHP, Georgia Historic Preservation Division. December 19th 2018. Accessed December 31st 2019. https://georgiashpo.org/house-690-south-boulevard-listed-national-register-historic-places.
Massey, James C. and Shirley Maxwell. Builder Style: America's Little Houses. Old-House Journal 18(5). September/ October 1990. 45 - 49.
realtor.com. 962 Boulevard Se, Atlanta, GA 30312, realtor.com. July 15th 2014. Accessed December 31st 2019. https://www.realtor.com/realestateandhomes-detail/962-Boulevard-SE_Atlanta_GA_30312_M62094-18356.
Sager, Jeanne. What is a Craftsman Bungalow?, realtor.com. September 17th 2019. Accessed January 1st 2020. https://www.realtor.com/advice/buy/craftsman-bungalow-organic-architecture/.
Urban Nest Real Estate Group. East Atlanta Bungalows, ineastatlanta.com. January 1st 2019. Accessed January 1st 2020. https://ineastatlanta.com/bungalows/.
Wilson, Henry L.. The Bungalow Book. Edition 5th. Chicago, IL. Henry L. Wilson, 1910.
Image Sources
Wilson 1910:84 on archive.org

Wilson 1910:84 on archive.org

Additional Information