696 Peachtree Street Apartments
Introduction
Constructed in 1923, this apartment building known by some as the Peachtree Manor Hotel was listed in the National Register of Historic Places in May of 2013. The five-story structure is significant in architecture as an excellent example of an early 1920s Georgian Revival style apartment building. It retains its Georgian decorative details and its original function as individual apartments. It was designed by one of the most important Atlanta architectural firms in that era, Hentz, Reid and Adler. The building also is important in understanding changing residential patterns in Atlanta in the early twentieth century, as occupants of the city's grand Victorian homes moved to new streetcar and automobile suburbs, leaving room for apartment dwellers on redeveloped tracts.
Images
2019 photograph of front door of 696 Peachtree St. Apts. (JJonahJackalope)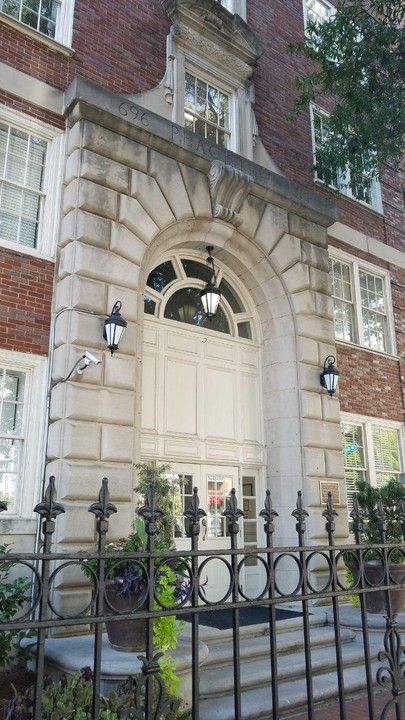 Backstory and Context
The apartment building built in 1923 that occupies part of the 800 block of Peachtree Street at the corner of 6th Street was originally called 696 Peachtree Street Apartments. The five-story structure is composed of reinforced concrete and steel with red brick and limestone exterior details in a Georgian Revival style. This is one of the last structures co-designed by the architect Neel Reid before his death in 1926. His architectural firm began in 1909 and became leaders in the Georgia School of Classicists. Hentz, Reid and Adler specialized in single-family residential structures.
696 Peachtree Street Apartments was considered a "luxury" apartment complex in the 1920s. It is one of only a few of its type built in Atlanta and retains its Georgian decoration and use as apartments. The early twentieth-century "garden-style" apartment complex was much more common in the city than this tall structure.
Peachtree Street was the commercial corridor of Atlanta; the street also was lined with grand Victorian homes on large lots for the upper-middle class in the 1870's and 1880's. As affluent residents began to move to new suburbs by the turn of the twentieth century with the availability of streetcar lines and automobiles, room became available in the city for apartment complexes. High-rise apartment buildings rose in popularity with the advent of the electric elevator in the late nineteenth century.
With corporate headquarters and new hotels being built in the city, the importance of modern apartment offerings to attract new residents was acknowledged. A 1924 article in City Builder lauded the beauty, size, and permanence of construction of new apartment buildings, many of which were built of fireproof construction.
The owner sponsored the NRHP nomination of the apartment building which was written by Georgia State University graduate students. the building now houses 40 residential condominium units.
Sources
Kelly, Collin. "Peachtree St. apartment building now in historic register." AtlantaIntown (Atlanta) June 28th 2013. online ed, Home & Real Estate sec.
Speno, Lynn. NRHP Nomination form for 696 Peachtree Street Apartments. Washington, DC. National Park Service, 2013.
Image Sources
https://en.m.wikipedia.org/wiki/File:696_Peachtree_Street_Apartments_front_door.jpg

Additional Information