Central Railroad Station
Introduction
Central Railroad Station is a historic passenger train depot built in 1910 by the Louisiana and Arkansas Railroad. The station was designed combining the Spanish Mission and Italian Renaissance style and was added to the National Register of Historic Places in 1991. Notable features include a square tower, an entrance pavilion with a large arch, awnings attached to the exterior wall, and a red tile roof. In addition to its architectural importance, the station serves as a reminder of the important role railroading once played in Shreveport's history. In fact, little remains of the city's railroading history, which adds to Central Station's historical significance. Today, Central Station is home to a nightclub.
Images
Central Station, built in 1910, is the only railroad passenger depot erected before World War I still standing in Shreveport.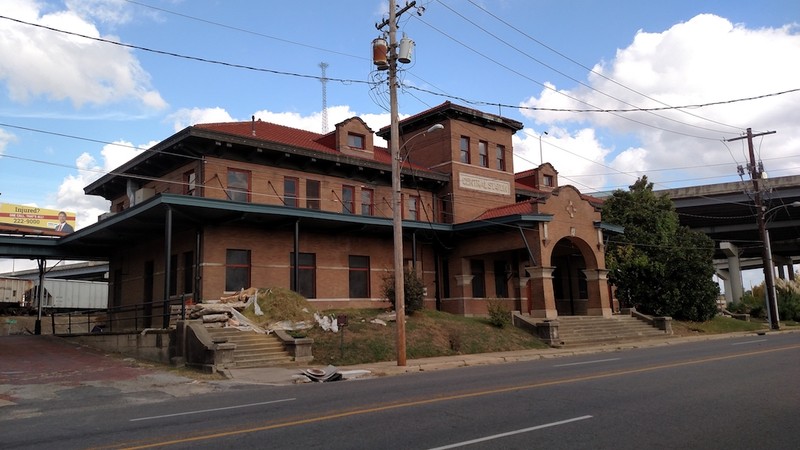 Backstory and Context
For much of the city's early history—it was founded in 1835—shipping commerce drove Shreveport's economy. It's location on the Red River was ideal as goods could be transported to and from the Mississippi River. Trade via the Mississippi remained strong for several decades which, along with other factors, slowed the introduction of railroads to Louisiana, and many that were built during these years were feeder railways to the Mississippi (i.e. they served local, rural areas). By 1900, however, railroads did eventually replace river shipping as the main form of transportation in Louisiana. As a result, Shreveport became a key regional railroad hub.
Railroading was critical to Shreveport's growth and development in the early 20th century. Several railroad companies operated here. There were once a large passenger station (Union Depot) and each railroad had its own freight depots and round houses. Some railroads even built their own passenger depots. After World War II, railroading declined in Shreveport and around the country as cars, trucks and planes took over as the primary modes of transportation. Central Station closed in 1955 as a result. In the coming years it became a warehouse and later a restaurant before becoming a nightclub that caters to the region's LGBTQ community.
Sources
Dwyer, Lee. "Old Building Made New Again: Central Station." CoLab Radio. March 2, 2015. http://colabradio.mit.edu/old-building-made-new-again-central-station.
"Historic Site, Central Station." The Historical Marker Database. Accessed December 30, 2019. https://www.hmdb.org/m.asp?m=109775.
National Register Staff. "Central Railroad Station." National Park Service - National Register of Historic Places Nomination Form. May 28, 1991. https://npgallery.nps.gov/NRHP/GetAsset/NRHP/91000622_text.
Reed, Merl Elwyn. "Louisiana's Transportation Revolution: the Railroads, 1830-1850." (1957). LSU Historical Dissertations and Theses. 223. https://digitalcommons.lsu.edu/cgi/viewcontent.cgi?article=1222&context=gradschool_disstheses.
Image Sources
Mike Wintermantel, via The Historical Marker Database

Additional Information