Holy Trinity Catholic Church
Introduction
Erected in 1899, Holy Trinity Catholic Church is one of the state's finest and most elaborate examples of Romanesque Revival ecclesiastical architecture (there are also some Gothic elements as well). It is the third church built for the congregation, which was established in 1856. The church features a number of notable design elements including a red brick and terra-cotta facade, two free-standing round towers with conical tops, arches, four large rose windows (there are 60 stained glass windows in all), and buttresses attached to the towers. As for the interior, it features a Byzantine-Romanesque main altar built in 1912, decorative interior paintwork, and a 55-foot dome.
Images
Holy Trinity Catholic Church was built in 1899 and is one of the finest examples of Romanesque Revival architecture in the state.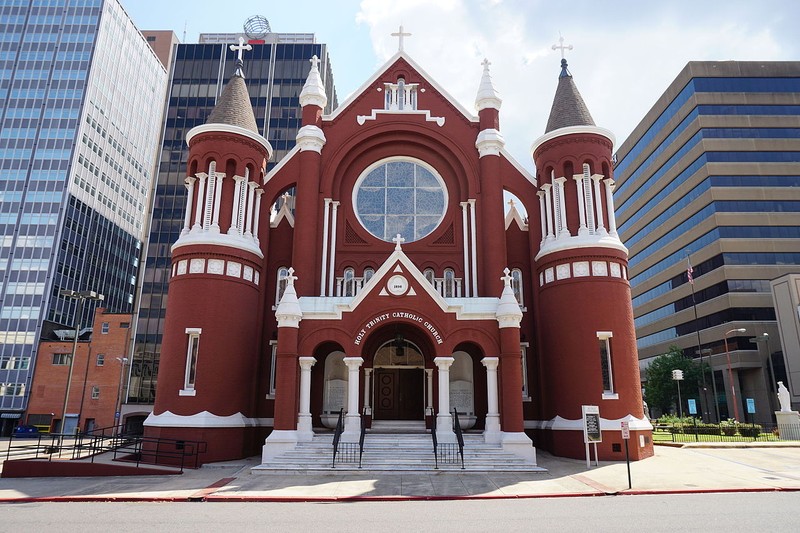 Backstory and Context
Catholicism first reached northwest Louisiana in 1717 when a Franciscan missionary founded the Mission of San Miguel de Linares and likely built the first Catholic church in the state. Over the next century and half, Catholicism expanded in the state. Here in Caddo Parish, French and Spanish missionaries served the early settlers in the area. One of these missionaries, Father John Pierre, supervised the building of the first Holy Trinity Church in 1857, which was a wood-frame structure. The next year, the second church was built and this time it was a brick building. The congregation grew steadily in the coming years, prompting the eventual construction of the present church building in 1899.
Sources
"Holy Trinity Catholic Church: History." Holy Trinity Catholic Church. Accessed December 28, 2019. https://www.holytrinity-shreveport.com/history.html.
National Register Staff. "Holy Trinity Catholic Church." National Park Service - National Register of Historic Places Nomination Form. September 27, 1984. https://npgallery.nps.gov/GetAsset/aee7a76c-7360-4fa4-a874-9c6855ac60c8.
Image Sources
Michael Barera, via Wikimedia Commons: https://commons.wikimedia.org/wiki/Category:Holy_Trinity_Catholic_Church_(Shreveport,_Louisiana)

Additional Information