Temple Beth El
Introduction
Temple Beth El is home to a Jewish congregation that was founded in 1945. Members built a temple at the intersection of 4th Street and West County Road the following year and moved to this synagogue following the completion of the structure in 1962. At the time of the congregation's founding, Temple Beth El was the only Jewish synagogue within 140 miles. Today, it serves members living in Odessa, Midland, and surrounding Texas communities and the congregation is affiliated with Conservative and Reform Judaism.
Images
Temple Beth El was established in 1945 and built its current facility in 1962.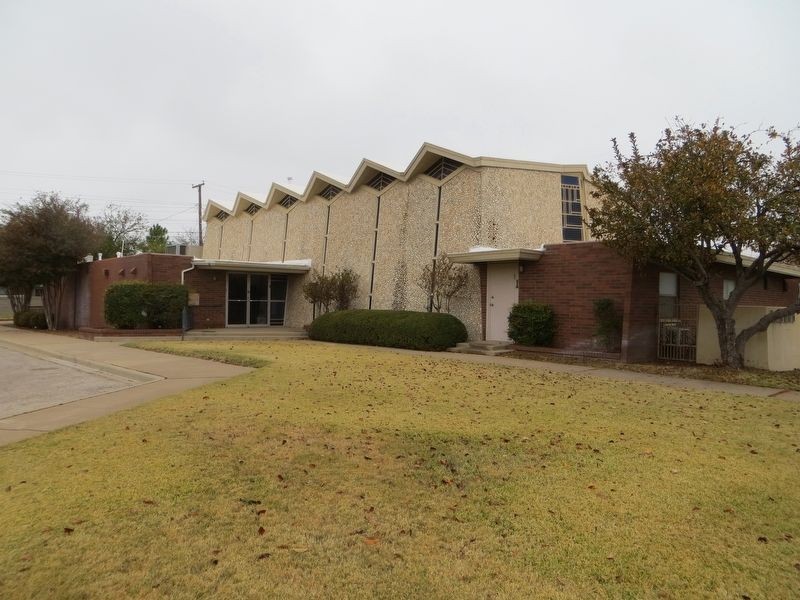 Backstory and Context
Jewish families first arrived in Midland in the late 19th and early 20th centuries, attracted by the prospering ranching industry. The Jewish population remained relatively small until the mid-1920s after oil was found. Soon, wells were popping up everywhere, attracting more and more people—including Jewish merchants and their families—to Midland (5,500 by 1930) and Odessa (5,000 by 1929). Despite the thriving oil industry, the Jewish population grew slowly (and remains relatively small today). The Great Depression and the volatility of the oil market were likely the main factors that discouraged other Jewish families from moving to Midland and Odessa.
In the late 1930s, the oil industry was on the upswing which did attract more Jewish families to the region. There were 20 families by 1941 and they started to worship together in rented buildings. After, World War II, the Jewish community decided to organize the congregation, which was officially established in December 1945. Midland and Odessa grew in the 1950s and so did the Jewish population. The congregation hired its first full-time rabbi in 1952 and had 50 families by the end of the decade. In order to accommodate the larger congregation, the new synagogue was built in 1962. Membership reached its peak in the early 1980s with around 112 families. Recently, however, the number of member families has decreased to about 65 today.
Sources
"Odessa/Midland, Texas: Historical Overview." Encyclopedia of Southern Jewish Communities. Accessed December 25, 2019. https://www.isjl.org/texas-odessa-encyclopedia.html.
"Our History." Temple Beth El. Accessed December 25, 2019. http://templebethelodessa.org/about/history.html.
"Temple Beth El." The Historical Marker Database. Accessed December 25, 2019. https://www.hmdb.org/m.asp?m=120590.
Image Sources
Bill Kirchner, via The Historical Marker Database

Additional Information