Sarah Orne Jewett House Museum and Visitor's Center
Introduction
Celebrated American fiction writer, Sarah Orne Jewett, was born in the house that now bears her name in 1849. Her family then built an adjacent house (now the Visitor's Center) in 1854 and Jewett resided there until she and her older sister, Mary, moved back into the original house in 1887. Sarah then resided there until her death in 1909. Known as one of the best female regional authors of her generation, Jewett wrote eloquently about the world and people of southern Maine. The two homes associated with Jewett are currently owned and operated by Historical New England and the house Jewett was born in was designated a National Historic Landmark in 1991.
Images
Next to the Sarah Orne Jewett House Museum (on the left) is the Visitor's Center which is also used to exhibit local art.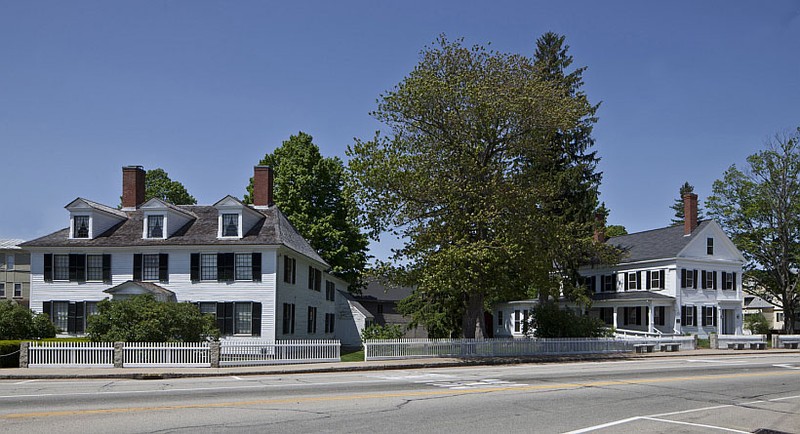 Sarah Orne Jewett standing in the doorway of the house in which she was born in 1849.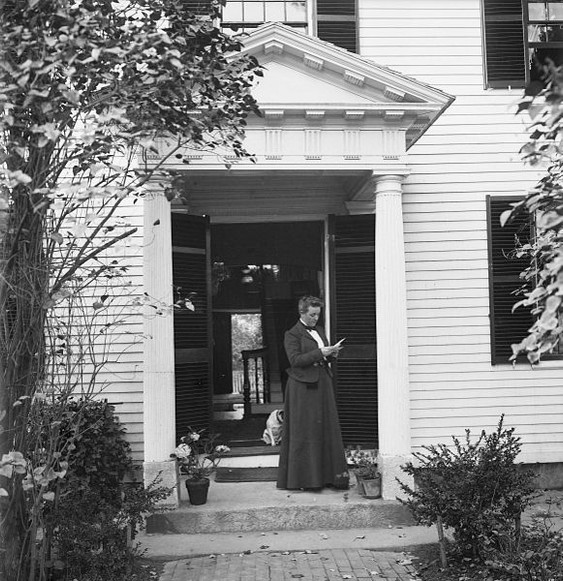 The restoration efforts of Historical New England is readily evident in this photo.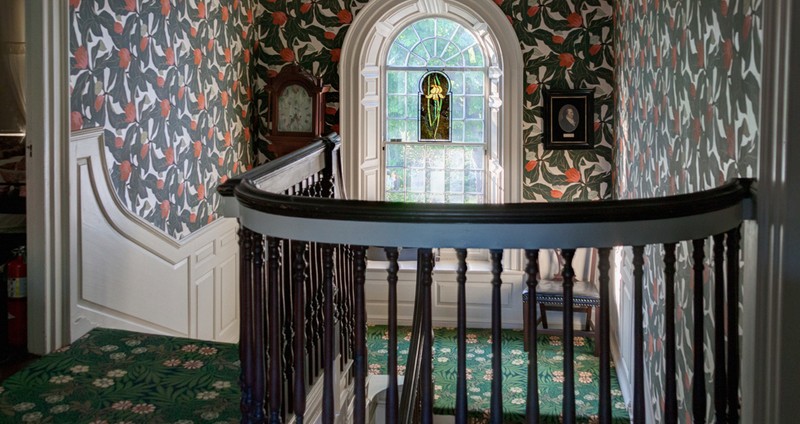 A photo of Jewett's bedroom possibly taked by her nephew, Theodore Jewett Eastman, prior to his death in 1931.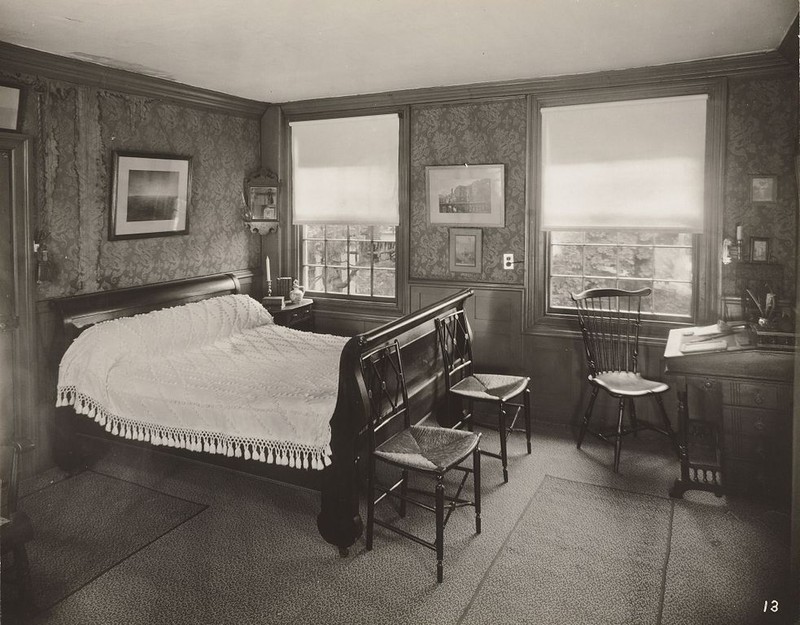 An art exhibit within the Sarah Orne Jewett Visitor's Center.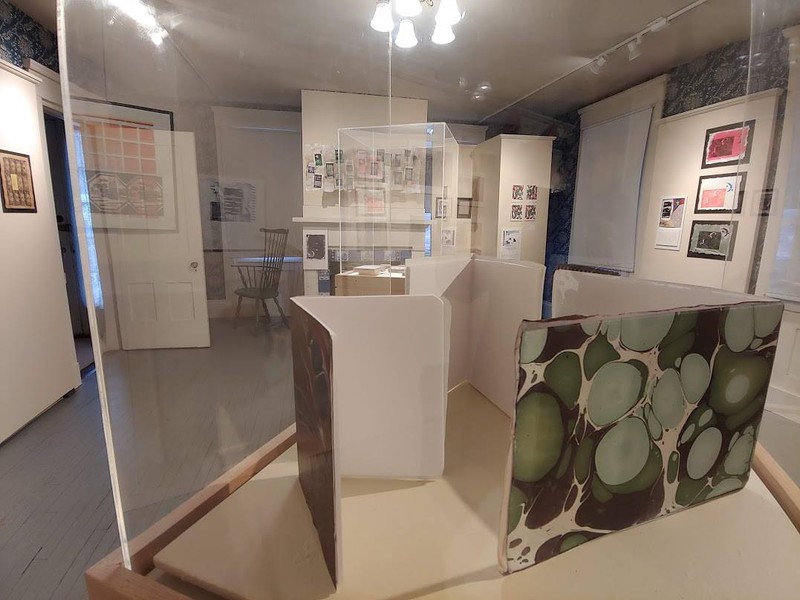 Backstory and Context
Irish immigrant, Tilly Haggens, arrived in what is now South Berwick sometime around 1740 and purchased land in what was then known as the Plains about a mile north of the Salmon falls River. His son, John, a merchant and French and Indian War veteran, built the Georgian home in 1774 where Sarah Orne Jewett would be born 75 years later. A kitchen was added c. 1800 and the Haggens family lived in the home until c. 1819. 
Captain Theodore F. Jewett, merchant and ship owner, moved with his family from Portsmouth, New Hampshire to South Berwick in the 1820s. The family rented the large home from the Haggens until Mr. Jewett purchased it in 1839. Captain Jewett's son, Dr. Theodore H. Jewett, his wife Caroline and their daughter, Mary, moved into his parents' home in 1848 and Theodora Sarah Orne Jewett was born in the house the next year. Dr. Jewett, an obstetrician, then had a home built for his growing family, adjacent to his parents, in 1854 and a third daughter, Caroline, was born there soon after.
Sarah, who suffered from rheumatoid arthritis from childhood, traveled a great deal with her father as he visited patients. It was through these travels that she learned a great deal about the people of southern Maine and nearby New Hampshire. Dr. Jewett also encouraged Sarah to read during her free time from his extensive library. Later in life, Sarah would combine those two experiences; learning about the lives of the people around her and voracious reading into her unique writing style.
Sarah graduated from the Berwick Academy, the end of her formal education, in 1865 and published her first work, Jenny Garrow's Lover under a pen name, in 1868. In 1869, she began a long relationship with the Atlantic Monthly, when it published her work, Mr. Bruce. She suffered a great loss when her father, who she was extremely close to, passed in 1878. Her A Country Doctor featured a protagonist modeled on her father. However, she filled the void left by the death of her father when she met Annie Fields, the wife of publisher and editor of the Atlantic Monthly, James T. Fields. Mr. Fields passed in 1881 and Sarah and Annie would spend the rest of their lives together, living in South Berwick and traveling throughout Europe and the U.S. Fields also introduced Sarah to a number of her writing contemporaries, to include Alfred Tennyson, Mark Twain, Henry James and Harriet Beecher Stowe.
Sarah and her sister Mary moved back into the 1774 house with their mother in 1887 and Sarah lived there until her death. While there, Sarah and Mary planted an herb and flower gardens that featured peonies, roses, white mallows, orange tiger lilies, and red cardinal flowers. These gardens have been reproduced at the house by Historic New England. While residing at the original house, Sarah wrote her most famous work, The Country of the Pointed Firs, in 1896. She never married and died from a stroke in 1909.
Sarah's younger sister, Caroline Jewett Eastman, lived in the 1854 house with her husband, Theodore Eastman, until she passed in 1897. The eldest daughter, Mary, died in 1930, and Theodore Eastman came into possession of both houses until he bequeathed both to the Society for the Preservation of New England Antiquities (now Historic New England) in 1931. However, many of the Jewett's possessions were removed, for example, much of the library was donated to the Harvard Library and many of the furnishings were left to Eastman's cousin, H.H. Richardson. Historic New England managed to get the books returned, on permanent loan, from Harvard in 1933 as well as some of the furnishings. Historic New England also restored the homes to their late 19th century appearance and the 1854 house now serves as both community and visitor's center.   
Sources
Miller, Page. "National Register of Historic Places Nomination Form: Sarah Orne Jewett House." United States Department of the Interior/National Park Service. October, 5, 1989. Accessed December 18, 2019. https://npgallery.nps.gov/NRHP/GetAsset/NHLS/73000248_text
"Sarah Orne Jewett House Museum and Visitor's Center (1774): discover an author's inspiration." Historic New England. Accessed December 18, 2019. https://www.historicnewengland.org/property/sarah-orne-jewett-house-museum-and-visitor-center/
Atlas, Nava. "Sarah Orne Jewett." Literary Ladies Guide. March 1, 2018. Accessed December 18, 2019. https://www.literaryladiesguide.com/author-biography/jewett-sarah-orne/
Additional Information