Alpha Delta Phi (AD)
Introduction
Alpha Delta Phi or AD for short is a nationally recognized fraternity that was established on Trinity campus on December 20th, 1877. It began as the Phi Kappa Society and current members at the time were initiated with an agreement signed on November 23rd, 1877. The Phi Kappa Society originated at Trinity when it was still Washington College. The society was founded on October 27th, 1835 and was the second secret society established at Washington College. When the society became affiliated with the chapter, it became the second international fraternity at the college. The Phi Kappa Society at the time known for its long and honorable history was recognized with the naming of the Alpha Delta Phi chapter.
Images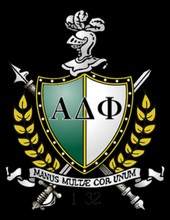 Backstory and Context
After establishing at the new college campus they bought a lot on 122 Vernon Street on January 21st, 1886. They broke ground on building the new chapter house in 1890. When planning the architecture of the house they decided to design it as an ordinary home so it would sell easily if they decided to move to a more desirable location. The only part of the house that didn't fit with the regular home structure was the lodge room on the 3rd floor.
In 1911 and 1912 additional land was added to the property to expand the property. The fraternity drew up plans for a new chapter house in 1912 but had to delay construction due to World War 1. After the war they planned to follow through the building but were delayed again from the Great Depression and WWII.
In 1960 the fraternity celebrated the 125th anniversary of the Phi Kappa Society in which the chapter is named after. At the ceremony they revealed the new house plans. That same year the AD founded the Phi Kappa Educational Foundation that granted financial aid to students and sponsored educational events on campus. These events consisted of lectures and "fireside chats" in the Chapter house living room.
in 1962 the old Chapter house was demolished and the construction began on a new two-story building. During demolition they salvaged a piece of cornerstone of red brick and set it in the new house with "1962" inscribed in the stone. The house altogether cost about $150,000 and was ready in January of 1963. The house was unique because it did not feature dormitory quarters, just social, dining and parking facilities. The house remained untouched until 1981 when they underwent a $20,000 renovation. The house still stands as the red brick house at 122 Vernon St today.
Sources
Phi Kappa Chapter Chapter History , alphadeltaphi.org. Accessed December 12th 2019. https://www.alphadeltaphi.org/phi-kappa.
Image Sources
https://www.alphadeltaphi.org/phi-kappa

https://en.wikipedia.org/wiki/Alpha_Delta_Phi