Collins-Robinson Statue
Introduction
On September 19th, 2009 Illinois State University unveils the Collins-Robinson Statue. It commemorates an iconic photo taken of legendary head coach William Robinson and player Doug Collins. The statue was sculpted by '85 alum Lou Cella and donated by the Don Franke family. The statue is located on the north side of Redbird Arena. It replicates an icon photo taken in the in the 1970's when Robinson broke the race barrier being the first African American head basketball in Division 1 history. Robinson would go and coach at Illinois State for five years from '70-'75 posting a 78-51 record and coached the schools only #1 NBA draft pick in Doug Collins.
Images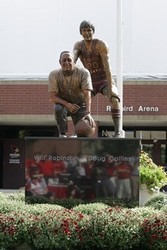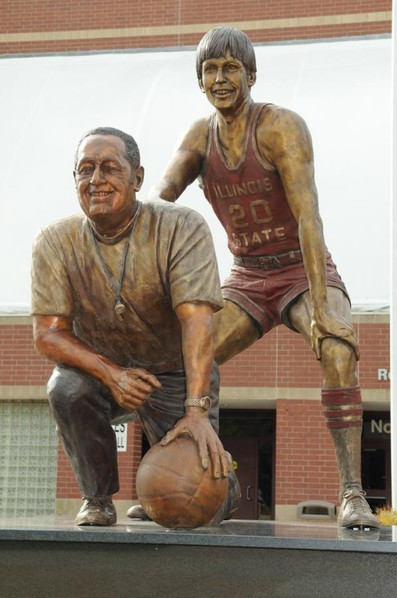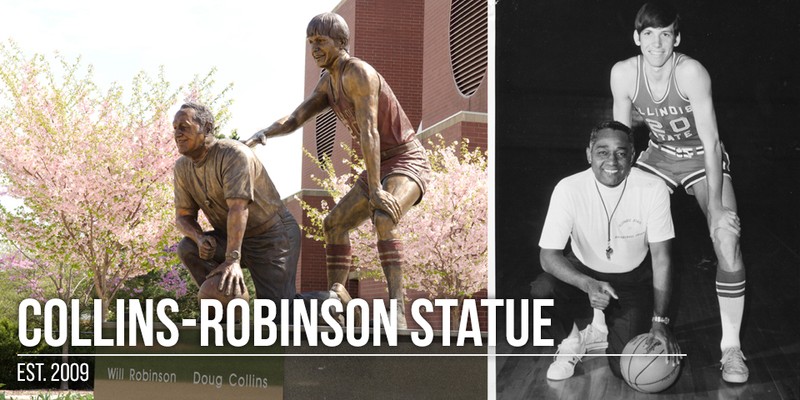 Backstory and Context
Born on June 3, 1911, in Wadesboro, North Carolina. His parents had Will before either turned 15 years old and both parents passed before he would turn 13. Due to this Robinson was raised by his grandparents. They would move to Pennsylvania and then to Steubenville, Ohio. At the age of 12, he started caddying at Riverview Country Club, where professional golfer Bob Hillis taught him the game of golf. He also learned to swim in the Ohio River that flows right outside Steubenville.
In high school, Robinson would attend Steubenville High School where he would play football, golf, basketball, baseball, and track and field. His senior year just three days before the start of the football season Robinson would be moved to the Quarterback. He was the first African American QB in school history. Voted as a team captain Robinson would the team to an undefeated season and win a state title. Robinson was also a team captain for the golf team finishing second at state even though he was not allowed to play with the other golfers. Robinson would later recall the event to the Detroit News saying, "We went to the state tournament in Columbus, and they wouldn't let me play with the others. I started alone at seven in the morning. I couldn't stay in the dormitory at Ohio State. I couldn't eat at the banquet they had that night. They gave me a sandwich. I finished second."
After high school, he moved to West Virginia to coach at a segregated Black school, but it was during the great depression, and he received no salary. The school gave him a nickel for transportation to the school, which he put in his pocket and walked. After two years without pay Robinson requested a salary but was told that without a college degree, he was not qualified. Robinson went and immediately enrolled at West Virginia State University and would graduate in 1937. While at WVSU He would earn 15 letters in 4 sports playing football, basketball, baseball, and gymnastics. He was voted captain of the football, baseball, and gymnastics teams. Still unable to find work Robinson decided to get his master at the University of Michigan earning his master's in physical education.
Robinson began coaching at the YMCA in Pittsburgh and soon after moved to Chicago. At the time the YMCA league was comparable to the current day AAU programs. His success at this level opened the door for him to coach at the high school level. His first high school coaching job was at DuSable High School in Chicago. He coached basketball and swimming. Though after one year the superintendent threatened Robinson to transfer to Detroit claiming Robinson would never find work again if he didn't transfer. Robinson didn't want to move to Detroit, but he finally agreed. From 1943-1959 Robinson would coach at Miller High School in Detroit. He coached both football and basketball making him the first Black high school coach in Michigan and the second African American in the school's athletic department. In 1960-1970 Robinson would coach at Pershing High School. Within this decade he would go and win two state titles and coach NBA Hall of Famers Spencer Haywood, and Ralph Sampson. He finished his high school coaching career with over an 80% winning percentage. But it wasn't the numbers he cared about. It was creating a sense of family amongst his teams. Haywood told Sports Illustrated in 2001, "Will Robinson was always about more than X's and O's... He taught us about life. He stressed education, and he made sure we did the right thing at all times. He was more like a father than a coach." Robinson was quoted by the Detroit News saying "Sports was a family thing, and I coached that way -- whether a kid needed money, clothing, a place to stay. I put all these things into a family. And [many of] the players who played for me, I got into college."
In 1970 Robinson would go and break a huge race barrier becoming the first African American Division 1 basketball coach. He was hired by Illinois State University. He would coach from 1970-1975 finishing with a record of 78-51. Robinson would struggle to schedule games due to his race facing comments such as "When are they going to change their name from the Redbirds to the Blackbirds." Robinson never let this get him down or affect his recruiting. Robinson would go on to coach Illinois State's only #1 overall draft pick Doug Collins. Collins would later tell the Dallas Morning News, "The first time I met him, I was blown away. When you looked into his eyes, you saw a dignified, honorable man. He told me, 'You have talent, and I'll take you where you want to go.' To this day, I love him as a father." In 1971 Robinson supported Spencer Haywood in fighting the NBA's rule that kept underclassmen from entering into the NBA before graduating. Haywood would win the case thus creating the hardship rule which opened the door for several NBA athletes to enter the league straight out of high school or after one year of college.
There was more to Robinson than coaching. He wanted to give back to his community and help all people. He would put on coaching and scouting clinics in the south for Black males. Bringing in coaches and scouts from the Detroit Lions and Tigers to provide instruction. He'd later put on the same clinics in Detroit. He was chosen to be a calming presence during an uneasy racial situation due to race riots in Detroit in the summer of 1942. Even with all the individual achievements Robinson had,  the thing he most proud of were the students he helped get into college. "The thing I like most about my life is that I have been instrumental in sending over 300 men and a few women to college at no cost to themselves. That's what I'm most proud of because those are the people that make this country strong."
The passion and dedication, Robinson demonstrated at these clinics lead to Buddy Parker, head coach of the Lions, offering him a part-time scout for the Detroit Lions. This would make Robinson the first Black NFL scout. Robinson would work for the Lions for 22 years finding hall of fame talent like Charlie Sanders and Lem Barney. In 1975 after leaving ISU Robinson would become a scout for the Detroit Pistons for 28 years. Robinson would be offered the head coaching position but would turn it down even though he knew they had a championship roster. This led to Chuck Daly getting the job and eventually winning a title for the Pistons. Robinson would work his way up the ranks of the organization ending at Assistant to President of Player Operations. He would continue scouting throughout his time with the Pistons making him the oldest scout in the NBA. He would retire in 2003 at the age of 92.
"He was a civil rights pioneer," "He didn't let the color of his skin deter him from his dreams," said Mike Abdenour the Pistons trainer since the '70s. In 2003 the Pistons would go and name their locker room The William Robinson Locker Room of Champions. He would also be inducted into several hall of fames such as Redbirds Athletics (Illinois State) Hall of Fame, 1980; Michigan Sports Hall of Fame, 1982; John W. Bunn Award, James Naismith Memorial Basketball Hall of Fame, 1992; Michigan High School Coaches Hall of Fame;  and West Virginia State Hall of Fame. As deserving as he was of all the accolades, personal achievement or recognition wasn't his motivation. He provided us all with an example of how to be a genuine human being. He loved all his players and everyone he met. Joe Dumars said it best, "Will Robinson was truly a legend and will be missed dearly. He was a huge inspiration for me and so many others. He was simply the best." After 15 months of battling sickness Robinson passed away at the age of 96, though his legacy and achievements live on.
Sources
"A Life Well Lived." Detroit Pistons, NBA.com/Pistons, 20 Apr. 2012, https://www.nba.com/pistons/news/langlois_blog_080428.html
Bethal, Kari. "Will Robinson." Encyclopedia.com, Encyclopedia.com, 18 Sept. 2019, https://www.encyclopedia.com/people/sports-and-games/sports-biographies/will-robinson#1
Detroit Historical Society : Online Collections, 2016, https://detroithistorical.pastperfectonline.com/byperson?keyword=Robinson,+William+J
Doug Collins & Will Robinson Statue. (2017, November 27). Retrieved from https://traditions.illinoisstate.edu/collinsrobinson/#tabs-vert1.
Owens, K. A. (2019, May 10). The story of Will Robinson, perhaps Detroit's greatest athletic coach of all time. Retrieved from https://michiganchronicle.com/2015/12/16/the-story-of-will-robinson-perhaps-detroits-greatest-athletic-coach-of-all-time/.
Pioneering basketball figure Will Robinson dies at 96. (2008, April 28). Retrieved from https://www.toledoblade.com/Pro/2008/04/28/Pioneering-basketball-figure-Will-Robinson-dies-at-96.html.
Press, Associated. "Will Robinson Dies, Was First Black Coach of Division I Program." ESPN, ESPN Internet Ventures, 28 Apr. 2008, https://www.espn.com/mens-college-basketball/news/story?id=3371978
William J. Robinson (1981) - Hall of Fame. (2008, April 29). Retrieved from https://wvsuyellowjackets.com/hof.aspx?hof=178&path=&kiosk=
. 
Will Robinson Coaching Record: College Basketball at Sports. (2019, June 17). Retrieved from https://www.sports-reference.com/cbb/coaches/will-robinson-2.html.