Carnegie History Center
Introduction
The Carnegie History Center is a local history and genealogy research center that is part of the Bryan and College Station public library system. Built in 1903 and originally known as the Carnegie Public Library, it is named after steel magnate and philanthropist Andrew Carnegie (1835-1919), who donated money to communities all over the country to build libraries. The two-story building is a fine example of Classical Revival architecture, featuring a portico on the east side with Corinthian columns. Inside, the building features two original matching hand-carved pine stairways. The center houses a special collections, which contains three collections: the fire department collection; the Cavitt collection (the personal records of a local prominent family); and the Van Riper Collection (records of a local professor of political science). The second floor houses the center's genealogical research records.
Images
The Carnegie History Center was built in 1903 as the Carnegie Public Library.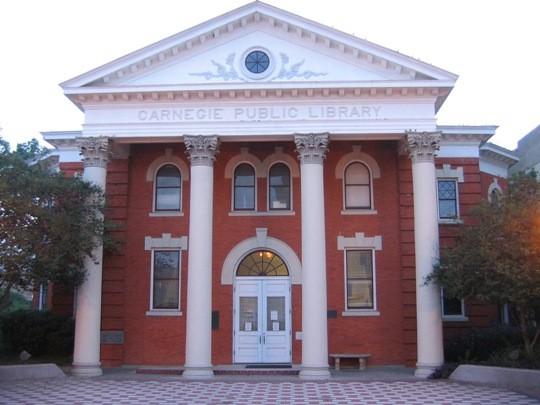 Backstory and Context
The library's origins began in 1895, when a group of 25 women established an organization called the Mutual Improvement Club of Bryan. Its purpose was to plant trees in the city, establish a park, and open a free public library. In 1902, a local financier, whose father was Carnegie's friend, wrote to Carnegie requesting funds. Carnegie agreed and sent $10,000 on the condition that the city provide a site, purchase books, and agree to pay $1,000 per year for the library's maintenance. The library opened on December 17, 1903.
The auditorium on the second floor became an important social and political gathering space. The club, which became the Women's Club in 1909, met here as did Confederate veterans. The auditorium was later used by the Red Cross during World Wars I and II. It was then converted to the children's library in 1953. When a new library was built in 1963, the Carnegie building became the location of the Bryan City Planning and Traffic departments. In the late 1990s, the building was restored and became, presumably, the Carnegie History Center at that time. The building was added to the National Register of Historic Places in 1976.
Sources
"History of the Carnegie." Carnegie History Center. Accessed December 12, 2019. https://www.bcslibrary.org/wp-content/uploads/carnegie_history.pdf.
Williams, Joe R. "Bryan Carnegie Library." National Park Service - National Register of Historic Places Nomination Form. October 27, 1976. https://catalog.archives.gov/OpaAPI/media/40971371/content/electronic-records/rg-079/NPS_TX/76002009.pdf.
Additional Information