Knute Rockne Burial Site
Introduction
After his tenure at Notre Dame was tragically cut short by a plane crash in Kansas, Knute Rockne's body was recovered and laid to rest at Highland Cemetery in South Bend, Indiana near the University of Notre Dame. Rockne's funeral service was held at a church on Notre Dames campus, Sacred Heart Church. The funeral was invite only but people from all over the country traveled to South Bend to wait outside the church and view the funeral procession.
Images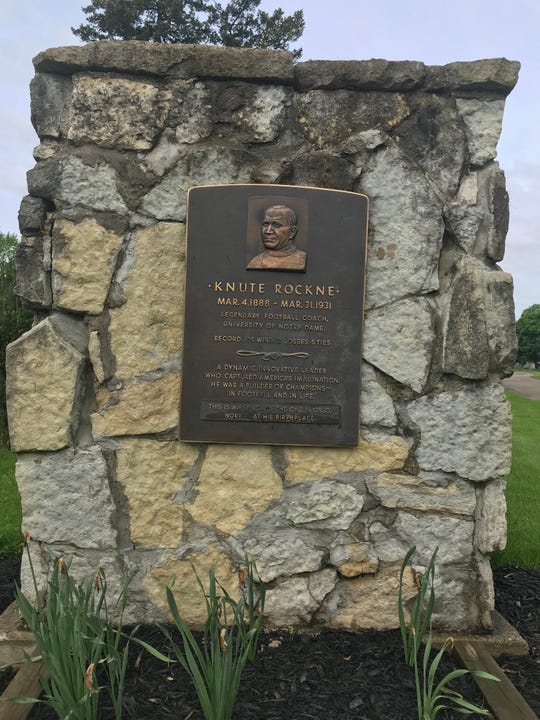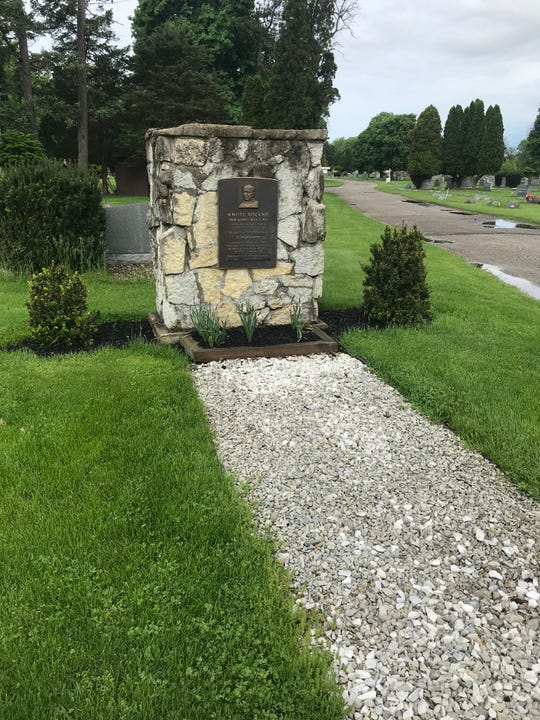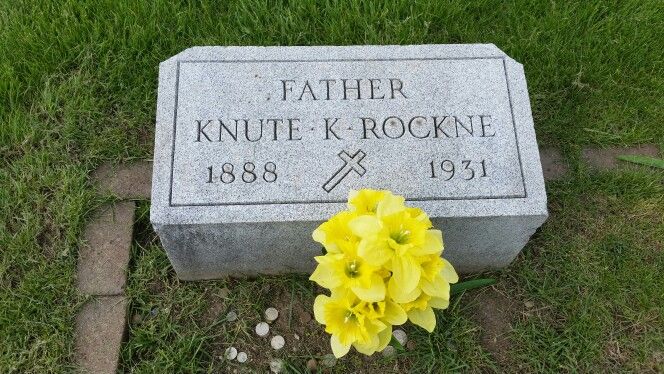 Backstory and Context
In between an airport and the University of Notre Dame there is a cemetery. This cemetery, Highland Cemetery, is where one Knute Rockne's body is laid to rest. As he was being put into his final resting place, his service was attended by three hundred thousand people who gathered to mourn the death of their legendary football coach. ESPN reported that "by permission of Coach Rockne's widow, the services in Sacred Heart Church were broadcast throughout the United States and countries abroad, the music of the choir and the organ and the deeply moving words of Father O'Donnell making the occasion one of solemnity and sorrow for radio listeners as well as for those attending the rites."
Coming off of back to back undefeated seasons, his life was tragically taken in a plane crash in Kansas. Six of his players from the 1930 season, Marty Brill, Tom Yarr, Frank Carideo, Marchy Schwartz, Tom Conley, and Larry Mullins, carried their head coach to his final resting place.
There are few deaths that have shaken an entire nation; the death of Princess Diana and the assassination of John. F. Kennedy are some examples to come to mind. According to ESPN, the news of the death of Knute Rockne was one that impacted people all over the United States. President Hoover even called his death "a national tragedy".
Sources
Greyfield, David. Knute Rockne, Find A Grave. Accessed December 11th 2019. https://www.findagrave.com/memorial/887/knute-rockne.
Maisel, Ivan. (2019, April 4). Retrieved December 12, 2019, from ESPN.com website: https://www.espn.com/college-football/story/_/id/26427913/knute-rockne-funeral-dawn-new-american-experience
‌