St. Francis Catholic Church & Ursuline Sisters Convent
Introduction
This location, there once stood a Catholic Church and Convent called St. Francis. The church and convent was originally located on McLane avenue in the late 1800's. The church later moved to its newly built location on Beechurst Avenue in 1918. Shortly after, the convent was built to sit right next to the church. The convent was used to house the Ursuline sisters of the church, and allowed the nuns to operate a school out of it.
Images
Ca 1920 of St. Francis Catholic Church Convent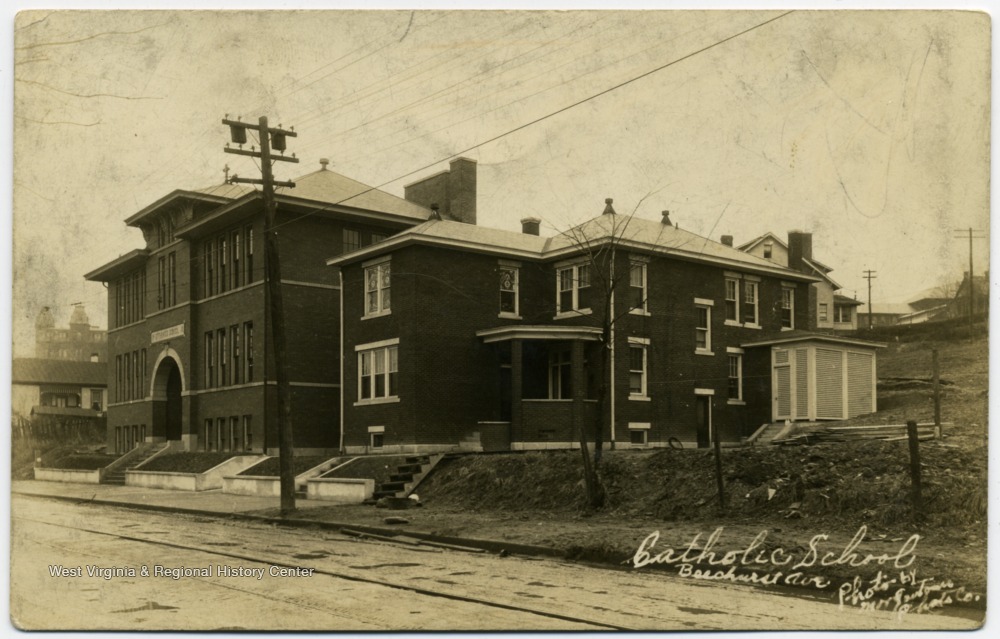 Backstory and Context
In the 70's one notable nun that lived in the convent was Sister Thecla. She was a former teacher and principle at the convent. While she was living at the convent she started the organization Christian Help. This organization allowed for Sister Thecla to collect clothes and other supplies to use for Christian Help. During the time this organization was being operated out of the convent it allowed people to come in and get clothes and supplies that they needed. This organization helped them to give back to the community in need and give them resources and goods.
From the time Sister Thecla started Christian Help she began to grow this organization greatly and it allowed her to open up her first official storefront a little down the road from the convent and expand on everything that has been offered. They were able to move the organization out of the convent in Spring 1975. Around 1984 Christian Help had to leave the storefront due it being sold for housing. This made them have to come back to the convent and other nearby locations to operate out of until they got another storefront. They operated out of the convent and nearby locations until 1986 when they were donated some space in a building on Walnut St.
Sources
"History & Heritage: Brief History of St. Francis Central Catholic School. " St. Francis Central Catholic School. https://stfrancismorgantown.com/about/history-heritage/ 
Polk's Morgantown Directory. Pennsylvania: R.L. Polk & Co., 1920-22. 
Ernest, Mary. "Decade of Service: Christian Help is a Place for Needy Persons to Turn When the Red Tape Route it too Long." The Dominion Post (Morgantown, WV), Mar. 25, 1985.
Image Sources
https://wvhistoryonview.org/catalog/034242

Additional Information