Market Master's House
Introduction
English colonist and merchant Christopher Lowndes constructed the original stone structure that is now known as Market Master's House in 1765. The building is one of the four remaining structures remaining from the original colonial town of Bladensburg, a community that quickly grew to become one of the region's most prolific ports for tobacco exportation. Although many believe that the building was constructed as a market house storing and selling tobacco, a 2009 archaeological survey revealed that it was more likely used as a business office and stagecoach stop.
Images
Market Master's House, June 2009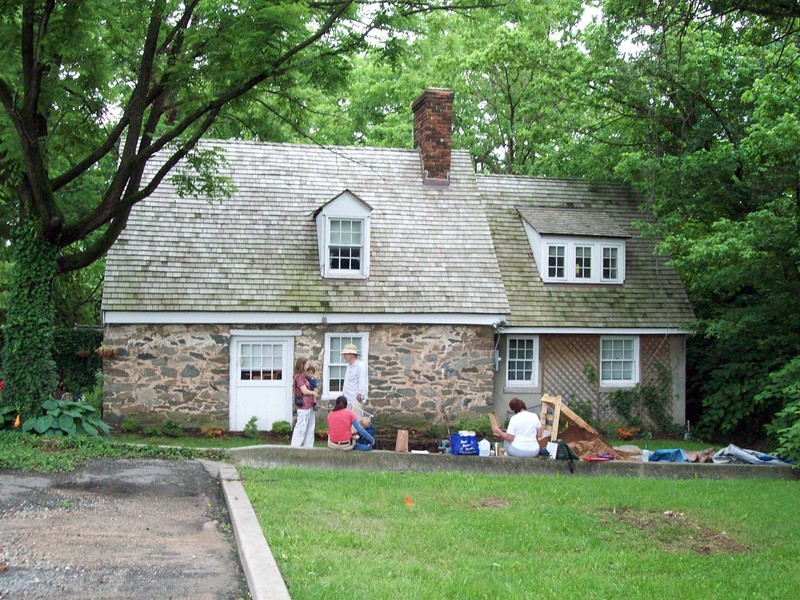 Backstory and Context
The Market Master's House enjoys significance for its connection to the eighteenth-century development of Bladensburg, Maryland, at a time when it served as one of the busiest tobacco-exporting ports in the region. 
Tobacco existed as a driving force for Maryland's economy during the eighteenth century, and Bladensburg (founded in 1742) served an integral role in helping that economy grow. A government tobacco inspection system established in 1747 included the designation of Bladensburg as a tobacco inspection and grading port. By 1776, Bladensburg existed as one of Maryland's busiest ports, mainly for exporting tobacco. 
The Market Master's House stands one of only four buildings remaining from this significant period of the town's history. Christopher Lowndes purchased the lot for which the house sits in 1760, and constructed the original stone structure in 1765. The original structure stood 25 × 20 and rose 1 ​1⁄2 stories. In 1920, a small two-story west kitchen was added, followed by renovations and additions in 1956. Lowndes worked as an English merchant. Though the home enjoys a reputation as a market house for the bustling tobacco trade, a 2009 archaeological project provided evidence that showed Lowndes most likely used it as a business office, and it also functioned as a post office and stagecoach stop.
In the end, regardless of its specific function, Market Master's House stands as a monument to an era when tobacco and the use of enslaved laborers dominated Maryland's economy and culture. The town of Bladensburg functioned as an essential trading port where tobacco was sold and prepared for shipment.
Sources
"Bladensburg: Surviving Structures." University of Maryland Library. https://www.lib.umd.edu/bladensburg/rediscovery-today/surviving-structures. Accessed December, 2019.
Clemens, Paul G. E. "The Operation of an Eighteenth-Century Chesapeake Tobacco Plantation." Agricultural History 49, no. 3 (1975): 517-31.
King, Marina. Nomination Form: Market Master's House. National Register of Historic Places. nps.gov. March 29, 1990. https://npgallery.nps.gov/GetAsset/f29518cc-282e-4c01-bb3c-d86a8a5e11fe/
Kolchin, Peter. American Slavery: 1619 - 1877. New York: Hill and Wang, 2003, 1993.
Weil, Martin. "At Open House in Bladensburg, a Chance to Unearth the Past." Washington Post (Washington D.C.) June 6th 2009.. Metro: Maryland: Prince George's County sec. https://www.washingtonpost.com/wp-dyn/content/article/2009/06/05/AR2009060504037.html
Image Sources
By Pubdog (talk) - Own work (Original text: I created this work entirely by myself.), Public Domain, https://commons.wikimedia.org/w/index.php?curid=13612188

Additional Information