Battle of New Orleans-Chalmette Monument and Battlefield
Introduction
Just downriver from New Orleans in Chalmette is the site of the January 8, 1815, Battle of New Orleans: Chalmette Battlefield. Many people believe that this last great battle of the War of 1812 between the United States and Britain was unnecessary, since the treaty ending the war was signed in late 1814, but the war was not over. The resounding American victory at the Battle of New Orleans soon became a symbol of a new idea: American democracy triumphing over the old European ideas of aristocracy and entitlement. General Andrew Jackson's hastily assembled army had won the day against a battle-hardened and numerically superior British force. Americans took great pride in the victory and for decades celebrated January 8 as a national holiday, just like the Fourth of July. Learn about the War of 1812 from visitor center films and exhibits. Kids can earn a badge with the Junior Ranger program. The center's bookstore has books, period music, reproductions of items from the period, and children's books. Admission is free. Follow these links for directions and for program listings for specific dates. Learn about the visitor center (dedicated on January 8, 2011) and see a map of the site that includes troop movements from the Battle of New Orleans.
Images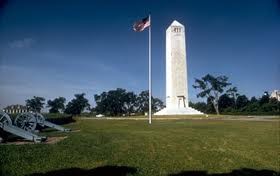 Backstory and Context
Colonial Andrew Jackson arrives into a city in chaos with no defenses in place. Through shrewd politics and negotiations Jackson was able to assemble a motley crew of troops. These included militia men, regulars, frontier men, free Blacks, Indians, and even pirates in defense of the city. General Jackson was able to set up a defense with using sharpshooters and pirate cannoneers for the incoming battle. The British General Pakenham launched a reckless frontal attack on the Americans' fixed fighting positions. Within the opening moments of the battle Pakenham was wounded, which put the British forces into chaos. The ensuing battle resulted into more of a slaughter than actual fighting. After sustaining massive losses, the British retreated back down the river to their ships. One important fact about the Battle of New Orleans was that it was fought after a peace treaty had already been signed. 
Sources
Remini, Robert. "The Battle of New Orleans". Penguin Putnam Inc, New York. 1999.
Borneman, Walter. "1812: The War that Forge a Nation". Harper Collins Publishers, New York. 2004.