Bartlet Hall, 1820-1821, at Phillips Academy
Introduction
Bartlet Hall was built in 1821 as a second dormitory and mate to Foxcroft. Modest Federal details, including recessed entries with lunettes and paneling, a cornice with modillions, four large square chimneys, windows with multi-pane lights, and splayed brownstone lintels, survive extensive remodeling. In 1914 the building was completely gutted by fire and rebuilt. In 1929, Bartlet, like Foxcroft, was lowered to harmonize with surrounding architecture. Bartlet and Foxcroft remain dormitories.
Images
Seminary Row, Bartlet Hall at left, 1860s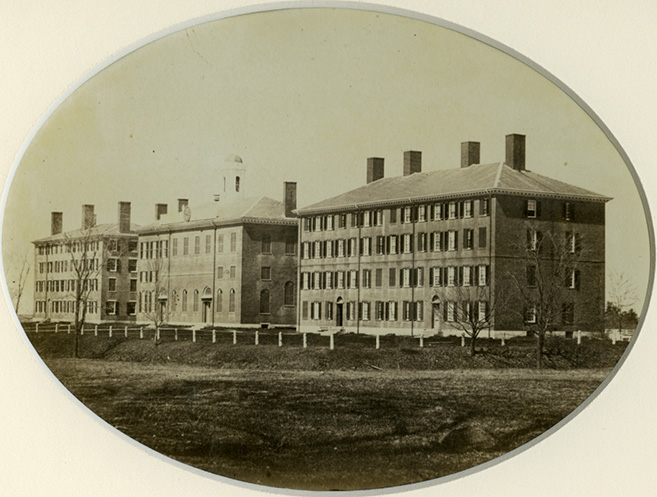 Bartlet Hall fire on December 8, 1914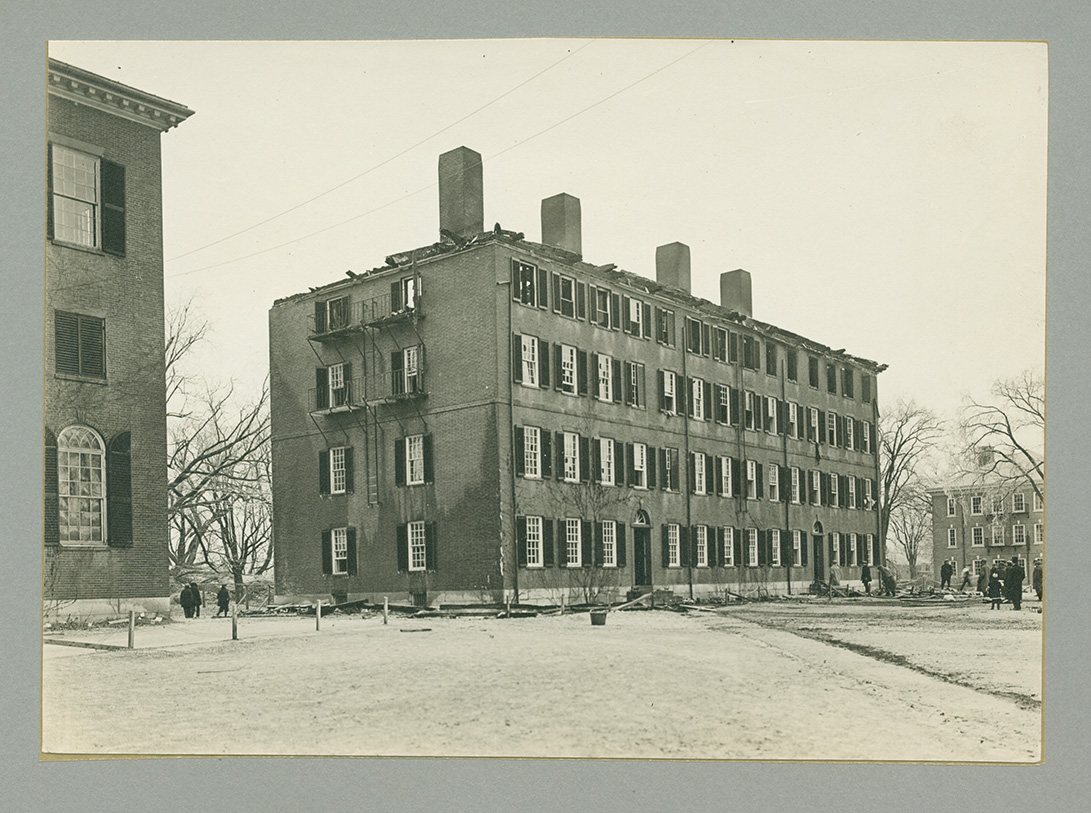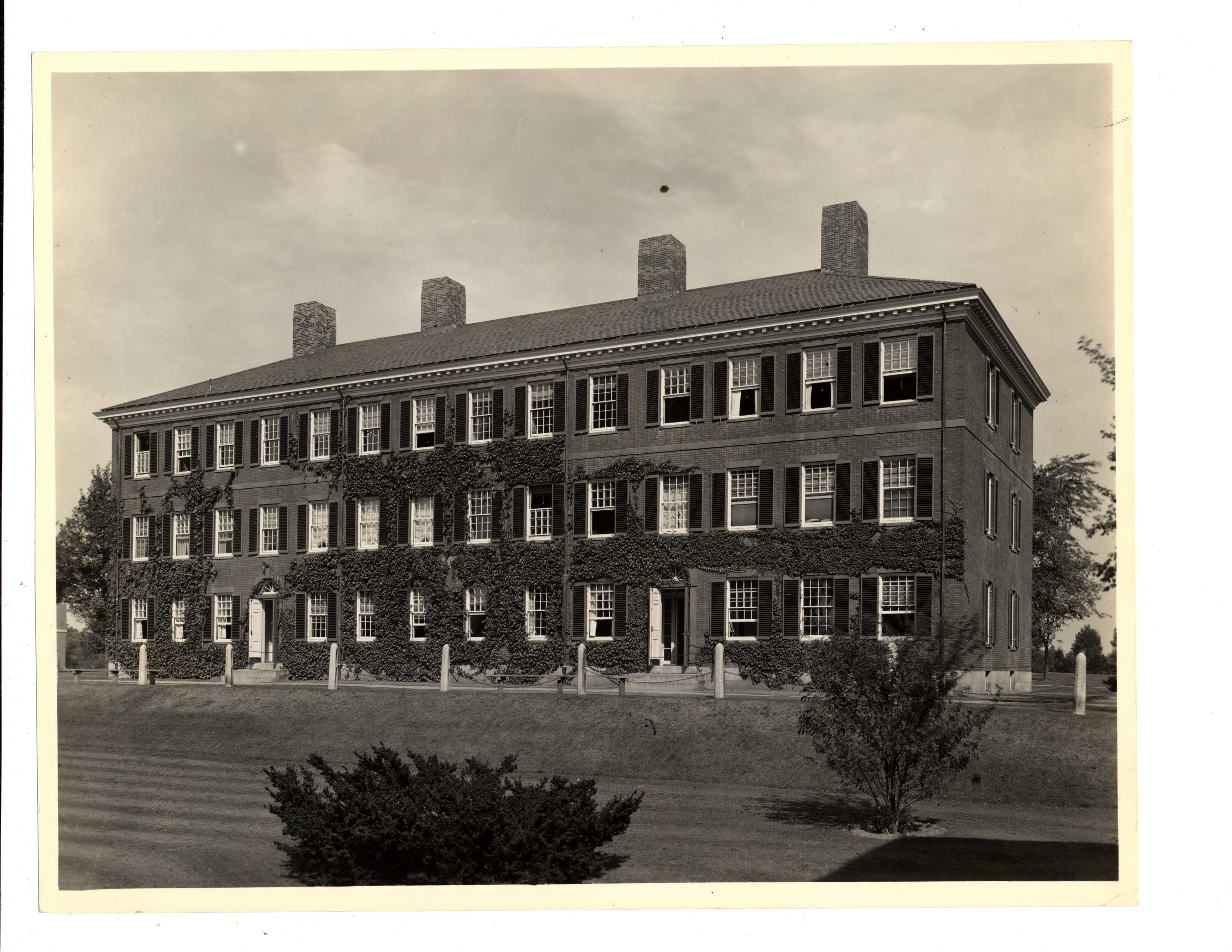 Backstory and Context
William Bartlet (1748-1841), Newburyport shipowner, merchant, and textile manufacturer, was a strict Calvinist. Starting in 1808, he donated $160,000 to Andover Theological Seminary over the course of four decades. Nearly half of that money he spent erecting five buildings: Phelps House (1809-1910), Moses Stuart Houses (1810-1811), Pearson Hall (1817-1818), Bartlet Hall (1820-1821), and Park House (1833-1834). In each case (except Park House), Bartlet served as his own contractor, hiring builders, purchasing materials, and paying the bills.
In the 1820s life in the dorms was considerably more spartan than today. Sarah Stuart Robbins, who grew up on Andover Hill as a faculty child in the 1820s, offered this vivid picture of daily life for seminary students. "There was no water in the buildings; the young men must bring it in their pitchers from outside. There was no steam heat; they must tend their own stoves, carrying their fuel from a wood-pile, which at first was not even protected from the rain and snow, up the steep flights of stairs to their rooms. They had to make their own beds, do their own sweeping, and fill their own lamps. But there was little complaint among the theologues of eighty years ago....That these hardships, which students of to-day would doubtless think severe, did no harm to those then subjected to them, is proved by the quality of the graduates sent out by Andover in those early years."
Sources
Academy Hill: The Andover Campus, 1778 to the Present. New York: Princeton Architectural Press, 2000.
Allis, Frederick S., Jr. Youth From Every Quarter: A Bicentennial History of Phillips Academy, Andover. Hanover, NH: University Press of New England, 1979.
Domingue, Robert A. Phillips Academy Andover, Massachusetts: An Illustrated History of the Property (including Abbot Academy). Wilmington, Mass.: Hampshire Press, 1990.
Montgomery, Susan J. and Roger G. Reed. Phillips Academy Andover: An Architectural Tour. New York: Princeton University Press, 2000.
Image Sources
Phillips SAcademy Archives and Special Collections

Additional Information