Shawnee Town 1929
Introduction
Shawnee Town 1929 is an outdoor living history museum devoted to portraying life in a small Midwestern farming community in the 1920s. The family-friendly museum has a working truck farm as well as a recreated small-town center with historic Shawnee businesses. Interpreters guide visitors on tours and through interactive demonstrations. The mission of the museum is to allow visitors to experience what a typical day was like in the 1920s in the farming community of Shawnee.
Images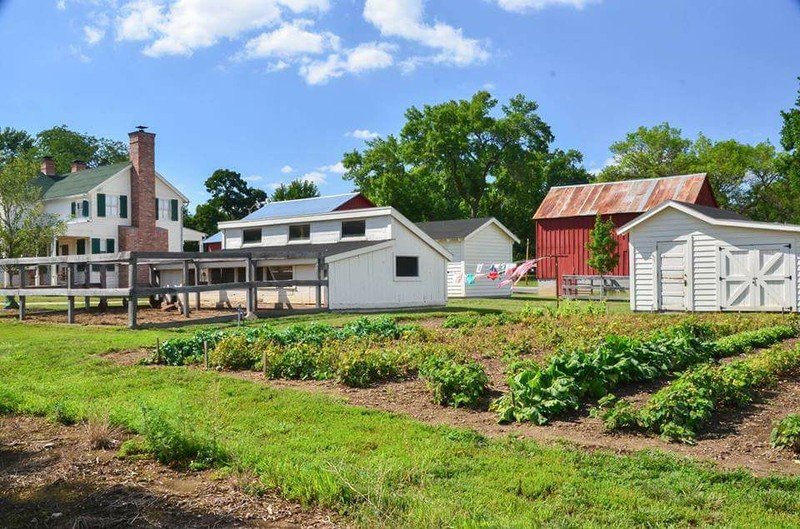 A school group learns about life on the farm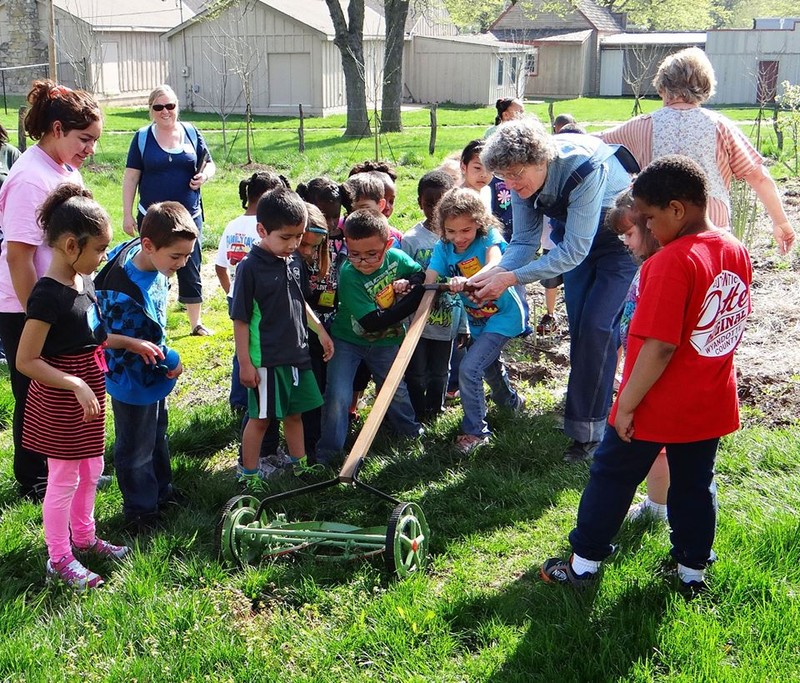 Part of the recreated town square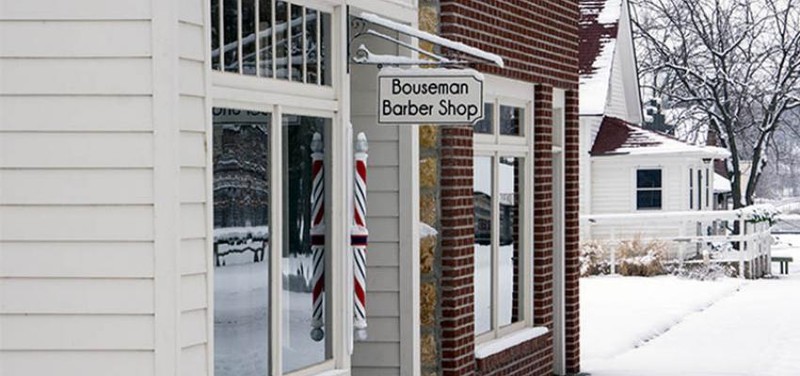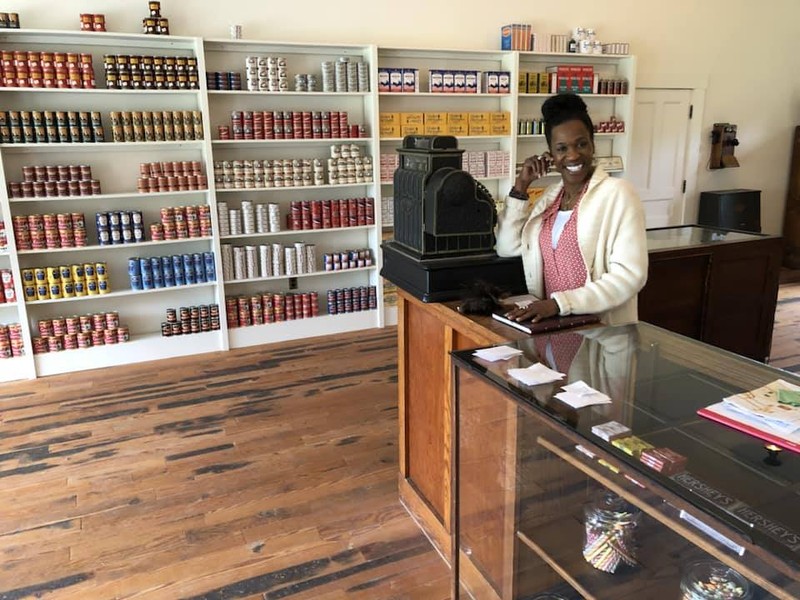 Live musical performances and other events are sometimes held around the gazebo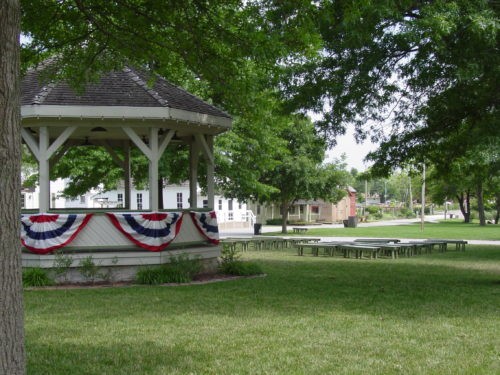 A 1927 Nash sedan on display at the farmhouse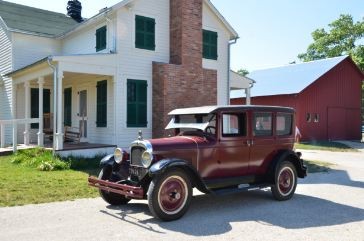 The master plan calls for more buildings to be constructed over the next few years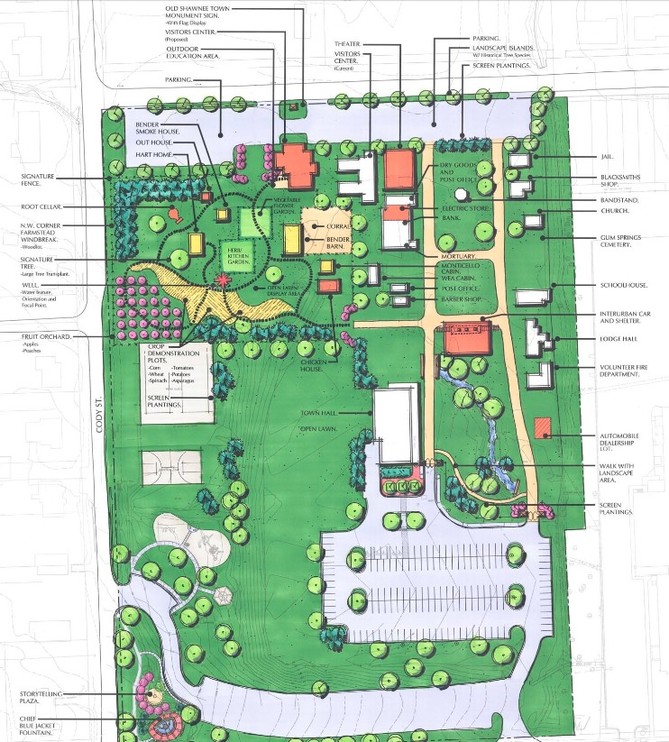 Backstory and Context
Old Shawnee Town was founded in 1966 by the Shawnee Historical Society. At that time, an historic jail building was moved to a 3-acre park site in order to save it from demolition. Over the following decades, more historic buildings were relocated to the site. In 1998, the historical society transferred ownership to the City of Shawnee, which has since provided more professional staff and funding to repair some structures. A strategic plan initiated in 2004 changed the museum's interpretation era from early frontier years to 1920s agriculture and life in a small Midwestern town. [1] The shift to a 20th century interpretation plan allows the museum to focus on a lesser told, more unusual storyline than the typical pioneering era of many museums. The museum was therefore renamed Shawnee Town 1929.
The first phase of the new museum's revitalization was the opening of the Truck Farm in 2013. [2] Shawnee was known as a truck farming community, from which vegetables, fruits, and flowers were shipped to the Kansas City Market. [1] The living history farm consists of a farmhouse, market shed, barn, smokehouse, garden, and chicken coop. The 1877 farmhouse originally belonged to the Hart and DeCaeney families and was moved to the site from 75th and Quivara Streets. [1] A 1927 Nash sedan is on permanent display in the garage. [2] The inside of the home and other outbuildings has been restored and furnished with period pieces. Living history interpreters dress in period clothing and conduct programs during the summer months and for school groups. The interpreters cook on the farmhouse wood stove, plow the fields, and lead visitors through daily chores like doing laundry and feeding the chickens. [3]
Shawnee Town 1929 is still in a continuous process of development. In addition to the farmstead, there are plans to reconstruct the town center. Visitors can already see the City Jail (previously mentioned as the first building saved in 1966), as well as the Bousman Barber Shop, Yotz Typewriter Repair Shop, William Garrett & Sons' Grocery, Dr. Charles Bassler Undertaking Establishment, Harmony schoolhouse, a gas station, a Chevy car dealership, and a firehouse. Future plans for the farm town businesses include a drug store, dry goods store, state bank, and an "all-electric" store, where new electrical appliances like toasters and vacuums could have been purchased. The museum also hopes to eventually provide a trolley to replicate the interurban streetcars from the time period. [3,4]
Under a heading of "Future Plans," the official website of Shawnee Town 1929 states:
New interpretive offerings, educational programs, and museum exhibits emphasize three major historical themes: Shawnee's role as a farm town supporting area farmers; the strength and resilience of community spirit in Shawnee through difficult and prosperous times; and the effects of transportation on Shawnee as a link between points to the west and the urban center of Kansas City and beyond. [5]
Sources
1.      "History." Shawnee Town 1929 Official Website. Accessed November 30, 2019. https://www.shawneetown.org/history.
2.      "Shawnee Town 1929 Truck Farm Has Grand Opening May 4." Kansas Farmer Website. April 18, 2013. Accessed November 30, 2019. https://www.farmprogress.com/print/190208.
3.      Terry, Michael. "Shawnee Town 1929 stands test of time." The Chieftan. March 19, 2014. Accessed November 30, 2019. http://www.bonnersprings.com/news/2014/mar/19/shawnee-town-1929-stands-test-time/.
4.      Wankum, Leah. "Shawnee hiring architect to design new buildings in historical Shawnee Town 1929." Shawnee Mission Post. September 30, 2019. Accessed November 30, 2019. https://shawneemissionpost.com/2019/09/30/shawnee-hiring-architect-to-design-new-buildings-in-historical-shawnee-town-1929-82937.
5.       "Future Plans." Shawnee Town 1929 Official Website. Accessed November 30, 2019. https://www.shawneetown.org/cms/One.aspx?portalId=8941581&pageId=9879830.
Image Sources
Shawnee Town 1929: https://www.shawneetown.org/home

Shawnee Town 1929: https://www.facebook.com/ShawneeTown1929/

Visit KC: https://www.visitkc.com/business-detail/shawnee-town-1929

Shawnee Town 1929: https://www.facebook.com/ShawneeTown1929/

Visit Shawnee: https://www.visitshawneeks.com/business-directory/shawnee-town-1929/

Kansas Office of Tourism and Travel: https://www.travelks.com/listing/shawnee-town-1929/4183/

Shawnee Town 1929: https://www.shawneetown.org/home

Additional Information